Hi Readers,
In this post we feature a closer competitor of Renault Megane RS.
On a cool and breezy morning, a stunning yellow Ford Focus ST brought sunshine into our workshop for her deserving ZeTough glass coating paint protection.
The New Ford Focus ST is no ordinary car. It is already the most favourite car in America, since the beginning of 2012 even while still on concept design.
Ford has beefed up the 2013 model with the familiar Ecoboost 2.0-litre four-cylinder turbocharged engine with more power of up from 221bhp to 252bhp and sprinting speed of 0-100kmh of mere 6.5 seconds. The fuel economy and emissions respectively have improved to nearly 40mpg and just 169g/km of CO2.
The 2013 Ford Focus ST features a 5-door hatchback, HID headlamps, 18" alloy wheels, and unique and centre-mounted tailpipes The front fascia features a large, blacked-out front grille, complete body kit, and a larger, more aggressive rear bumper. It is a unique experience to hear the low engine frequencies of this "signature sound" channeled into the cabin due to what Ford calls it an "active sound symposia.to amplify aurel".
The cabin resembles the cockpit with the instrument cluster smartly laid out. The gauges for turbo boost, temperature and oil pressure are cleverly located atop the center console.
Having a Tough ZeTough Glass coating paint protection treatment on the Ford Focus ST has given not only complete satisfaction to the proud owner but also our professional team who enjoyed the special privilege of attending to this very special sunshine beauty.
Enjoy viewing!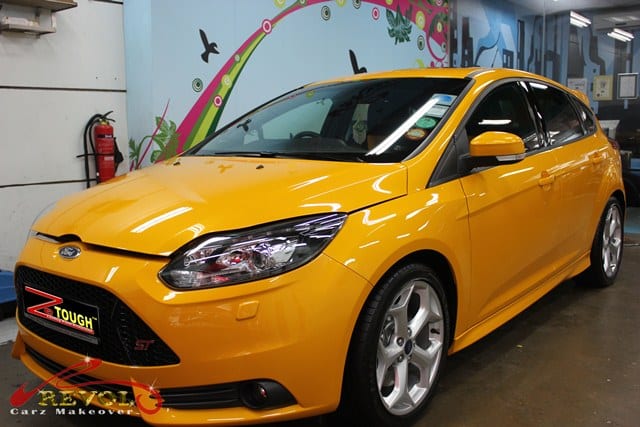 Muscular Sporty 5 Door Sports car
Close Up Front View
2013 Ford Focus ST headlamp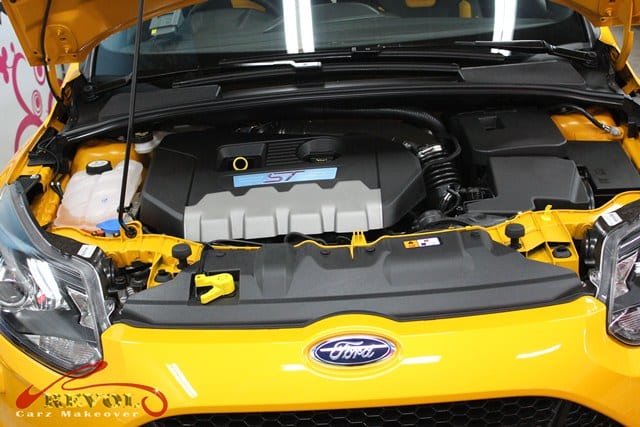 2.0-litre four-cylinder turbocharged engine producing 252bhp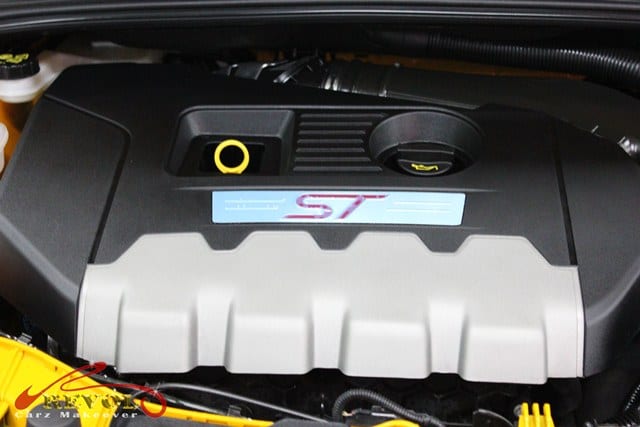 2013 Ford Focus ST engine
Interior featuring Recaro sports seats and a racing-inspired aluminum shifter and pedals
Rear seats shown here in partial leather with Tangerine Scream accents sports seats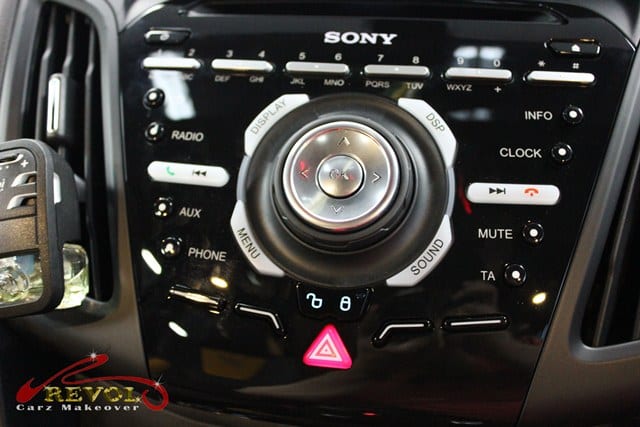 2013 Ford Focus ST Sound System
Instrument cluster features unique ST sport gauges with red needle pointers to monitor turbo boost, oil pressure and oil temperature levels
Muscular extended rocker panels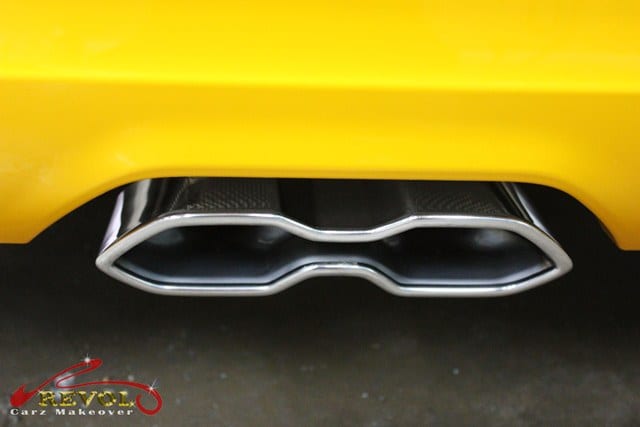 The muscular high-performance exhaust system
The 18-inch alloy wheels with unique Y-spoke design
---