Hi Readers, Today we welcome one of the most glamorous black Italian luxury Car- the Maserati Quattroporte that rolled into our workshop for the ZeTough Ceramic Paint protection coating. Upon her arrival, our team just couldn't wait to provide her a makeover including the exclusive finishing coat of ZeTough Ceramic Paint Protection coating. The Maserati Quattroporte is a mighty big car, magnificent on the exterior, palatial and spacious in the interior. This is a sporty saloon, typical of the Maserati. The Italian marque has great mechanical refinement. You could hear the rocking deep exhaust system under its power and its artillery pops on the over-run. This powerful unit certainly has all the elegance of luxury car… On the road, the Maserati Quattroporte's 4.2 liter V-8 engine generates 400 horsepower that sprints from 0-100km at 5.2 seconds with a top speed of 275 km/h. . Its six-speed ZF automatic transmission, ample brakes and brisk acceleration deliver true sporting prowess, yet the Maserati Quattroporte offers comfortably tranquil ride.. Enjoy viewing the photos after ZeTough Ceramic Paint Protection coating of this magnificent Italian Beauty!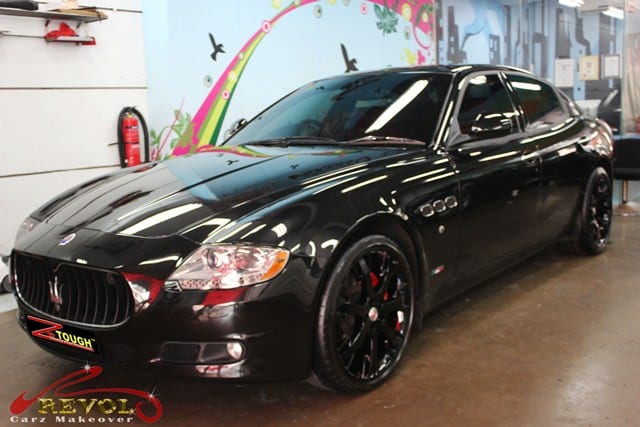 Magnificent and Extremely Glamorous Italian Beauty!
Close up Front Bonnet view
Quattroporte's Head lamp
Maserati Quattroporte's 4.2 liter V-8 engine generates 400 horsepower
The cabin is comfortable, luxurious with rich detailed upholstery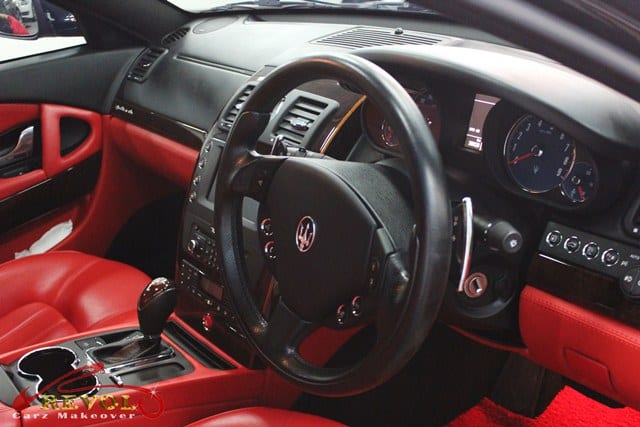 Behind the steering wheel are two very prominent paddle shifters and to the centre is a screen that houses a voice-activated satellite navigation integrated system..
six-speed ZF automatic transmission gear box
Clock
Side Fender Vents
Maserati Quattroporte Rear View
Well polished clean exhaust
Multi Spokes Glossy Black Rims
---