Hi Everyone,
Want to feel like 007? Have your car armored with ZeTough Ceramic Protection Coating by Revol Carz Makeover for that knockout luster. ZeTough may not make your car bullet-proof but certainly warrants a life-time of paint protection license to thrill.
Aston Martin and James Bond is a combination which has left an indelible mark on popular culture.
The exotic 2018 Aston Martin DB11 is a statement of taste and style. It's curvaceous, but slender, though longer, lower, and wider than the DB9 it replaces. It's absolutely beautiful inside and out, and there is no better way to arrive in style for that incredible makeover at Revol.
The glorious twin-turbo 4-litre 'Hot-Vee' V8 engine wakes up with more immediate response to throttle inputs and thrilling soundtrack. The V8 drives the rear wheels through an eight-speed paddle-shift automatic gearbox with the century-sprint in just 3.9 seconds and hitting a top speed of 300.95km/h.
Lightness and strength, the DB11 is underpinned by a new bonded aluminum body that sets a formidable new standard for the legendary DB lineage to unprecedented heights.
Put on the seatbelts; we're on a mission to thrill our readers with new posting below… the progressive and incredible make-over of the Aston Martin DB11at Revol Carz Makeover.
We hope you will enjoy viewing the following photos!
Licensed to thrill! The Aston Martin is armored with ZeTough Ceramic Paint Protection Coating for a long-term shine. The large clamshell hood is just one piece of rolled aluminum, creating a clean look for the entire front.


ZeTough amplified the deep luster on the front end with the iconic Aston Martin grille and clamshell hood.


The iconic headlights get much pampering with tender polishing by hand.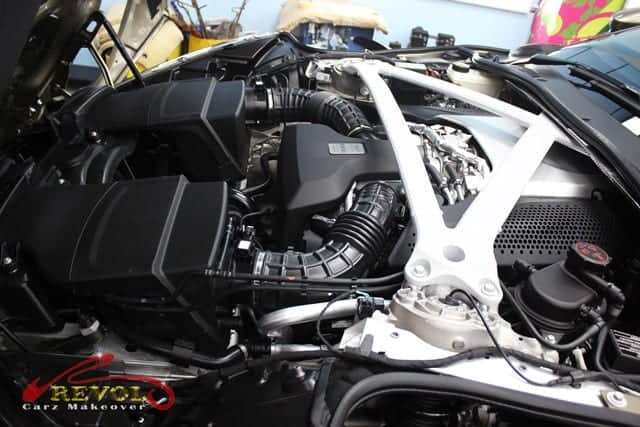 Pop open the clamshell bonnet reveals a pride of a super-clean 4-litre 'hot-vee' engine that has been painstakingly detailed by our groomers.


Detailing the every inch of interior in the Aston Martin was an exhilarating challenge.


Aston's DB11 is swathed in expensive materials and on-board infotainment system with an eight-inch central screen and 360 degree cameras as standard. It's an easy winner with Revol's detailing.


There's a handmade quality to most things you touch, like the brogued leather on the doors and the stitching around the Sat Nav screen.


A modern digital instrument cluster brings the car up to date,


Welcome to the DB11's cabin. The absolutely clean and beautiful environment are lathered in leather and accented with electronics.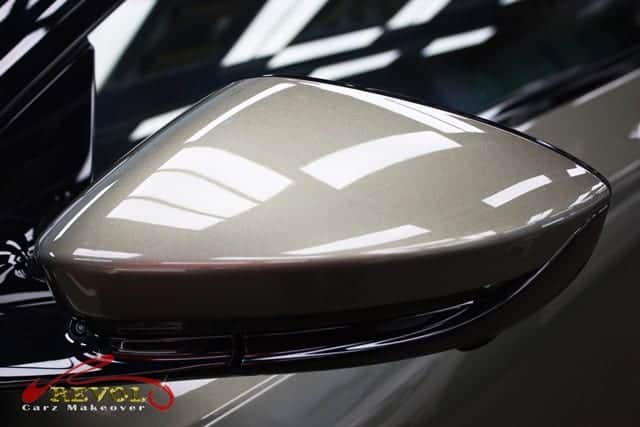 Scrutinize closer at the automatic wing-mirror and awe at the wonders of ZeTough Ceramic Paint Protection Coating.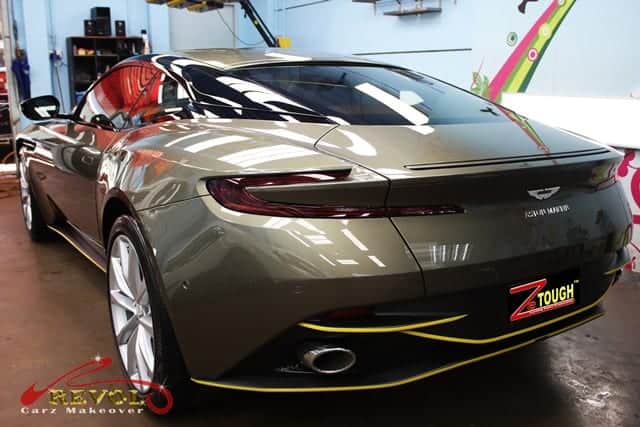 The body widens at the rear haunches, then tucks in quickly and wraps around the rear end. ZeTough indeed adds that extra showroom shine.


The rear active spoiler on the DB11 V8 comes standard.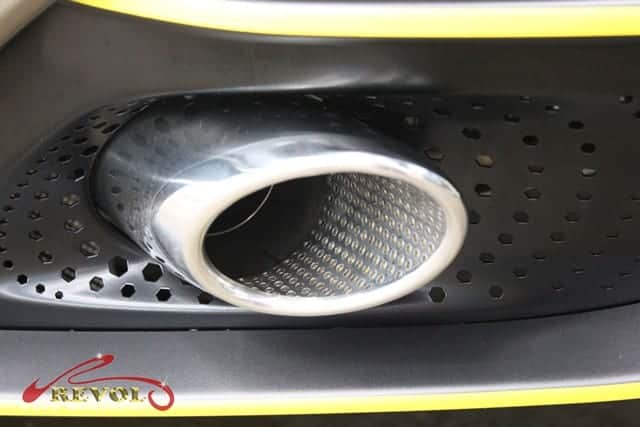 At Revol Carz Makeover, we leave no stone unturned. We cleaned the exhaust pipe to perfection.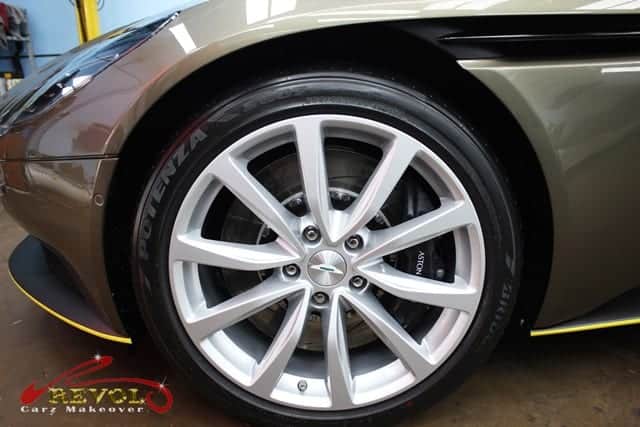 We actually removed the entire 20-inch 10-spoke unique graphite finished diamond wheels for 100% cleaning for a very accomplished restoration.
Nothing gives us more inspiration than giving every car-owner more reasons to smile with happy astonishment when they come to collect their cars after the incredible makeover. Thanks to the magic of ZeTough Ceramic Paint Protection Coating.
After Revol's professional makeover, the Aston Martin indeed looked much better than in showroom condition – and ready to thrill. ZeTough's incredibly long lasting protective luster promises to give the paintwork a lifetime protection.
Are you also thrilled by the stunning outcome of the makeover on the Aston Martin? Your car too can enjoy the reliable, long lasting surface protection. You can count on our award-winning and proven, ZeTough Ceramic Paint Protection Coating. Yes, imagine what we can do for your car!
Revol Carz Makeover is your right choice. Visit us to know more about our affordable and transparent services.
With the proven coating of the Eco-friendly ZeTough Ceramic Paint Protection coating, we guarantee your car's paintwork gets unparalleled protection with the guaranteed showroom shine throughout your ownership. Maintenance after the coating is minimal.
Thank you for reading!