Hi Everyone,
Thank you for visiting this page and you may wish to click on read more at the bottom of the page to view more similar cases!
Besides providing our expertise in resolving car issue, Transparency and honesty are top 2 most important core value too!
We thanks Mr Roshen for his testimonial and we hope you will enjoy viewing the following photos!
"I am inclined to write this testimonial as a way of expressing my heartfelt gratitude to Gavin and his remarkable team at Revol Carz Garage for the great job of permanently resolved my car issues and saving me a huge sum of money too.
Whilst I was driving along MacPherson Road area recently, my ABS warning light came on. I panicked and promptly drove to the AD (Authorised Dealer) workshop in the vicinity for a check.
The diagnosis revealed a faulty ABS pump. The gearbox overhaul was recommended due to auto transmission oil leakage.
The quotation by the AD was shockingly high so I contacted Gavin at Revol Carz Garage for a second opinion.
After a thorough check by their professional team, it indeed pointed to the faulty ABS pump. Conversely what surprised me was that overhauling the gearbox was unnecessary as the oil leak could be resolved by just replacing two broken screws in the transmission housing.
The ABS pump was replaced promptly however when I left the workshop, I still had lingering doubts despite Gavin's assurance that there was no need for the gearbox overhaul as opposed to the diagnosis at the AD.
Several months had already passed since my car was back on the road. Indeed there was absolutely no more oil leak and my auto transmission has been faithfully running smoothly.
I found it rather rare to find a workshop like Revol Carz Garage for such professionalism and integrity. They place the customer's interest first and offered me an honest quotation despite knowing the AD had quoted me so much higher. For that, they have saved me a whopping $6,000 plus
I have nothing but praise and high regards for Gavin and his professional team. I shall definitely be your long term customer for many years to come."
Revol Carz Garage is highly recommended!
Mr. Roshen Joseph
Mr. Roshen came to Revol Carz Garage after he received a shocking quotation amounting to over $9,000 for resolving his car's issues. He had sought our second opinion.
As quoted by the dealer, there was a fault code of the anti-brake system failure and an auto transmission fluid leakage which needed an overhaul.



At Revol Carz Garage, our diagnosis similarly concluded that it was indeed the anti-brake pump system failure and auto-transmission leakage.
However, our sharp-eye and experienced technicians had also discovered the actual cause of the oil leak which thus saved the owner substantial sum of money. We managed to resolve the issue for substantially less than the overhaul rate quoted by others.



The culprits were two broken fasteners. Broken fasteners are common occurrence of wear and tear overtime due to constant vibrations. Over tightening and using improper tools would also damage the threads.


We are glad to be able to resolve Mr. Roshen's car issues and most importantly saving him a huge sum of money of the cost compared to the quotation by other workshops.
If you do encounter similar car issue, please feel free to contact us for a second opinion with a no obligation assessment. Our honest and accurate diagnosis could save you unnecessary overhaul and saving you the distress and money lost to unscrupulous workshops.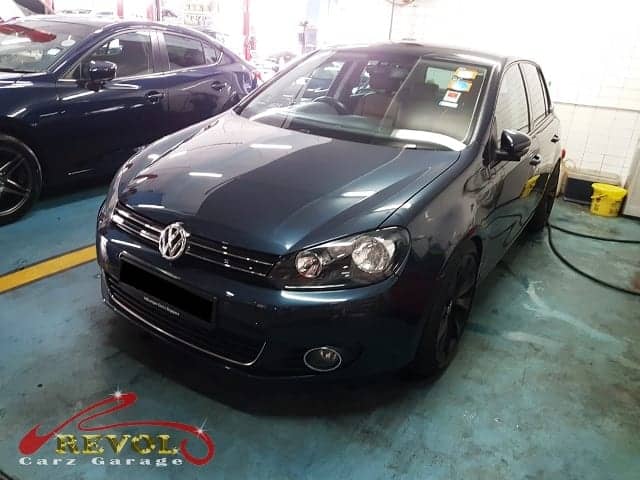 Mr. Roshen's Volkswagen, professionally repaired, washed, vacuumed and ready for collection.[/caption]
Preventive maintenance is always better than repair. It is important to understand about wear and tear before the components break down totally.
If you have any issue in any part of your car, do feel free to contact us. We will always serve you with the best of your interest!
Thanks for reading!