Hi Everyone,
The meanest version of the Audi RS5 Coupe has just got a gorgeous makeover treat at our Revol studio. At a glance it is easy to see by its intense mirror-shine that it has the fullest protection of ZeTough, the premium, long-lasting paint protection coating.
The RS5 Coupe is viciously quick with meaner firepower than before. Under the clamshell hood sits a potent 2.9 TFSI V6 Bi-turbo, 444-horsepower engine with which its fast-acting, eight-speed automatic transmission catapults the four-wheel drive from 0-100km/h in just 3.9 seconds. Top speed is nominally limited to 250 km/h.
On the exterior, the RS5 Coupe boasts a sporty accents front styling with massive air intakes, wide fenders, oval tailpipes, surface-mounted spoiler lip and rolls on 19-inch alloy wheels. The side-vented LED headlamps sharpen the appeal.
The cockpit is supremely comfortable with an array of top-notch materials and high-tech gizmos. Audi's clever Virtual Cockpit System offers user-configurable displays including 3D navigation in brilliant colors.
Come aboard and experience the thrills of Revol's Makeover with us on a virtual tour to our studio to wow at the transition of the pink Audi RS Coupe to a head-turning showroom worthy beauty.
We hope you will enjoy viewing the following photos!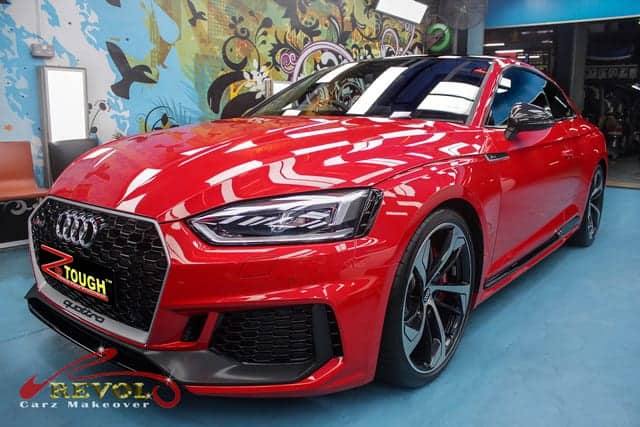 The elegant Audi RS5 Coupe sparkles after professional Revol Makeover with treatment of ZeTough Ceramic Paint Protection Coating.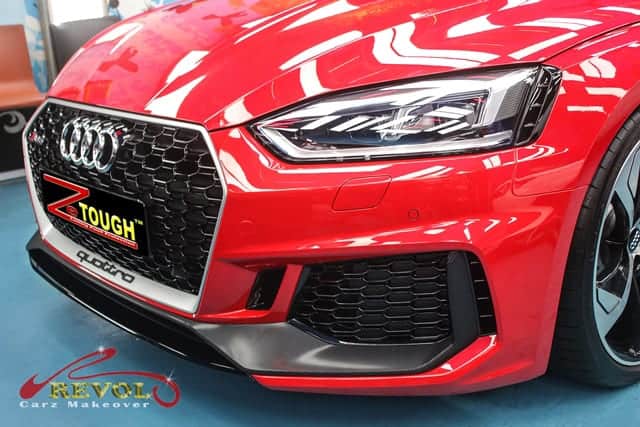 ZeTough Ceramic Paint Protection Coating brings the RS5 to life. The massive air RS inlets and single-frame radiator grille with honeycomb design characterize the front end of the Audi RS Coupe.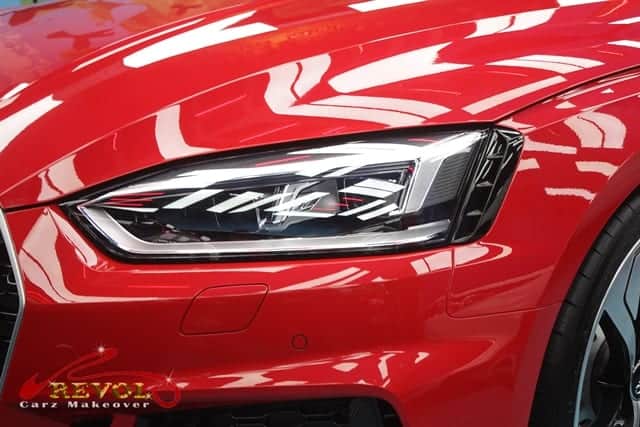 The manually polished LED headlamps are better than brand new.


Cleaning and polishing the engine bay to such perfectly new condition motivates our passionate detailers.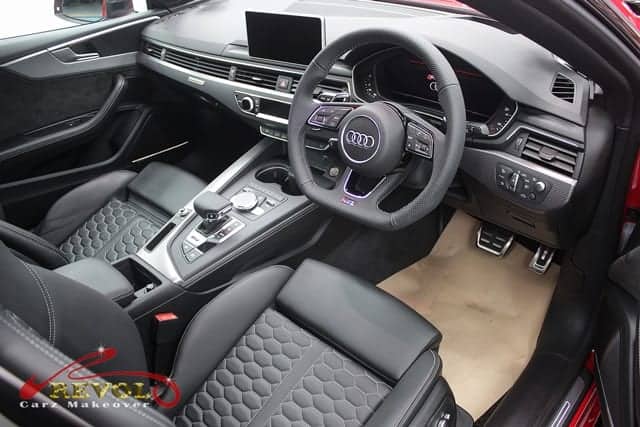 You can't blame our detailers for being perfectionists when it comes to sprucing up your car. They get down to the last detail in ensuring your interior is ultra-clean, sanitized and the plush Alcantara leathers conditioned.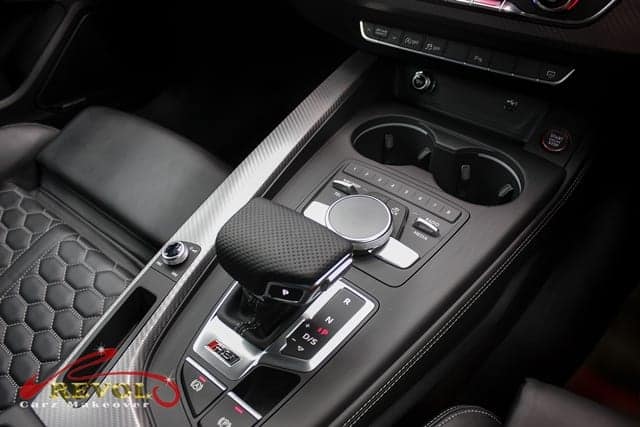 The meticulously clean console deserves your compliments.


The cleaned, leather wrapped RS Steering wheel certainly adds to the driving pleasure.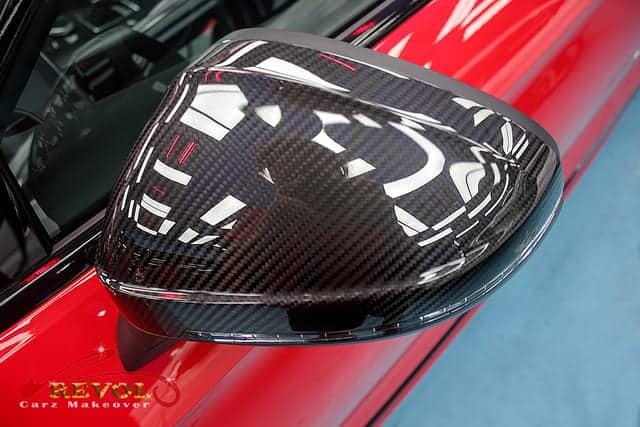 The exterior mirrors get a carbon fibre optic finish and the radiating mirror-shine with a touch of ZeTough Ceramic Paint Protection Coating..


Now you see. Now you don't. The nasty finger-nail scratches around the door handles are things of the past with the coat of diamond-hard ZeTough Paint Protection.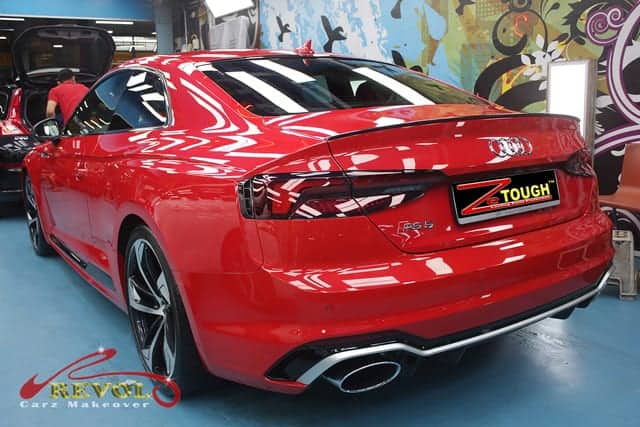 Our egos soar when your car shines like this. At the rear, the RS5 Coupe gets wider fender, a subtle boot lid spoiler and a uniquely styled bumper, high-gloss black diffuser and signature oval tailpipes.


Signature oval tail pipes – polished like brand new.


The finale of Revol Makeover with the 19-inch wheels in matt aluminum fully restored to showroom quality finishes.
If you're looking for the finest perfection in car detailing and ultimate paint protection in Singapore, Revol Carz Makeover is your right choice.
Our customer satisfaction is priceless. Every smile we put on our customer's face warms our hearts.
We passionately believe that our proven, ZeTough Ceramic Paint Protection Coating gives you the most bang for your money because the ultimate mirror-shine doesn't diminish and protects your paintwork for a longer time.
As you can see to believe, the Audi RS5 Coupe turns out even more stunning than its previous showroom condition after the Revol makeover. And it will remain shiny more permanently too.
ZeTough makes the difference. The incredible long lasting protective coating promises you a lifetime of paint protection.
If the stunning outcome of the makeover has impressed you, your car too can enjoy the reliable, long lasting surface protection. You can count on our award-winning and proven, ZeTough Ceramic Paint Protection Coating. Yes, imagine what we can do for your car!
Revol Carz Makeover is your right choice. Visit us to know more about our affordable and transparent services.
With the proven coating of the Eco-friendly ZeTough Ceramic Paint Protection coating, we guarantee your car's paintwork gets unparalleled protection with the guaranteed showroom shine throughout your ownership. Maintenance after the coating is minimal.
Thank you for reading!