Hi Everyone,
There once lived a lovely BMW 523i XL with gorgeous body. She reigned over the majestic highways and turned everyone's head in awe as she whizzed by like a rushing wind.
Sadly though, her royal beauty seemed to be fading away slowly into an unknown horizon. Her once flawless coat of paintwork began to dull, slowly showing signs of ageing due to prolonging neglect.
Her front bumper suffers painful deep cuts and her once-glorious sheen is replaced with more and more scratches and dents, showing dulling appeal. People who once adored her now no longer cast a second look at her pathetic silhouette.
Like most fairy-tales with happily-ever-after ending, her discerning owner finally noticed her plight. He gently brought her to Revol Carz Makeover for a magical restoration; ordering not only a coat of new premium BMW paint but also restoring her majesty from bumper-to-bumper with a powerful glass-like coating of ZeTough Ceramic Paint Protection that promises an ever long-lasting show-room shine.
The BMW 523i XL is beautifully restored to her royal perfection like a dream. Yet this is not a tale but happens real in world.
Hop in and ride with us to a virtual tour of Revol Carz Makeover studio and discover the real-life transition of the BMW 523i XL to a glorious showroom condition.
We hope you will enjoy viewing the following photos!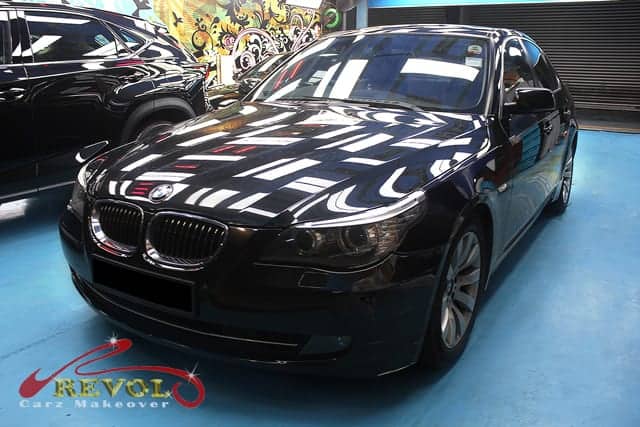 The BMW 523i XL arrives at Revol Carz Makeover for a new coat of paint and total grooming.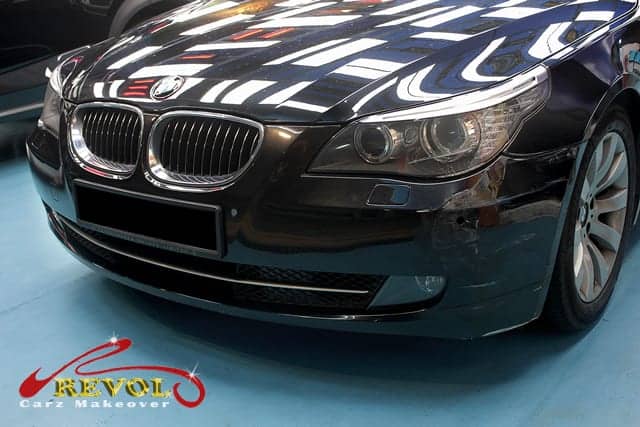 The paintwork on her front bumper had peeled off and her body showing dulling appeal.


Components such as the tail-lights, bumpers, wheels, badges, door seals need to be dismantled in preparation for the repainting.


Brace yourself and wow at the beautiful transition of the BMW 523i XL after a new coat of premium BMW paint and treatment of ZeTough Ceramic Paint Protection Coating.


Her spectacular front hogs the limelight with iconic kidney grills, BMW badge and Zenon headlights.


Skilled manual polishing which results in crystal clear and bright headlights.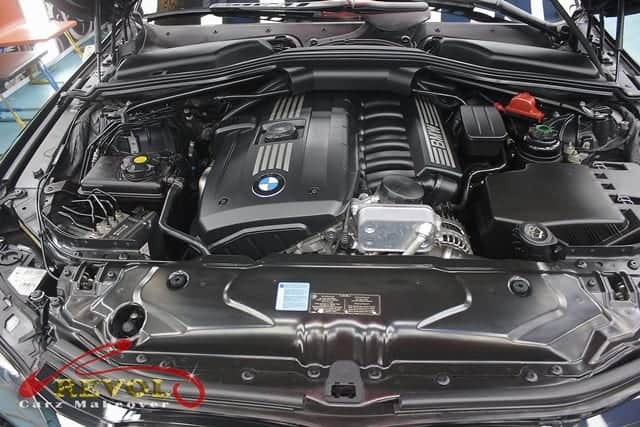 Peek into her heart and you will agree it is flawlessly clean and pure after the makeover. The 523i insignia doesn't mean the car is powered by a 2.3-litre engine but a 2.5-litre unit.


Fascinating beauty of the lush BMW interior


The wing mirror was covered with water-mark stains before the makeover.


See a world of a difference after the incredible makeover?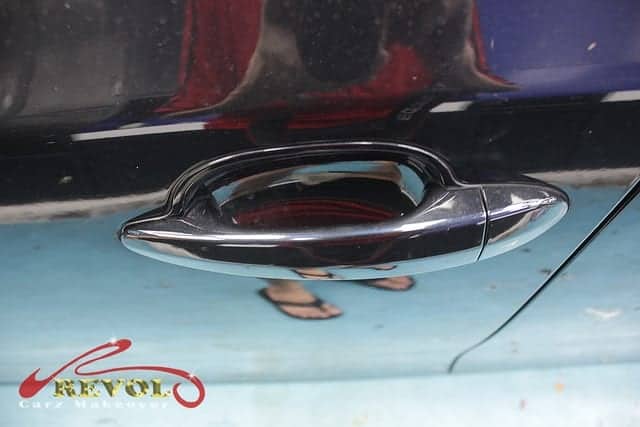 Do you feel exasperated by finger-nail scratches all around the door handles? Don't despair.


With the glass-like shield of ZeTough Ceramic Paint Protection Coating, finger nail scratches cannot touch the door handles ever again.


You are excused if you gaze at her rear a little too long. Indeed her rear view is just as gorgeous.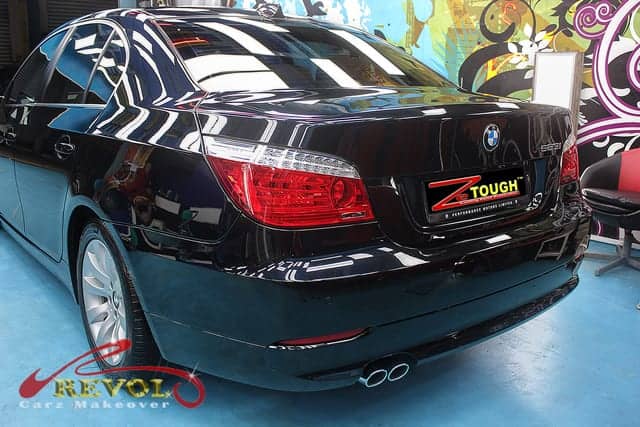 Take a closer look at the sizzling beauty of the restored BMW 523i XL before she rides into the happy-ever-after horizon.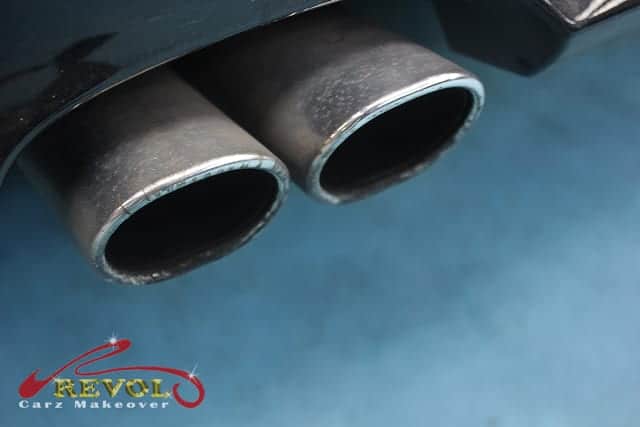 The 523i features twin tailpipes on the left hand side but these really need urgent restoration.


We manually polished the twin tailpipes by hand to achieve this awesome new look standards.


All the wheels need to be dismantled for professional cleaning and restoration.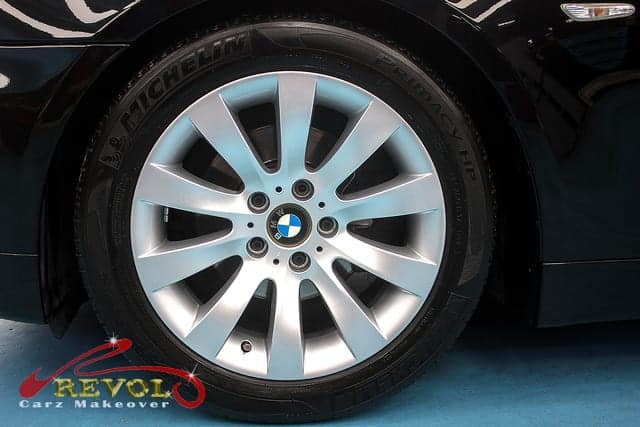 All the 17-inch alloy wheels are now restored to brand-new showroom standards for the grand finale.
We thank all our satisfied customers for their positive reviews that say volumes of Revol Carz Makeover.
Express your distinction in the finest perfection in car detailing and paint surface protection with our proven, ZeTough Ceramic Paint Protection Coating that gives the best value for money.
See to believe how we transformed the BMW 523i XL like a dream car again. The amazing result speaks for itself. The BMW turned out more spectacular than its previous showroom condition after the professional Revol makeover. And it will remain ever shiny with greater permanence too.
ZeTough Ceramic Paint Protection Coating truly makes all the difference. The incredible long lasting protective coating promises a lifetime of paint protection.
Impressed by the stunning outcome of the makeover? Your car too can enjoy the reliable, long lasting surface protection. You can count on our award-winning and proven, ZeTough Ceramic Paint Protection Coating. Yes, imagine what we can do for your car!
With the treatment of the renowned ZeTough Ceramic Paint Protection, we guarantee your car's paintwork gets maximum protection with the showroom shine throughout your ownership. Maintenance after the treatment is minimal.
Thank you for reading!