Hi Everyone,
The highly anticipated, all-new BMW 540i M-Sport made a tumultous entrance in Singapore only a few months ago and the spectacular model has quickly become a huge sensation amongst the BMW fans.
The instant popularity has made the new BMW 540i  one of the current best selling model in Singapore.  Its no surprise that we are welcoming a high number of this 5-Series at Revol Carz Makeover workshop in recent months.
So what are these brand new BMW doing at our paint protection workshop?  The answer is obvious.  The proud owners share a common sentiments…it makes prudent sense to urgently protect the car's factory-original paintwork under our harsh tropical weather conditions.
ZeTough Ceramic Paint Protection is an obvious choice for the discerning car lovers.  The extremely hard ceramic coatings of ZeTough not only protects the paintwork but also gives an incredible long lasting shine with minimal maintenance.
Like a pair of lovers, a black and a white BMW 540i M-Sport arrived here together to receive professional ZeTough Ceramic paint protection treatment.
At our workshop, we seized the opportunity to awe at the impressive features of the new BMW 540i. 
The all new BMW 5 Series continues to be a refined and desirable executive sedan with more aggressive looking bodywork and stiffer M Sport suspension with 19-inch wheels.
The redesigned headlamps are widened, creating a sexier hook-up with the enlarged double-kidney grille which shutters to reduce drag at high speeds.
Under the hood lies a powerful 3.0 liter turbocharged 16 engine. that flexes its tech muscles with a 340 horsepower and 332 lb/ft of torque.  BMW claims a 0-100km/h sprint time of 5.1 seconds for the 540i.
The interior feels extravagant.  The materials are visbily upgraded, heightened by contrasting ambient lighting
We do hope you will enjoy viewing the following photos!
Revol Carz Makeover proudly presents the spectacular result of our extraordinary car paint protection coating of a black BMW 540i M-Sport, with a treat of ZeTough Ceramic Paint Protection.
Then comes another all-new and majestic white BMW 540i M-Sports with equally brilliant, long-lasting protective shine with the treatment of ZeTough Ceramic Paint Protection.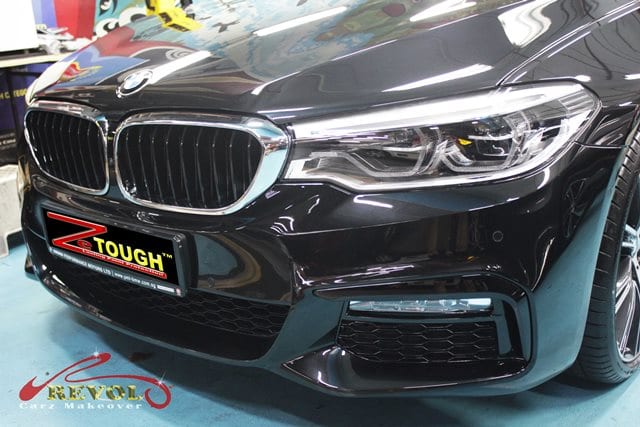 The aggressive frontal view of the well polished BMW540i. The Active Kidney Grille, which opens and closes to optimize engine cooling and aerodynamic purposes.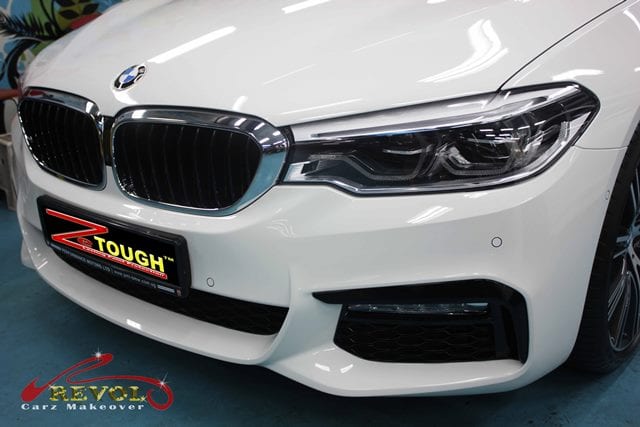 Frontal view of the new white 5-Series M-Sport with ZeTough Ceramic protection.lose up view of the crystal-clear LED head lights that had been painstakingly polished.
She got sexy crystal clear lens too after polishing.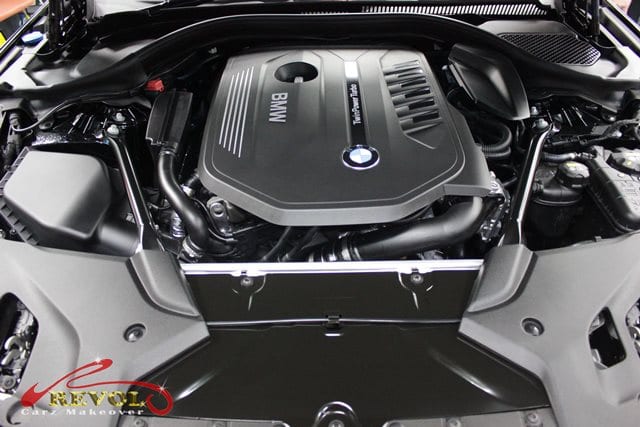 We take pride in transforming the 3.0 liter turbocharged engine to a refreshingly new condition.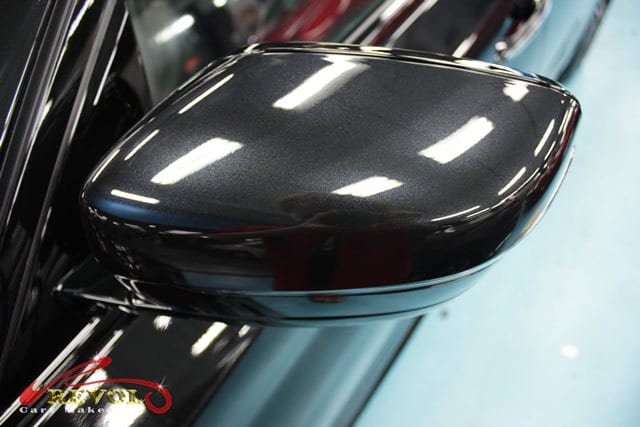 E
lectrical retractable side mirrors with a touch of ZeTough Paint Protection coating.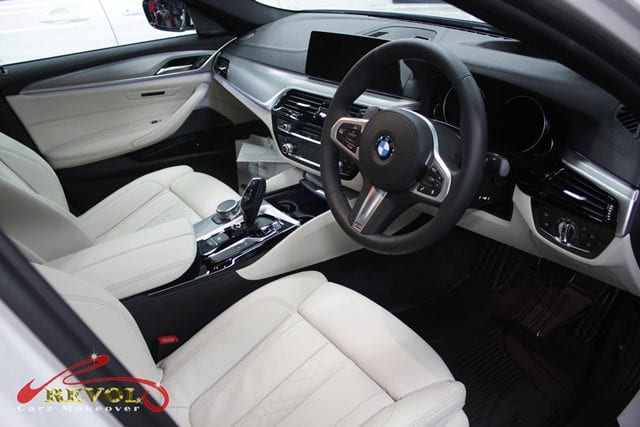 The extravagant cabin with contrasting white and black soft leather after cleaning with passion
.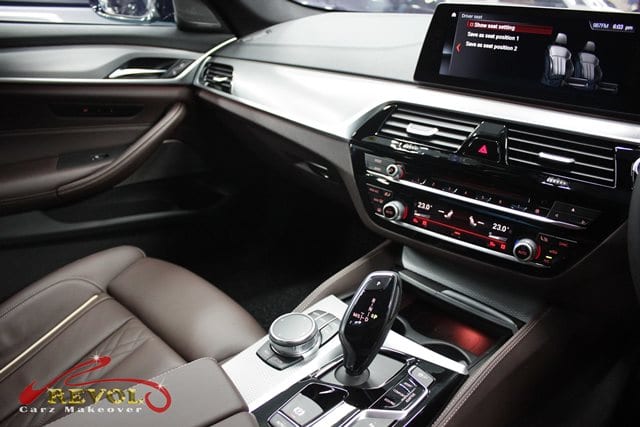 The new M Sport steering wheel looks fantastic and feels great in the hand after polishing.
The new M Sport steering wheel looks fantastic and feels great in the hand after polishing.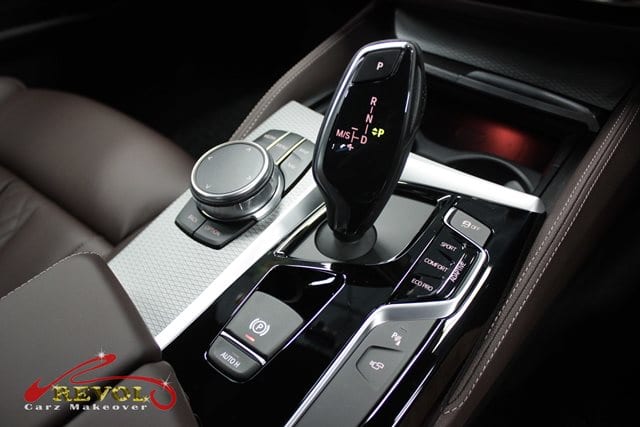 The centre console is cleaned and polished to perfection. The console features Gesture Control capabilities, which allows commanding infotainment by pointing your fingers or by swiping with a hand motion near the centre console.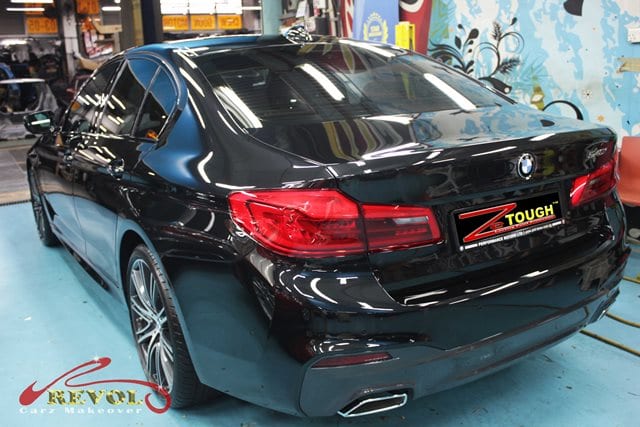 Her sexy rear surely turns heads with a touch of ZeTough.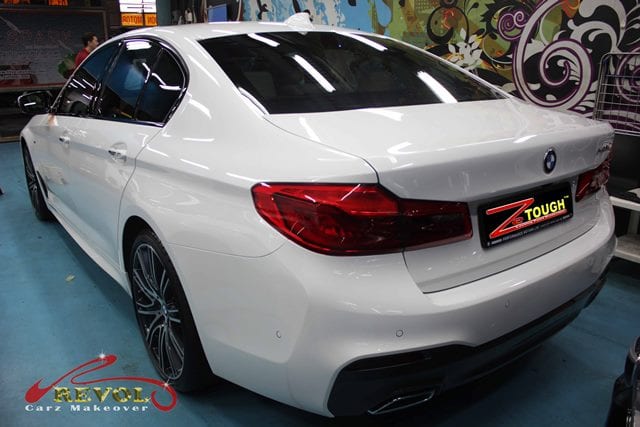 ZeTough Ceramic Paint Protection ensures prevention of white paintwork from turning yellowish over time.
The M-Sport package adds a more aggressive bodywork that is enhanced with the challenge of ZeTough Ceramic Paint Protection.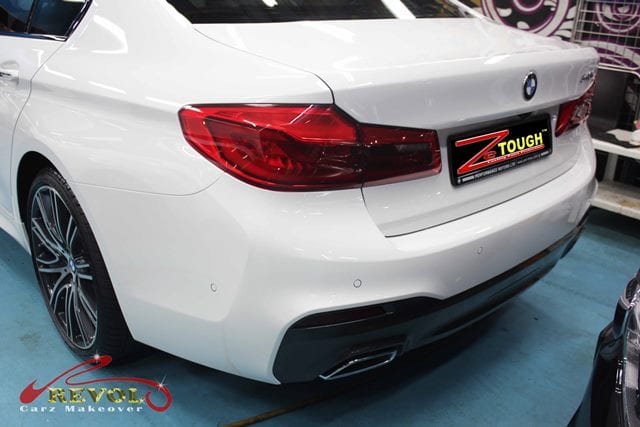 Larger tail-lamps wrap into the rear fenders. The side skirts are more aggressive with trapezoidal exhausts.
The job is isn't finished without giving the deep-chromed trapezoidal exhaust tips are careful cleaning and polish.
Stiffer M-Sport suspension with19-inch alloy wheels are more reasons to flaunt on the road with our restoration.
With the treatment of the renowned ZeTough Ceramic Paint Protection, we guarantee your car's paintwork gets a maximum protection with the showroom-quality shine throughout your ownership.
Maintenance after the treatment is minimal.
Thank you for reading!