Hi Everyone,
You just got delivery of your brand new car? Congratulations!
Did you know that, commonly, new car's original factory clear coat hardness usually ranges from 2H to 4H? Your new car was probably given a touch-up wax job before it was handed over to you.
Your major investment deserves the absolute best paint protection. That was why the BMW X3 SDrive20i made a beeline to Revol Carz Makeover for a long-lasting, glass-shield of ZeTough Ceramic Paint Protection Coating to preserve the original factory paint.
The BMW sDrive20i is the first new-generation X3 with rear-wheel drive. Power comes from a 2.0-litre 4-cylinder inline 16-valve twin-power turbocharged petrol engine. It boasts 135kW of power and 290Nm of torque and paired to the intuitive and smooth eight-speed automatic transmission. The century acceleration from standstill is achieved in 8.2 seconds with a top speed of 213 km/h.
Standard equipment and features are 19-inch alloy wheels, sharp LED headlights, power tailgate, head-up display, business satellite navigation, Bluetooth, latest iDrive6 infotainment platform and three-zone air conditioning.
Hop aboard as we take you on a virtual tour to view the breathtaking performance of ZeTough Ceramic Paint Protection Coating that has transformed the BMW X3 SUV into a brilliantly smooth shine of a showroom car.
We hope you will enjoy viewing the following photos!
The third-generation BMW X3 SUV in brilliantly showroom lustre after Revol detailing with the Midas touch of ZeTough Ceramic Paint Protection Coating.q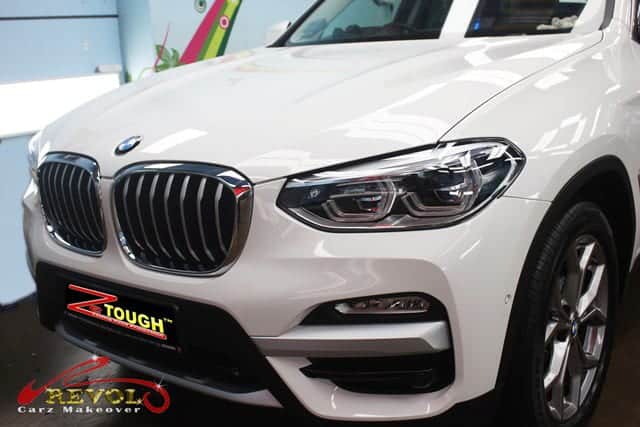 The BMW badge, the iconic twin-kidney grille and the gleaming paintwork say volumes about the X3.


The crystal clear headlamps have been passionately polished by hand.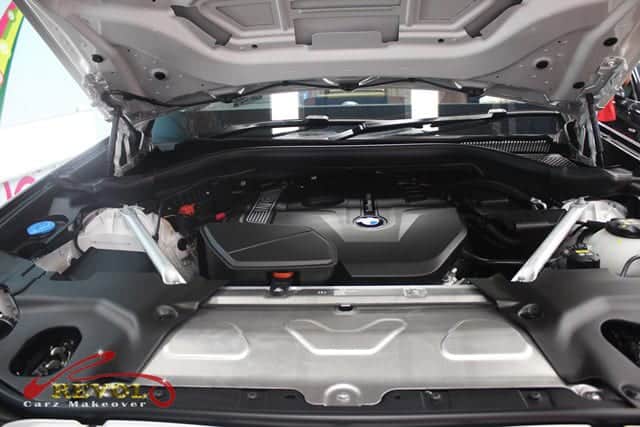 Our passionate detailers take great pride and joy to present an ultra-clean engine bay.


We leave no stone unturned. Every inch of the interior is super clean, freshened and deodorized. Leather surfaces are treated with non-harsh cleaners and eco-friendly leather-care products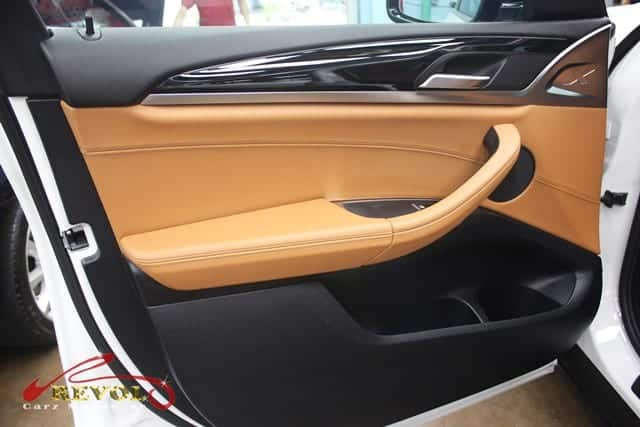 Perfectly cleaned and polished door trims are detailed to impress.


Sparkling detailed Navigation system with 6.5-inch central display.


The central console with rotary dial is well polished and shiny.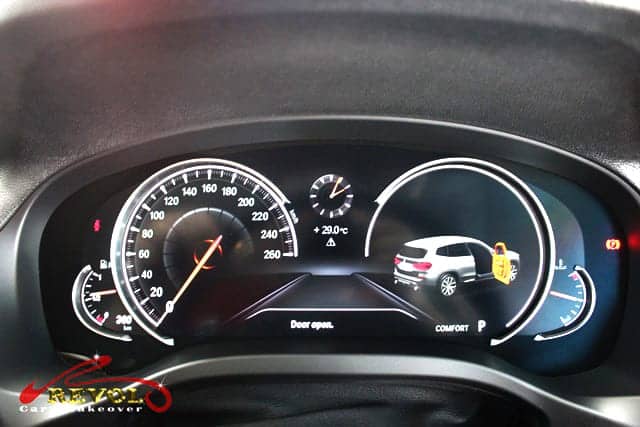 The new Multifunction Instrument Display (MFID) replaced the physical cluster with high definition display.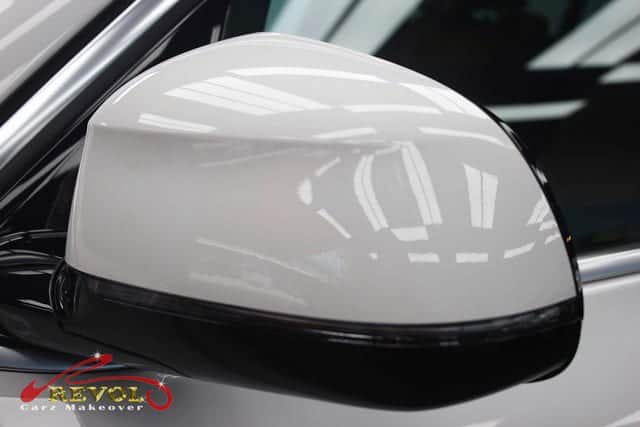 A closer scrutiny of the breathtaking deep gloss made possible only with ZeTough Ceramic Paint Protection Coating.


The power tailgate is a nice addition with a feel of quality. It makes life easier, especially when trying to load the family shopping.


With love and patience, our detailers make sparkling gems out of the tail-lights.




[caption id="attachment_10265" align="alignleft" width="640"]
We removed all the wheels for ultimate restorations to complete the showroom glory to the BMW X3 SUV.
The polished exhaust tail-pipes certainly turn heads.[/caption]
Consider ZeTough Ceramic Paint Protection Coating if you want a long-lasting investment for your car. The special coating resists dirt and road grime better than traditional protection. Your car will stay cleaner for a longer period of time and will be extremely easy to wash and maintain.
No other ceramic coating can match this level of slickness, durability and protection against UV damage, hard water spots, bird droppings and elements associated with everyday driving.
Impressed by the stunning makeover? Your car too can enjoy the reliable, long lasting surface protection. You can count on our multiple award-winning and proven, ZeTough Ceramic Paint Protection Coating. Yes, imagine what we can do for your car!
Revol Carz Makeover is your right choice. Visit us to know more about our affordable and transparent services.
With the proven coating of the Eco-friendly ZeTough Ceramic Paint Protection coating, we guarantee your car's paintwork gets unparalleled protection with the guaranteed showroom shine throughout your ownership. Maintenance after the coating is minimal.
Thank you for reading!