Hi Everyone,
We are extremely pleased to be able to receive another happy customer testimonial whom have been supporting us since year 2009! Thanks Mr Leong!
We do hope you will enjoy viewing the following photos!
A preview before Mr Leong's car change colour.
A rear preview before the colour change
We present Revol's breath-taking makeover of the Mercedes C200 turning her into a desirable Ruby-red showroom master-piece.
At Revol Carz Makeover, we never leave any trace of the previous color. Every removable part is carefully dismantled and polished in preparation for the color change.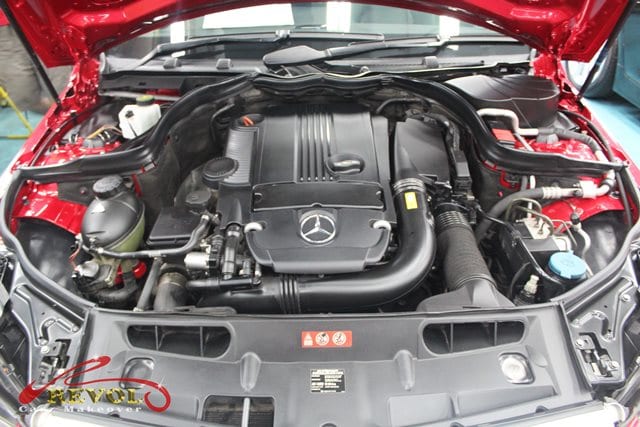 Under the hood lies a 1,796cc, 4-cylinder in line BlueEFFICIENCY Turbocharged petrol engine which was painstakingly cleaned and polished to make it new again.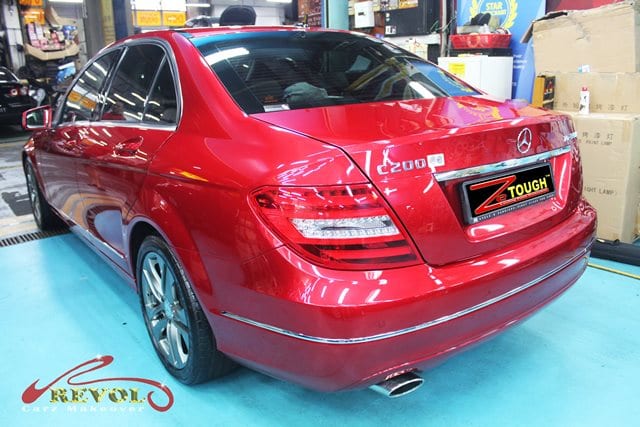 In our spray-painting protocol, every removable part such as the bumper, tail lamps, bonnet, trunk cover, doors and trims are stripped off to achieve the professional finish…leaving absolutely no trace of any previous paint color.
Inside, the Mercedes luxury styling with refined materials and premium finishes are passionately cleaned and polished to revived the new look.
Our team of restorers put their hearts in detailing to achieve the flawlessly cleaned and revived interior.
The tail-pipe gets intense polishing to reach this immaculate condition.
Like we have always mention, a restored back like new rims will then only complete the showroom feel.
With the treatment of the renowned ZeTough Ceramic Paint Protection, we guarantee your car's paintwork gets maximum protection with the showroom shine throughout your ownership.  Maintenance after the treatment is minimal.
Considering giving your car a new lease of life?  We can transform your car to an undeniably immaculate showroom condition too!
Thank you for reading!