Revol Carz Makeover was privileged to welcome the hot, all-new version of Renault Mégane RS for ZeTough Glass Coating paint protection.
The Renault Mégane R.S. was re-styled in 2012 projecting subtler, curvier lines with artfully designed front wing extensions and front aerodynamic bumper with splitter and LED lights.
The stunning Renault Megane RS, tweaked by Renaultsport comes with1998 cc, 16V turbo-charged petrol engine producing 265hp at 5,500 rpm with torque of 360 Nm.
With a acceleration from 0-100kmh in 6.1 sec achieving top speed of 245kmh, the Renault RS should not be taken lightly despite its small built.
Emerging from Revol Carz Makeover workshop after the ZeTough Glass-coating paint protection treatment, the Renault Megane RS was transformed into a gleaming and elegant beauty drawing even more attention as it zipped by.
Stay tuned as we will be posting one of its close competitor pretty soon…
Enjoy Viewing!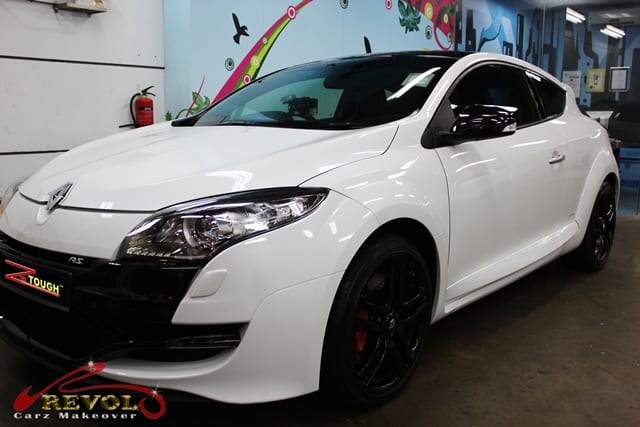 Dymanic and compact Renault Megane RS front view

F1-style front blade design

Led directional headlights

Simple looking engine cover with powerful engine producing 265bhp

Renault Megane RS Sport Interior

6-speed manual transmission Gear knob

Sexy and sporty rear view

Clean and polished Renault Megane RS Exhaust Pipe

18-inch black wheels rims
---