[c_3 first="true"]

[/c_3]
[c_9 last="true"]
I am inclined to write this testimonial as a way of expressing my heartfelt gratitude to Gavin and his remarkable team at Revol Carz Garage for the great job of permanently resolved my car issues and saving me a huge sum of money too.
Whilst I was driving along MacPherson Road area recently, my ABS warning light came on. I panicked and promptly drove to the AD (Authorised Dealer) workshop in the vicinity for a check.
The diagnosis revealed a faulty ABS pump. The gearbox overhaul was recommended due to auto transmission oil leakage.
The quotation by the AD was shockingly high so I contacted Gavin at Revol Carz Garage for a second opinion.
After a thorough check by their professional team, it indeed pointed to the faulty ABS pump. Conversely what surprised me was that overhauling the gearbox was unnecessary as the oil leak could be resolved by just replacing two broken screws in the transmission housing.
The ABS pump was replaced promptly however when I left the workshop, I still had lingering doubts despite Gavin's assurance that there was no need for the gearbox overhaul as opposed to the diagnosis at the AD.
Several months had already passed since my car was back on the road. Indeed there was absolutely no more oil leak and my auto transmission has been faithfully running smoothly.
I found it rather rare to find a workshop like Revol Carz Garage for such professionalism and integrity. They place the customer's interest first and offered me an honest quotation despite knowing the AD had quoted me so much higher. For that, they have saved me a whopping $6,000 plus
I have nothing but praise and high regards for Gavin and his professional team. I shall definitely be your long term customer for many years to come.
Revol Carz Garage is highly recommended!
Mr. Roshen Joseph

[/c_9]
---
[c_3 first="true"]

[/c_3]
[c_9 last="true"]
It frustrated me that my car had been constantly misfiring and I kept having the needs to top up engine oil. .
At my wits end, I decided to call Gavin at Revol Carz Garage for an appointment to discuss my car's issues and to resolve the car misfiring issue.
Overhauling the car engine was a major repair which I needed some time to reconsider. To temporarily stop the car coughing, Gavin offered to replace the spark plugs to enable me to drive for a while.
As I had anticipated, the damned misfiring recurred after one week. I had to ask Gavin for another set of spark plugs as I needed more time to ponder over overhauling my car. Gavin obliged without hesitation but warned that prolonged delay might not be a good long-term options.
Eventually I couldn't evade the overhaul any longer so I left my car at Revol Carz Garage the following week. I have never regretted my decision since. The engine now purrs efficiently smoother and is so much quieter after the overhaul. Happily, there is zero top up of engine oil.
Initially, I was rather sceptical about whether the engine overhaul could effectively resolve the heavy consumption of engine oil. Indeed Gavin's professional advice had reassured me.
I have patronized many auto-workshops but none matches Revol's standards. I appreciate their fair, transparent and sincere services and customer-first business philosophy.
Their manager, Gavin, with years of experiences, understands and listens attentively to the customers' needs – always offers the right solutions.
Special thanks to the Revol Team for the job well done. I will be back for my next car servicing!
Keep up the great job!
Mr. Edwin Tan
[/c_9]
---
[c_3 first="true"]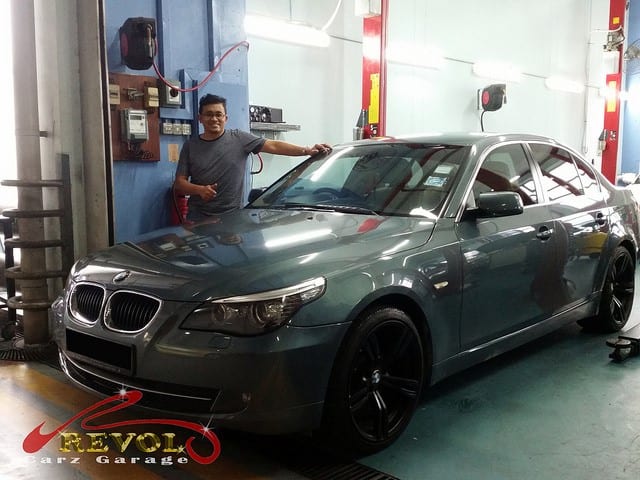 [/c_3]
[c_9 last="true"]
I would like to express my appreciation for the effort to Gavin and his team at Revol Car Garage Repair Services in resolving my car's issues.
What seemed to me as a very tedious and difficult problem to solve was professionally dealt with by your team.
I would like to extend my "Congratulations for a job well done" to all involved. You guys were able to make heads and tails of problems relating to the transmission issue and valve seals replacement with repairing them at a very reasonable cost.
THANKS once again as Revol Carz Garage has achieved the goal of yet another satisfied customer.
Mr. Zanly
[/c_9]
---
[c_3 first="true"]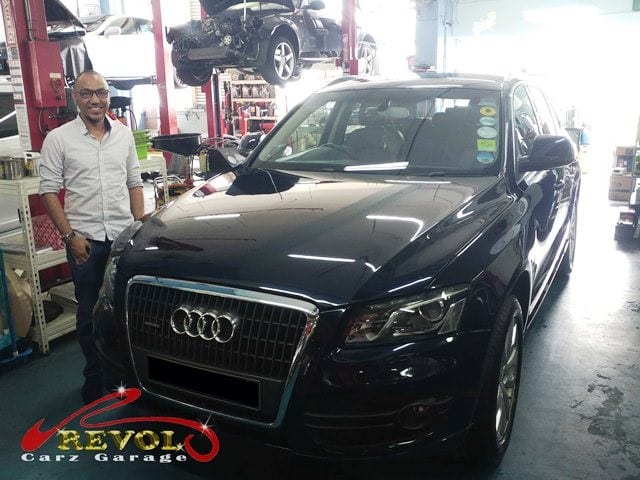 [/c_3]
[c_9 last="true"]
I drive an Audi Q5 which recently developed a gearbox issue and high consumption of engine oil of topping up every 500km.
I came across Gavin of Revol Carz Garage with whom I had several mobile-text exchanges regarding my car's problems.
Finally an appointment was arranged for my car to be repaired.
I was very pleased with the personalized service provided and Gavin had kept me updated on the car repair process up to the collection schedule.
After collecting my car, I immediately felt the big difference in the engine. It was a joy when driving. The engine was a lot quieter and the gear-change was extremely smooth which resulted in lesser fuel consumption.
However, I couldn't help feeling a little sceptical that this "feel-good" would last long. It has been more than six months since and I haven't top up a single drop of engine oil. Simply Amazing!
Gavin and his professional team have really delivered their promises.
I would like to extend my appreciation to Gavin and his team for their professional and dedicated services in repairing my car.
There are many automobile workshops around but in my opinion, only a few can match Revol's standard.
Keep up the good job, Revol, so I can continue to use your extra-ordinary services!
Mr. Norman 

[/c_9]
---
[c_3 first="true"]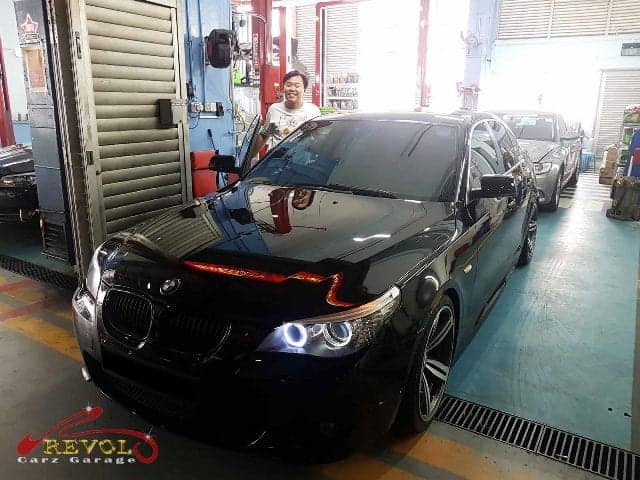 [/c_3]
[c_9 last="true"] 
My BMW E60 had baffled me with unusually high engine oil and coolant consumption for some time until Revol Carz Garage nailed the nagging problems eventually. Kudos to Gavin and his team for their expertise!
Prior to discovering Revol Carz Garage, my car needed frequent topping up of coolant and was also thirsty for engine oil. I had visited several auto workshops but was told that there was no exterior leakage. Ironically, they advised me that it was normal to top up of coolant.
Not convinced and feeling frustrated, I sought the services of Revol Carz Garage.
I had a pleasant conversation with their Workshop Manager, Gavin who advised me that they required about half a day to conduct various tests to determine of the actual leak since there was apparently no external leakage.
Within a couple of hours, Gavin inform me that they had located the leakage within the engine block and recommended an engine top overhaul.
I was relieved and happy that the overhaul job had not only resolved the coolant issue but also the problem of high consumption of engine oil.
I should add that throughout the repair process, Gavin had updated me on the progress now and then. I appreciate that they were in time for the car-collection schedule as promised. I found their invoice for repair was fair and transparent. No hidden charges. No surprises!
The highlight of my testimony is my delight to have my car running smoother and more efficient than ever. I am relieved that there had been absolutely no need to top up of engine oil and coolant since the repair.
On a personal note, I feel the professional team at Revol Carz Garage are highly qualified with expertise to deliver excellence in repairs and other services.
I have no hesitation in recommending Revol Carz Garage to others. Two thumbs up to Revol and keep up the good work.
You have made me another loyal customer!
Mr. Delson
[/c_9]
---
[c_3 first="true"]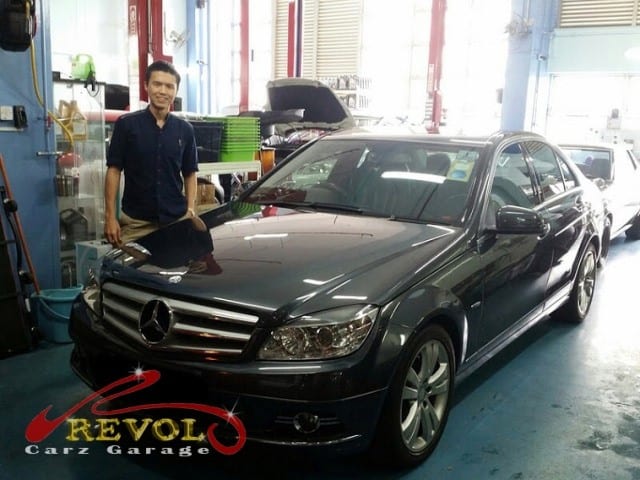 [/c_3]
[c_9 last="true"] 
I was disturbed by the irritating noise from my car's under-carriage. My previous workshop diagnosed that my shock absorbers were responsible
I called up Gavin at Revol Carz Garage and I accepted his quotation. I confidently requested that he proceeds to order brand new suspensions.
However, he advised to let his team to inspect first prior to ordering the parts. Despite his advice, I had insisted to proceed as I was confident my absorbers were faulty, as diagnosed by the previous workshop.
On arriving at Revol Carz Garage, I was pleased to see that my new absorbers had already arrived, so they saved me some waiting time.
Instead of hastily dismantling the absorbers for replacement, their experienced mechanics routinely inspected the under-carriage more thoroughly. They discovered, to my pleasant surprise, that the source of the noise was actually from anti-roll bar.
As I had insisted on ordering the new absorbers, I was concerned that I need to pay for them anyway.
Gavin was graceful to allow me to cancel my order for the absorbers.
The replacement of the faulty anti-roll bar solved my problem.
I am indeed happy and grateful for their professional works and integrity.
Their experience and correct diagnosis had certainly saved me money and solved the nagging problem.
Revol Carz Garage has earned my trust and I shall hence be their long term customer.
If you are looking for a workshop with integrity, professionalism and friendly service, I have no hesitation in recommending Revol Carz Garage.
Mr. Richard

[/c_9]
---
[c_3 first="true"]

[/c_3]
[c_9 last="true"] 
First and foremost, I wish to extend my heartfelt thanks to Revol Carz Garage for resolving my car repair issues promptly and efficiently.
I had been troubled by my car's unusual high consumption of engine oil and gearbox fluid leaking issues and was searching for a reliable workshop to fix them.
By words of recommendation, I visited Revol Carz Garage and met Gavin. After relating my car problems to him, he promptly had his team to check on the issues.
He explained clearly to me in detail, the proposed repairs and even gave me the breakdown of the repair cost. This was a good business practice unlike some workshops tend to fleece the customers with shocking repair to be shown after the repair which often leads to conflict, argument and unhappy customers.
Gavin kept me updated on the repair and when to collect my car and delivered the car as promised. I am extremely happy and satisfied with the professional and hassle-free service.
I have no hesitation to highly recommend Revol Carz Garage to all my friends.
Great job Gavin and your professional team! Keep up the excellence.
Mr. Farhin
[/c_9]
---
[c_3 first="true"]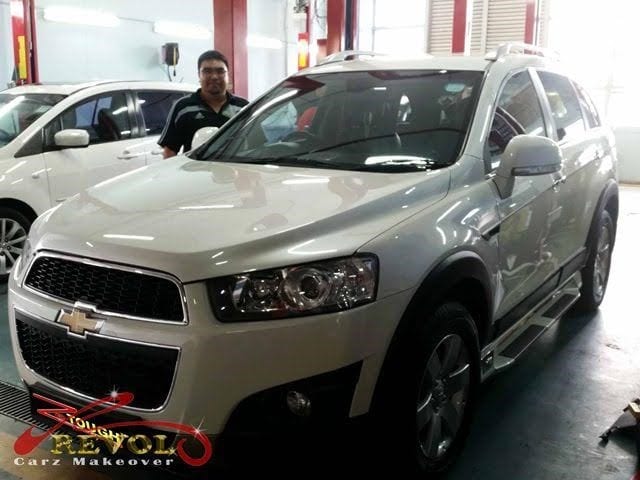 [/c_3]
[c_9 last="true"] 
Prior to discovering Revol Carz Makeover, my car bodyworks was repaired by other workshop. I was disappointed with the shoddy work done to my car.
When Gavin of Revol Carz Makeover walked me around my car, he pointed out various regretful flaws.
On my first car-grooming appointment with Revol Carz Makeover, I accepted a fair quotation from Gavin, to restore the previous badly spray-painted job with paint protection coating.
I was not only quite happy but amazed by Revol's spray-painting result which was a huge significant difference compared with the works of the other workshop.
The spray painter and car groomers at Revol must have been proud to have delivered such fine and extra-ordinary works. They deserve a well-done pat on their backs.
Unfortunately, my car was involved in a minor road accident a few weeks ago. Looking at the damage with dismay, my first thought was contacting Revol Carz Garage immediately.
As expected, Revol Carz Garage handled my car accident claims repair smoothly and promptly.
Understanding my heavy work schedules, Revol had actually provided me with a courtesy car to minimize my inconvenience. Their goodwill and good customer-care had made the whole process pleasant and distress-free. I was again, deeply impressed by the efficient service.
I am resolved to be a loyal customer and have continued patronizing Revol for every of my automotive needs and car-repair.
My wife and I extend our sincere and special thanks to Gavin, Randy and the staff of Revol Carz Garage for their professionalism and the personal touch that saved us a lot of hassle from the accident insurance claims process.
You guys are awesome indeed!
I will strongly recommend friends to Revol Carz Services.
Mr. Abdul
[/c_9]
---
[c_3 first="true"]
[/c_3]
[c_9 last="true"] 
While driving home recently after a late night out, I felt some vibrations in my car with a warning lit up on my meter board too.
Feeling distressed, I quickly texted to Gavin to seek his advice. I was quite surprised that he immediately responded despite the wee-hour of the night.
The next morning, I drove to his workshop to have my car checked. His friendly and competent team after some testes found the issue lies in the engine pistons.
Being a car owner, I am actually quite depressed to hear the word engine overhauled as it could set me back with a hefty repair bill.
Gavin understood my plight and he patiently explained to me the whole repair process and why it was sensible and necessary to repair.
(Trust me I have encountered some workshop who were easily offended when I asked them more questions regarding the repair!)
Gavin had also patiently explained the breakdowns of the repair and each part that needed to be replaced.
He put me, as a car owner, more relaxed state in understanding of the repair job rather than expecting me to leave the car at the workshop without comprehension
As expected, the engine overhaul was professionally done and delivered to me on time for my weekend drive with my family.
I was happy that Gavin kept me posted throughout the process of the repair and test drive to ensure my car was satisfactorily working and met their QC Standards before returning the car to me.
I am happy that total repair cost was precisely as quoted.
My car now drives more smoothly and even with more torque. I'm relieved there is no more annoying jerking and vibrations.
Evaluating my past experience patronising various workshops, I now affirm to be a long term loyal customer of Revol Carz Garage for their dedication, professional expertise and price transparency.
No hidden cost. No surprises.
Thumbs up for the Great Job!
Mr. Liang

[/c_9]
---
[c_3 first="true"]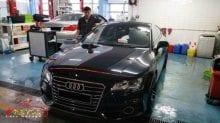 [/c_3]
[c_9 last="true"] 
I am writing to thank Revol Carz Garage team for swiftly resolving my gearbox issue with their accurate diagnosis and professional work.
Your added service of arranging a rental car for me during the car repair is much appreciated.
Your services are excellent, extraordinary and rare in the motor workshop industry. I am very impressed.
Thumbs up for your guys!
Adrian Lee
[/c_9]
---
[c_3 first="true"]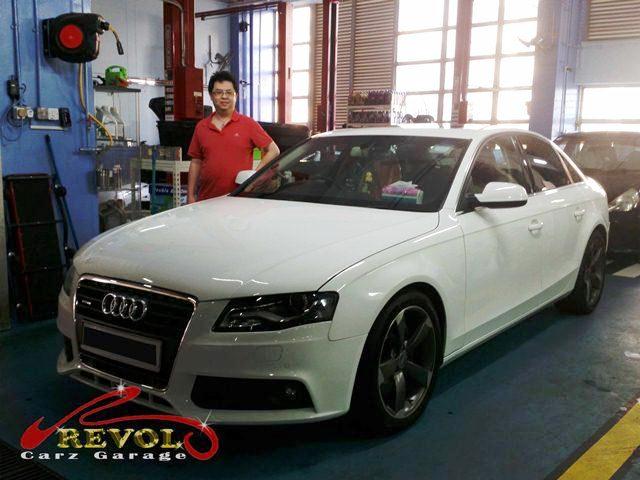 [/c_3]
[c_9 last="true"]
Here's an exhilarating shout out for Gavin and his fabulous team! You guys are simply competent.
Special thanks for resolving my nightmare of insane high engine oil consumption on my Audi A4.
I have been topping up my engine oil for every 800km. It was really very annoying.
I had been inquiring around for a solution and all had was advice to overhaul the engine.
I finally narrowed down to two workshops. Then decided to proceed with the repair by Gavin and team based on their consistent working standards and reliability.
I was pleased that they even arranged a rental car for my convenience during the repair.
It has been a peaceful ten months since my engine was overhauled. I didn't have to top up a single drop of engine oil. Yes, not a drop! Amazing isn't it?
It was a huge relief for me so I am inclined write this testimonial as an appreciation token.
Huge thanks and thumbs up to Gavin and his team for his excellent and extraordinary service.
You guys are Aces of the trade and I'll surely be back for regular car maintenance services too.
Keep up the great works!
Your satisfied customer,
Mr. Li
[/c_9]
---
[c_3 first="true"]
[/c_3]
[c_9 last="true"]
I had been stressed by the high engine oil consumption for a long time.
My previous workshop advised that engine top overhaul was the only solution to the issue.
I called Gavin of Revol Carz Garage to seek his advice and quotation. He advised me to send in my car to confirm the issue first.
I met up with Gavin and he promptly directed his team to check the engine. I was delighted and relieved that his team could resolve the issue easily at a fraction of the cost quoted by other workshop without having to top overhaul the engine.
Without hesitation, I asked Gavin to proceed with the proposed repair.
I was happy that he also kept me updated during the period of repair.
I was amazed that the repair was spot-on! To my relief, my problem was resolved. No more frustrations. I don't have to top up the engine oil after the repair. My ride is now smoother and I didn't burn a hole in my pocket.
Being Revol's customer for already a decade, I have witnessed their steady growth through the years.
Their good business principles and integrity have been constant since the day I first met them. They always put customers' interest first.
I have no hesitation to recommend more customers to Revol Carz Garage for their professional expertise and honest pricing.
Keep up the excellence. I shall certainly be back for my car servicing.
Mr. Kenny Lee

[/c_9]
---
[c_3 first="true"]
[/c_3]
[c_9 last="true"]
I have been a car owner for many years and have been to lots of car repair workshop. After visiting Revol Carz Garage for my car repair needs. They simply changed my typical view of a car workshop.
Normally I will be faced by workshop owners or manager or even mechanic with an Attitude and highly charged rates.
At times I was not even given the option of what needs to be done immediately or items that can actually hold till the next car servicing for replacement.
As a car owner, I was often caught surprise by the high repair bill when I collected back my car after the car servicing.
At Revol Carz Garage, this professional bunch of team simply changed my mind with their friendly and willing to listen attitude! I was constantly update of my car repair status and also was given the options on the items rate and cost before the repair is being proceeded.
I would say Revol Carz Garage repair bill is one of the most transplant from my many years of visiting car workshop experience. Price quoted is what the final bill stated.
Their impressive services includes knowing that I would need a car to travel daily, they actually arranged a rental car for me at an extremely reasonable rates which I believe it is way below the market rates!
Of course most importantly – the car repair carried out is extremely well done and my high engine oil consumption problem is finally solved. Now I really enjoy the REAL sheer pleasure driving experience for my BMW.
Thanks Gavin and all of Revol Carz Garage Team!
Mr. Zuraimi
[/c_9]
---
[c_3 first="true"]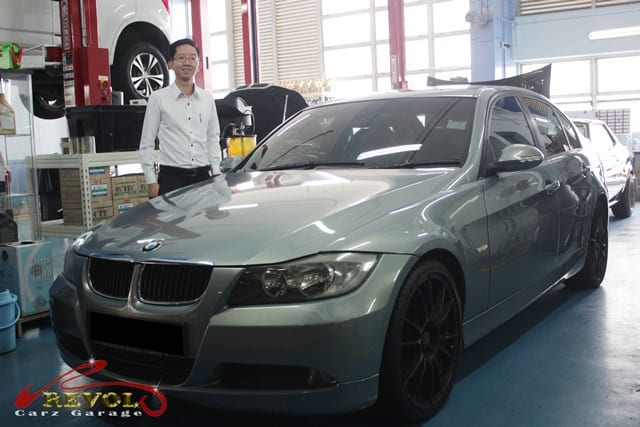 [/c_3]
[c_9 last="true"]
I have just taken a 2nd hand car delivery from a car owner and the engine faces a lot of problems including engine stall. After I visited my previous workshop for advice, they actually advised me to look for other workshop as they could not confidently detect the actual problem of my engine stalling.
I came upon Revol Carz Garage and visiting them was indeed a correct decision made.
After their inspection, they immediately identify the cause of the problem and resolved the issue. Now my car engine is performing smoothly without me fearing of any more engine stalling half way on the road.
What impressed me is not only their expertise in BMW but also their wonderful services that is being provided throughout the repair course.
As a car owner, we are always constant worried and at a loss when the car needed a repair but I was at ease throughout the repair with constant update from Gavin.
Revol Carz Garage- a car garage which I would recommend for their friendly attitude , strong car repair expertise and reasonable rates!
See you guys soon when I am back for my next car servicing!
Mr. Jason Chung
[/c_9]
---
[c_3 first="true"]
[/c_3]
[c_9 last="true"]
Revol Carz Garage is by far the best car garage that I have encounter for car repair. They have solved my engine oil disappearing issue with most reasonable rates.
Having the frustration of topping up frequently engine and not wanting to do an engine overhaul, I visited Revol for a car servicing session and decided to go with a valve seal replacement as advised.
My engine oil disappearing issue was solved immediately and I could feel a very big difference of a smoother ride after the repair.
Revol Carz Garage really impress me with their experience team of mechanic together with the team of mechanic and manger who is will to listen my concern to work things out with me.
The normal engine oil change servicing rates are very reasonable as well.
Coupled with the grooming services at the first level saves me lots of time and worries as a one stop solution for all my needs.
I strongly recommend all car owner to try out their services as they are indeed different from others with their dedicated services and technical expertise.
Two thumps Up!
Mr. Chong

[/c_9]
---