[c_3 first="true"]
[/c_3]
[c_9 last="true"] 
There are many workshops in Singapore offering automotive services, finding a workshop that you trust and know will deliver quality is not easy though.
This I came to realize when my car was left in the care of another workshop for accident insurance claims repair and came back with paint overspray (small paint specks) on not only my entire exterior, but the interior as well.
To make matters worse, the previous workshop staff tried to remove the overspray using incorrect techniques which left scratches and swirl marks all over the paint and glass window as well.
After all the hassle and issue still not solved from the previous workshop,
I decided its enough and to make an appointment with Gavin to have him assess the condition of my car and to see if Revol Carz would be able to restore both the exterior and interior for me, It was a tedious process for them but they managed to remove all the paint particles on both exterior bodywork and interior while restoring back the shine back in my car and do up my interior to a very satisfactory condition. They were also willing to work with me to ensure that I am satisfied before handing over the car back to me.
What I want to highlight is that, some workshops don't exercise enough care to your car, and in my case, I ended up spending more time and money to undo the damage.
I am extremely grateful for the help which Revol have rendered and I know I can leave my car to them with a peace of mind knowing that they will not only take good care of my car, but will do a good job.
Thanks for the help once again Revol and Team!
Mr. Keith Tan

[/c_9]
---
[c_3 first="true"]
[/c_3]
[c_9 last="true"] 
I vividly recall the fond nostalgia in the year, 2012 when I had the good fortune of discovering Revol Carz Makeover through a close friend.
It was at Revol where I had my first car professionally repainted but was also given a special treatment of their ZeTough Ceramic Paint Protection coating which had kept my car staying brilliant even until this day.
I have enjoyed driving my faithful, Mercedes Benz E200 for quite a while now and was contemplating a color change to give it a more refreshed look.
As a loyal customer, I visited Revol Carz Makeover again for a personal consultation with their Workshop Manager, Marcus who was very competent in the field.
He answered all my questions satisfactorily about the color change and patiently helped me to understand how certain shades of pearl, for example, could affect the final tone. This certainly helped me to reach my colour choice decision without difficulty.
The color-change job on my car was completed flawlessly. The excellent results indeed exceeded my high expectations.
Revol didn't return my car with just only the excellent repainted work. They ensured that every imperfection and dent is restored right down to the smallest detail, to really bring the car back to its showroom glory.
I could see that the team at Revol Carz Makeover holds profound pride in their uncompromising workmanship. I strongly recommend Revol to all car owners who desire flawless re-painting work with the long-lasting paint protection coating.
Kudos to the remarkable team at Revol Carz Makeover! Keep up the excellent work!
Mr. Azmi
[/c_9]
---
[c_3 first="true"]
[/c_3]
[c_9 last="true"] 
I have been a loyal customer of Revol Carz Makeover since 2009.
My current car is the fourth vehicle I owned.I've been enjoying the excellence of car-grooming services of Revol Carz Makeover since my first car.
Previously, I had patronized many local car-grooming shops but none met my satisfaction to be able to keep me for long.
I discovered Revol Carz Makeover since 2009 and theirs distinctive services simply impressed me.
What kept me as their steadfast and loyal customer for more than eight years are their strong business integrity and their services towards customer. They are committed to delivering every promise made to the customers.
The treatment of their ZeTough Ceramic Paint Protection products for example, is always delivered as promised …long lasting shine, protection and easy maintenance on my cars.
I have always found their services friendly, personalized, consistent and prompt with dedication to ensure the customers and their vehicles are well taken care of.
With the current COE rocketing sky-high, it made more economical sense for me to extend the lifespan of my car.
Without hesitation, I had engaged Revol to give my car for an incredible makeover including a color change.
The car make-over result was breathtakingly stupendous. I even had a complete stranger pulling up next to my car and gave me a thumb up.
Apparently the excellent make-over and new paint job are turning heads.
ZeTough Ceramic Coating had made the ordinary car truly extra-ordinary!
If anyone contemplates restoring their beloved cars to an amazingly showroom condition that lasts throughout their ownership, I highly recommend Revol Carz Makeover for their excellence.
Keep up the incredible job Revol! I know I can count on you for your extra-ordinary services for many years to come!
Mr. Leong

[/c_9]
---
[c_3 first="true"]
[/c_3]
[c_9 last="true"]
This is my 2nd Car with Revol and entering my 11th year as a Revol Carz Makeover customer. Ever since I switched from my previous grooming company to Revol Carz Makeover, there seems to be no other thought of switching with their consistency of delivering excellent services for all these year!
I have a paint chipped off on my door and was hesitated to respray as I am worried of mis-colour but Revol done it so perfect that I could not even spotted any difference.
I am happy to see their progress with their car servicing and repair workshop as i will be using all their provided serivce with them!
Thanks Revol Carz Makeover team for keeping my car in its showroom condition for all these years and I am sure to be your supportive customer with many more years to come!
Mr. Vincent
[/c_9]
---
[c_3 first="true"]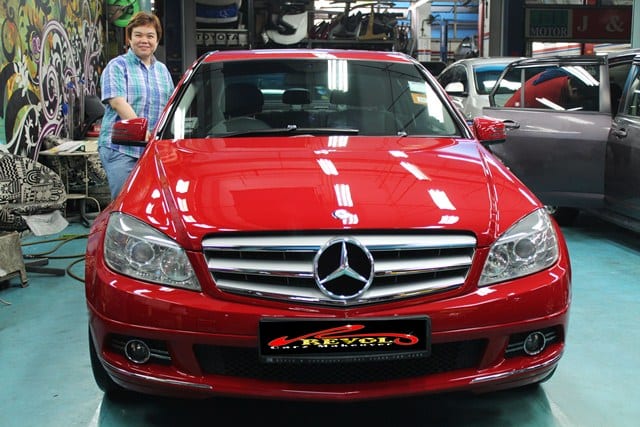 [/c_3]
[c_9 last="true"]
Having to seen my car lacquer peeling off on my current car rooftop and bonnet from the previous spray painting job, I know I truly need to find a professional spray painting workshop to rectify the issue.
Upon across Revol Carz Makeover and meeting up with Marcus, i decided to go for the spray painting, paint protection and car servicing all under their care.
Car collection date promised is delivered on time and end results of the spray painting and paint protection are simply awesome!
Car servicing services is also up to mark with detailed explanation of the car health status.
A workshop that I feel peace with mind with a team of passionate guys to get things right is what I would strongly recommend all my friends to use their services.
Thank you Revol and Keep up the good work!
Ms. Maeves Goh

[/c_9]
---
[c_3 first="true"]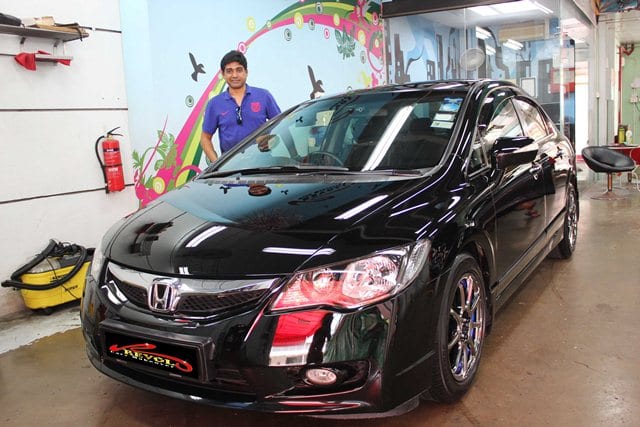 [/c_3]
[c_9 last="true"]
It has been close to 9 years I had been grooming my car with Revol, initially it was my Subaru and now my Honda Civic. When I first took my Subaru it was in a pathetic condition and after the grooming was done I could not believe the makeover which was like a new car. More than that, the maintenance required after the paint protection is minimal. I would like to compliment Gavin and his team who are quite friendly and dedicated for the professional approach towards the customers.
For me there is no looking back.
Cheers!
Mr. Raj
[/c_9]
---
[c_3 first="true"]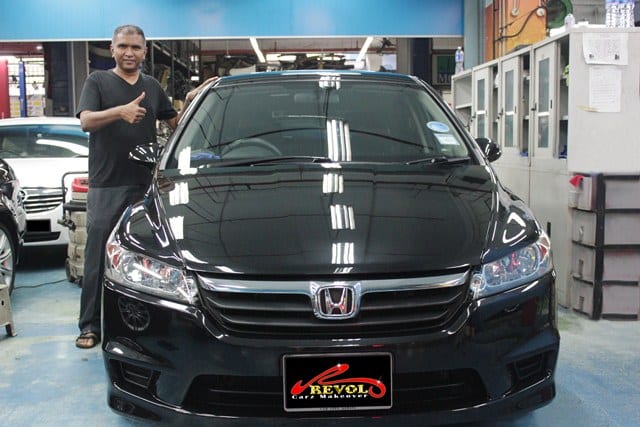 [/c_3]
[c_9 last="true"]
I would like to show my appreciation to Marcus and Revol Carz Makeover Team for doing up such a wonderful spray painting on my Honda stream.
The job done exceeded my expectation and I am glad to choose you guys for my spray painting with ZeTough paint protection services.
I really like the effort of ensuring all the interior area such as the engine compartment and leather seats are thoroughly cleaned up which revive back my lost new car feel!
You guys really deserve the praise!
Keep It UP!
Mr. Shaharin
[/c_9]
---
[c_3 first="true"]
[/c_3]
[c_9 last="true"]
I'm writing in to express my utmost appreciation for the awesome service provided by Gavin and his team.
I remembered coming to him years ago to clean up my old looking beige leather seats for my e60 and I was so impressed by their workmanship and detailing that I decided to sign up a package with them.
The day that I collected my car after their paint protection session was one of my happiest as my car looked better than in the showroom! It was shimmering and sexy. My peers were all impressed such that many become their customers too after me.
For years, they maintained service quality and rapport building, and I continued to entrust my 2nd car Toyota Wish and my recent Brand New BMW F10 to them as well."
Highly recommended!
Mr. Jacky Lim
[/c_9]
---
[c_3 first="true"]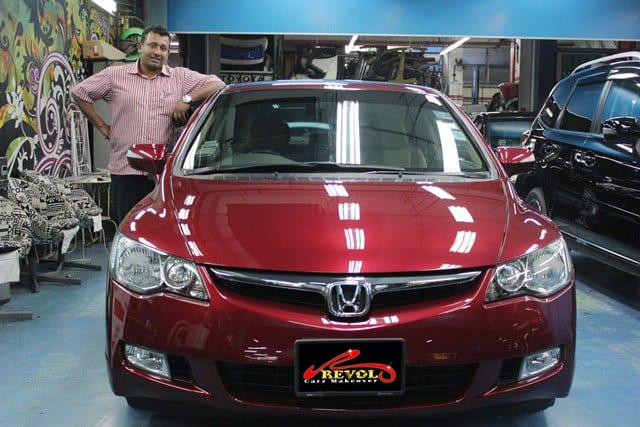 [/c_3]
[c_9 last="true"]
I have decided to entrust my car to Revol Carz Makeover for a full car spray painting and paint protection services after meeting Marcus as I could sense a high quality service commitment when Marcus immediately agree to my request of helping me to arrange a rental car usage during the spray painting job.
Collection date was on time as promised and I could really see a huge difference when the paintwork is properly groomed up by Revol after spray painting.
It is just like collecting a brand new car with the paintwork giving out a deep wet glowing shine and the interior seats, door panel, engine bay dashboard were cleaned thoroughly. Especially the rims were back to its new shiny look with all brake dust removed completely spotless!
I would not hesitate to recommend Revol Carz Makeover to anyone who wishes to do their spray painting and paint protection for their car.
Well done Marcus and Revol Carz Makeover Team!
Mr. Anthony
[/c_9]
---
[c_3 first="true"]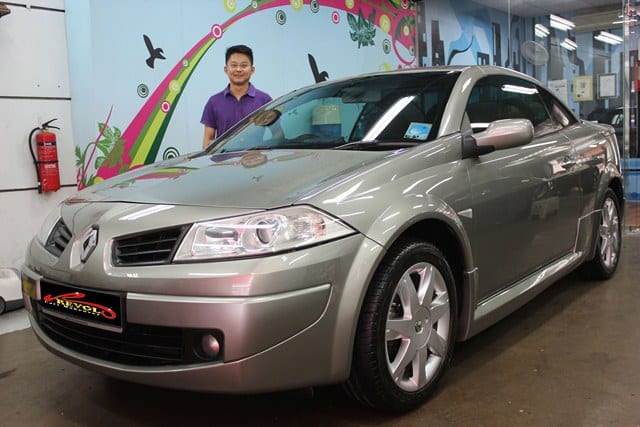 [/c_3]
[c_9 last="true"]
There comes a time whereby I had given up on washing, waxing and maintaining my car anymore as it lost its former glory. The paint work looks dull (irregardless of numerous waxing) and the car body with lots of dents and scratches makes it an embarrassment at times to be seen driving in it.
A visit to Revol renew my mind completely on what I can do to restore my ride to its former glory. Initially I had in mind to re-spray a fresh coat of paint as it seemed to be the easiest way out. But Gavin managed to put forth a very cost effective package for my consideration. Going with partial respray coupled with ceramic paint coating & maintenance package, he is confident that my car will be restored to at least 85% of the its original showroom condition and it will take only 3 days to get it done up.
Well, that suits my taste and I also don't want to spend too much money and time (whole car new respray will take at least 7 days!).
Gavin is also very accommodating to the schedule and suggested that I should send in my car the day before I go for my overseas trip and by the time I am back my ride will be ready for collection.
On the day of collection, Gavin arrange for a ferry service to pick me up from Jurong East MRT. With great anticipation and expectation, I stepped into the workshop to check out my ride. Deep in my mind, the word "awesome" keeps echoing away and I was speechless while Gavin kept rattling away on what he had done for my car. Awesome! I couldn't believe that my almost 5 year-old car can be restored to such a condition (which to me is 90% of the original showroom condition) with just partial respray work done instead of the whole car.
The exterior paint work now looks shiny with a richer color coating and smooth to touch as you run your fingers on it, just like a new car. The interior leather seats restored to almost original deep shade of red leather tone. The whole car is totally refreshed and it is like driving a new car now. And I never seen my engine bay so clean before for so long time. I am sure my ride will attract envious glare from other road users from now onwards. It is money well spent as the package I had will ensure the exterior and interior condition to stay on the next 3 years.
Thanks to Gavin and his dedicated crew. They had done a good job for my ride and I believe they can do the same for others as well.
Mr. Bryan Sim

[/c_9]
---
[c_3 first="true"]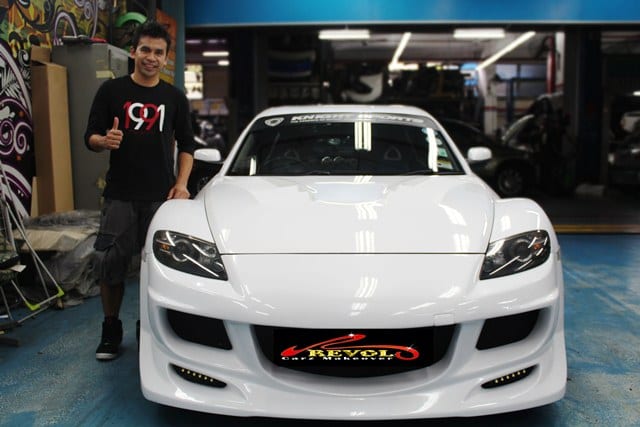 [/c_3]
[c_9 last="true"]
REVOL Carz Makeover is one of the best, if not, the best place for car paintwork restoration and spray painting works.
One thing that I am completely amazed is their customer service and how knowledgeable they are trained. Mr. Marcus and Mr. Randy are the two people that not only believe in providing me what a customer is entitled, but they also go that extra mile to help me understand every step of the process with detailed explanation.
Most importantly they are willingly enough to listen to my needs, demands and expectations. The result delieved blew me away. The end product was top class. And coming from someone who is meticulous and attention-to-detail person, I couldn't be happier.
And to top it all off, one thing I value most from REVOL Carz Makeover is their after-sales-service. It is what every customer wants and they are more willingly enough to do it to ensure the customer is fully satisfied.
For me that's professionalism at the very top level.
I recommend to any car owner to give REVOL a try. It's worth your time and DEFINITELY worth your money
Eran Hushusni
[/c_9]
---
[c_3 first="true"]
[/c_3]
[c_9 last="true"]
When it comes to car grooming, paint protection, car spray painting, Revol Carz Makeover have my vote!
This is my 4th New Car with Revol Carz Makeover and I have never look back since using their services 13 years ago.
What really makes me feel happy to use their services beside excellent results delivered on every grooming session, is their commitment to ensure not only my car but me as a owner are well taken care of too.
Their always willing to help attitude and excellent services still remains the same since I have met them from day 1 which is quite hard to find in my personal car ownership experience with various services provider.
I am happy to see their growth over the years from multi storey car park to having in house spray painting and accident repair services.
Keep up the good works guys!
Mr. Benson Tan
[/c_9]
---
[c_3 first="true"]
[/c_3]
[c_9 last="true"]
Ever Since I have met Revol during their car park days till now, I have been with them for close to 8 years. So far I am very happy with their services provided and am happy to see their progress over the years with more value added services.
Recently I have just spray painted my whole car with Revol together with ZeTough paint protection.
Results delivered is as usual- very good with all minor details taken care of to revive my car back to its showroom condition.
Appreciation with thanks to Marcus and Revol team for all the exceptional good services provided during all these years.
Keep up the good work Revol Carz Makeover and Team!
Mr. Glan Lim
[/c_9]
---
[c_3 first="true"]
[/c_3]
[c_9 last="true"]
I have just spray painted my whole car with another company and I find the paintwork after spray painting is badly done with lots of unevenness orange peel and blurring paintwork.
I chanced upon Revol Carz Makeover after doing a quick search online for paint correction services. Having met Gavin the next day for a full car assessment, I was convinced that the company has the knowledge and expertise in providing the high standards in restoring the car's paint to my satisfaction.
The car's paintwork correction and intensive grooming took a while to complete. However,I must say that it was definitely worth every minute of the wait for the huge transformation of the car's appearance.
The previously dull and orange-peel laden paint is now shining with a deep glow from the ZeTough paint Protection, plus all components are cleaned with extreme attention to detail.
I'll not hesitate to recommend anyone to go for the grooming sessions at Revol Carz Makeover. I believe picture will do the talking itself!
Mr. Eugene Seah

[/c_9]
---
[c_3 first="true"]
[/c_3]
[c_9 last="true"]
Have been with Revol Carz Makeover for the past 3 years. Their service has always been tip top. Recently tried their ZeTough Glass Coating paint protection. Totally no regrets. Car paint work is completely restored to showroom condition and looks very much richer. Their workers are extremely meticulous throughout the whole process cleaning every groove, edge and corner they can find till it is flawless before handover. Highly recommended!
Mr. Melvin
[/c_9]
[c_12 first="true" last="true"]
---
[/c_12]
[c_3 first="true"]
[/c_3]
[c_9 last="true"]
My compliments to Gavin and the team, who have worked hard to completely transform my Peugeot from "work car" to a
condition and standard that can only be described as "showroom". The result of ZeTough Paint Protection was far more than I expected. Your professional, on-time and meticulous service is greatly appreciated!
Both my family and I now recognize Revol as the best company in the business of car grooming in Singapore. Your attention to details and consistent high standards are second to none! Again thanks for your
hard work and excellent result.
The moment I'm writing this testimonial, your fantastic customer service was still refreshing in my thoughts!
Keep up the good work and I'll definitely be back for the fantastic and enjoyable service again.
Mr. Joe Zhao

[/c_9]
[c_12 first="true" last="true"]
---
[/c_12]
[c_3 first="true"]
[/c_3]
[c_9 last="true"]
First and foremost i am so thrilled to write them a review now. Gavin & team gave my 7 yr old limegreen STI a new lease of life by bringing back the striking colour. The Revol team did their magic slowly (took them 6Hrs) to help bring her shine back! These bros really know their stuff as compared to major polish companies!
* Superb finishing
* No Swirl/watermarks
* Very clean engine bay
* A VERY VERY HAPPY OWNER
Prices are worth it as I saw at least 2 staff work effortlessly on my 7 yr old car. Now my car is glowing again!!! HIGHLY RECOMMENDED!
Mr. Khai
[/c_9]
[c_12 first="true" last="true"]
---
[/c_12]
[c_3 first="true"]
[/c_3]
[c_9 last="true"]
I almost gave up on my 3yrs old white car as it is parked outdoor all the time thus maintaining it is a huge challenge. The shine & gloss were all gone. Only scratches, dents & dullness can be seen on the car.
When i read about Revol Carz Makeover in the sgcarmart & the reviews it has, i was initially quite skeptical. I've tried a few car groomers & the result was always not what I wanted.
After my first meet up with Gavin, i find him professional & knowledgeable about his products. He's also very customer oriented; listens to my concern & expectations.
With that he offered a few options to work around with. I feel very at ease as I can sense his honesty & sincerity. So, I decided to entrust my car to Revol.
When I picked up my car, I was indeed surprised! My car was just like a brand new car! Revol is indeed different from the other groomers as i could see their staffs take their work seriously & with pride.
Thank you to Revol team for the satisfying good job delivered. I'm definitely a happy & returning customer.
Ms. Dorothy Lim
[/c_9]
[c_12 first="true" last="true"]
---
[/c_12]
[c_3 first="true"]
[/c_3]
[c_9 last="true"]
Revol Carz Makeover had done a marvelous job in restorating my car back to its showroom condition.Was very impressed with their respraying services too as I cannot notice any difference in colour between spray panel and original panel. Prefect interior detailing and cleaning completed my "New Car" feel.
Thanks guys for your excellent effort and will definitely recommend your services to all my friends.
John Ng
[/c_9]
[c_12 first="true" last="true"]
---
[/c_12]
[c_3 first="true"]
[/c_3]
[c_9 last="true"]
My car have come to a point that I can't be bothered with, due to my work place, there's unbelievably so much watermarks on my car that I just don't have the mood to do anything to it! I always heard of Revol from an acquaintance but not sure whether to try them out until I visited them and met Gavin on a Sunday, I decided to give it a try.
After 5 hours Viola! … Its hard to believe what I saw… Watermarks are all gone, My car looked so darn good that even my children felt as if we have just brought a new ride! The shine is tremendous! With the paint protection, it's like having diamonds smeared all over the surface of my car. The body felt smooth to the touch, the interior looks dashingly clean and shiny and all spot on with a warranty at hand. And on top of that, I saved that extra cash meant for a respray paint job!
Kudos to the Revol Team for a job well done!
Mr. Jahari & his two Kids

[/c_9]
---
[c_3 first="true"]
[/c_3]
[c_9 last="true"]
You guys really surprised me after seeing all my watermarks and bird-dropping stains all gone. With such value added services to remove all my annoying dents, be sure I will be one of your loyal customer to help you recommending your services… All thumbs up for such professionalism…
Mr. Alex Teh
[/c_9]
---
[c_3 first="true"]
[/c_3]
[c_9 last="true"]
I was recommended by my friend to Revol Carz Makeover and I must say I was totally impressed upon collection of my car. All my scratched and dent were all gone. Even those ugly watermarks and stains were all removed. It's unbelievable on how my 5 years old car could look like what I collect since 5 years ago. It's really value for money.
Thanks Revol, for letting me regain my pride for my chevrolet.
Mr. Jimmy Tan
[/c_9]
---
[c_3 first="true"]
[/c_3]
[c_9 last="true"]
Revol Carz Makeover is simply the most marvelous detailing centre I have ever come across in my life. Besides changing my decision to re spray my whole car, your guys really live up to your name by restoring my 5 years old car to a brand new look. I can't thank your guys enough for removing all my stains and dents with such fantastic interior done up.
Trust me, your services and workmanship simply gone beyond my imagination. Keep up the good service guys.
Mr. Ng
[/c_9]
---
[c_3 first="true"]
[/c_3]
[c_9 last="true"]
I am a new car owner and had my car bonnet dented by unknown party.
The fact that my car is just a few months old, I was angry, dishearten and at a total loss.
While I was searching the Internet to find a solution for my car I came across your website Revol, then I decided to send my car in. I am very impressed for the professional advises provided to me during assessment. (Panel beating; re spraying; dents removal; scratches removal; paint protection)
Personally I feel them as a whole; a business founded upon integrity, diligence, reliable to deliver quality workmanship as promised.
From my experience, the professionalism services and impeccable car grooming finishing shown by Revol is guaranteed and it is definitely something which you cannot experience from most car grooming businesses.
Thanks to Revol for providing a professional advice and personal guidance attention with a reasonable rate offered to return my car back to its showroom condition.
I am one of the satisfied customers and will definitely stick to your company services onwards.
Ms. Umi Ainman

[/c_9]
---