Hi Everyone,
You are forgiven if you have mistaken this stunning Volkswagen Golf is being displayed at a showroom. It is no secret that our multiple award winning ZeTough Ceramic Paint Protection coating made an impression for such breath taking, mirror-like finish.
Revol Carz Makeover professional grooming satisfies the most demanding driver for its reliable, long-lasting shine and paint protection.
The 2017 Golf R has earned a 5-star overall safety rating from the National Highway Traffic Safety Administration (NHTSA). Another exhilarating high 5 for an impressive high marks.
Thanks to the newly designed MQP platform, the Golf R's exterior contours are bold and sporty. The new radiator grille, gloss black brake calipers, 19-inch Cadiz Alloy Wheels, duel chrome exhaust tail-pipes and the prominent R logos are alluring.
Step inside and you would immediately awe at the luxurious interior finishes usually found in luxury cars. Golf R is one of the quietest cars in its class with comprehension sound-proofing and acoustic windscreen filtering out outside noise.
0-100km/h in 5 seconds flat is serious firepower that the Golf R is licensed to thrill. The 2.0-liter TSI four-cylinder engine, mated to a 6-speed DSG transmission, generates 206kW of sheer power at 5100-6500 rpm and peak torque of 380Nm at 1800 rpm.
We hope you will enjoy viewing the following photos!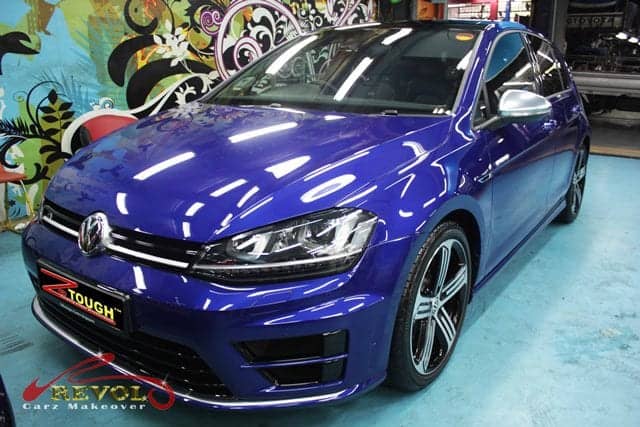 Revol Carz Makeover professional grooming with hours of meticulous hand-polishing creates a flawless mirror-like finish that ZeTough Ceramic Paint Protection Coating is famed for.


See the stunning results of ZeTough Ceramic Paint Protection Coating. The difference is dramatic isn't it? The new radiator grille, gloss black brake calipers, air intakes and the alluring 19-inch wheels create quite a punch.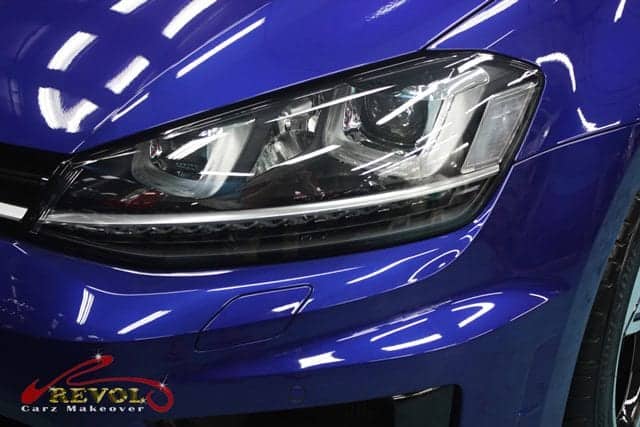 The Xenon headlights produce a light spectrum similar to that of daylight in superior visibility. We have polished the lens to enhance even higher visibility.


Cleaning and polishing the engine bay to showroom condition is always the favorite part of our make-over assignment. The Volkswagen Golf R's firepower boasts of a 0 to 100km/h sprint in 5 seconds flat. Impressive!


The spacious interior of the Golf R is amazingly clean and inviting after our careful and loving detailing.


The multi-function leather sports steering wheel, black Vienna Leather appointed sports seats are all revived to a premium level. Once you get into the seat, you won't want to leave.


Perfectly cleaned Blue accent gauges add to the already sleek interior style. The gauges in the Golf R are illuminated in blue light.


You can't help gazing at her seductive rear after our un-compromised grooming workmanship with ZeTough Ceramic Paint Protection coating.
The boot has a large capacity of 380 liters, and this can easily be expanded by folding down the split rear seats. A review camera is cleverly hidden behind the Volkswagen badge.


The R's dual quad exhausts deliver a more refined yet beastly roar after careful polishing.


Volkswagen R's 19-inch Cadiz Alloy Wheels roll in style.
Every inch of the wheels and the wheel well must be immaculately clean and restored to give the whole car the refreshed better-than-showroom look
How pleased the owner must have been to have his Volkswagen R returned with such breath-taking restoration.
How about giving your car a new lease of life too? Revol Carz Makeover is the right choice. Visit us to know more about our affordable and transparent services.
With the proven coating of the Eco-friendly ZeTough Ceramic Paint Protection coating, we guarantee your car's paintwork gets unparalleled protection with the guaranteed showroom shine throughout your ownership. Maintenance after the coating is minimal.
Thank you for reading!