Revol Car Grooming, Polishing and Interior Detailing Specialists – Star Merchant 10 Years Consecutive Winner by SGCarMart
400+ 5-Star ★ Customer Reviews by Singapore's Highest Rated Service Provider

Get your 'BRAND NEW ' car back with the leading car grooming service in Singapore in 2020!
Get rid of unsightly watermarks, tough stains and grime with our 3.5-hour intensive detailing and polishing session. Let us help you bring out the true deep color of your car's paintwork with a dedicated team of cleaning and detailing professionals.
Your car's interior will also be thoroughly cleaned and refreshed with bio-safe and effective products. Drive off like it's a brand new car right off the showroom!
With over 17 years of experience and hundreds of customer reviews and testimonials in SGCarMart. We're confident you'll love the outcome.
Our car grooming service centers are located at Ang Mo Kio Autopoint and Toh Guan. Contact us today by calling us at 6555-1181, enquiry form or by WhatsApp.
Updated: 26th June 2020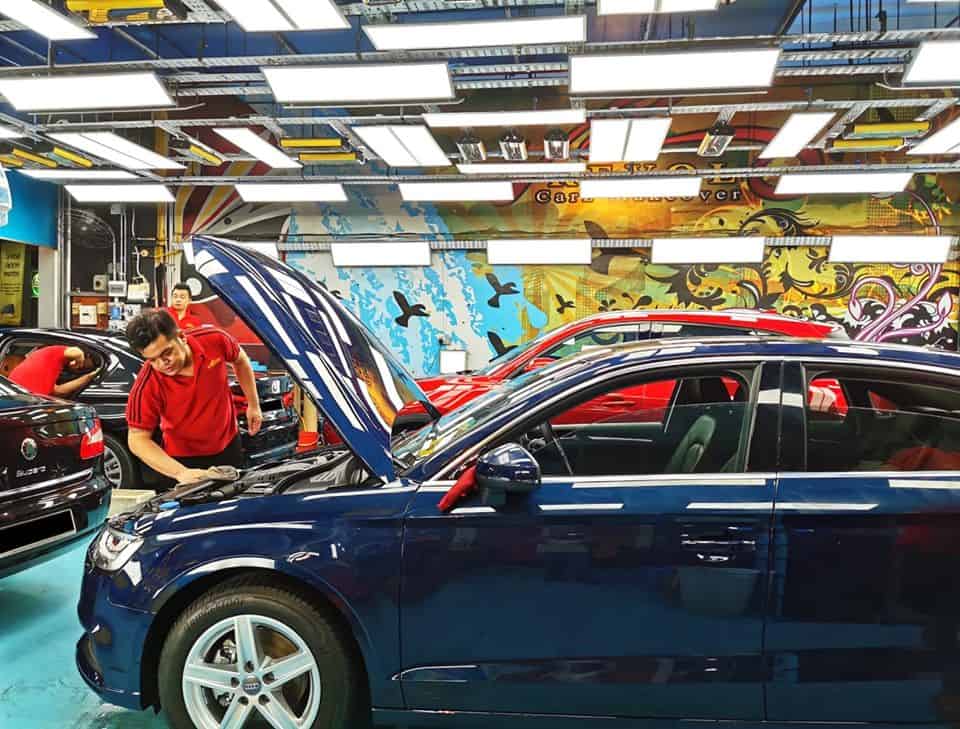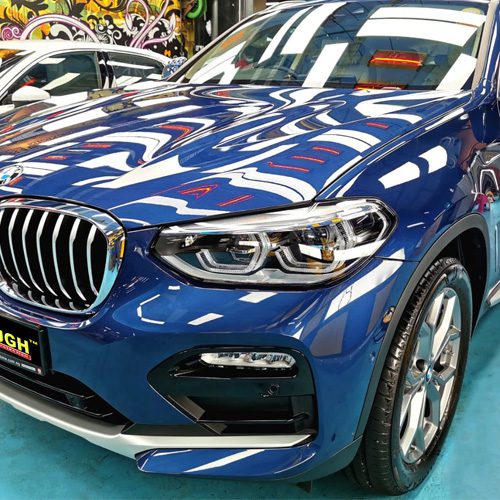 Intense Shine and Polishing
Get that ultra-reflective look that feels absolutely amazing to the touch as well. Our surface protective compounds last for weeks and helps to repel water, prevent watermarks and bird-poo damage.
Engine Bay Cleaning
Our sessions includes a comprehensive engine bay detail. A clean engine bay is not only impressive to look at but allows for problems such as leakages to be spotted quickly in future.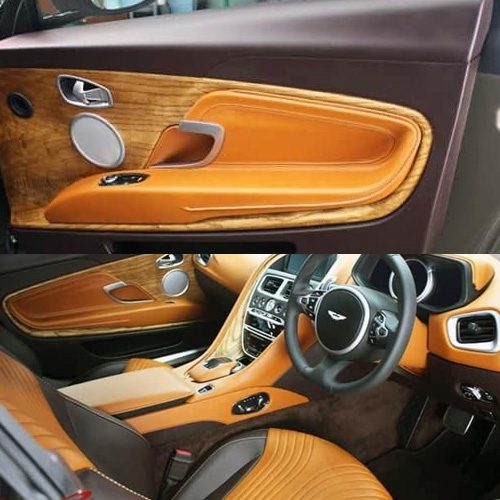 Leather Restoration
We can assist in removing stains, reducing marks and damage with our leather restoration specialists. Our wide range of various leather cleaners help to remove dirt and grime from various leather materials.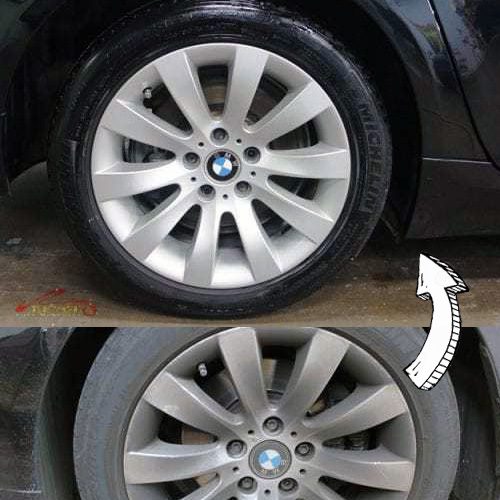 Wheel and Rim Polishing
Bring back the shine and gleam of your rims. We can remove heavy grime, oil stains and rubber marks that your rims and wheels pick up from daily use.
Exhaust Polishing
Your car should always look brand new when they leave our detail center. Get shiny, polished gleaming exhaust tips each and every time. We guarantee absolute satisfaction.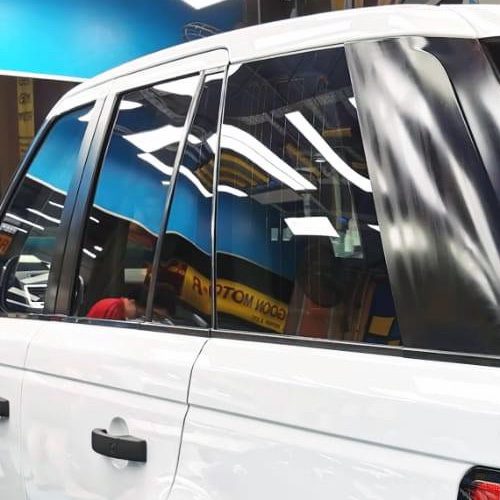 Window Glass Coating
Let us remove stubborn watermarks, streaks and dirt from prior to our window glass treatment. Expect super clarity, ultra-hydrophobic properties and a much safer drive.
Headlight Coating
We can restore and fix common foggy headlight issues due to condensation and leaky rubber seals in the headlight cluster. No more cataract looking lights!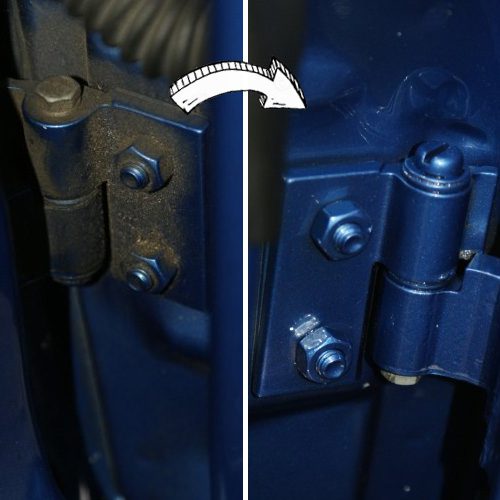 Door Shuts Detailing
An under-looked area where most groomers will miss out (but we won't!) – we will clean our accumulated built-up dirt, grime and grease and leave it looking like it just left the factory line.
You have expectations.
And we pride ourselves on delivering beyond yours. Our philosophy is to consistently deliver a great result and outcome – a highly reflective, mirror-like showroom shine that'll always impress.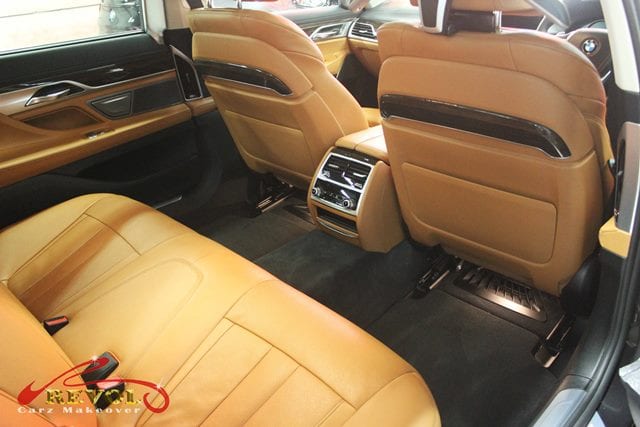 BMW 7 Series
Deep Interior Cleaning and Leather Restoration
Mr Richard and his Mercedes-Benz C-Class
With Car Detailing Complete Package
Mr Liang and his Volkswagen Passat
Mr Farhin with his BMW 3 Series
Interior Detailing and Grooming Customer
Mr Roshen Joseph with his Volkswagen Golf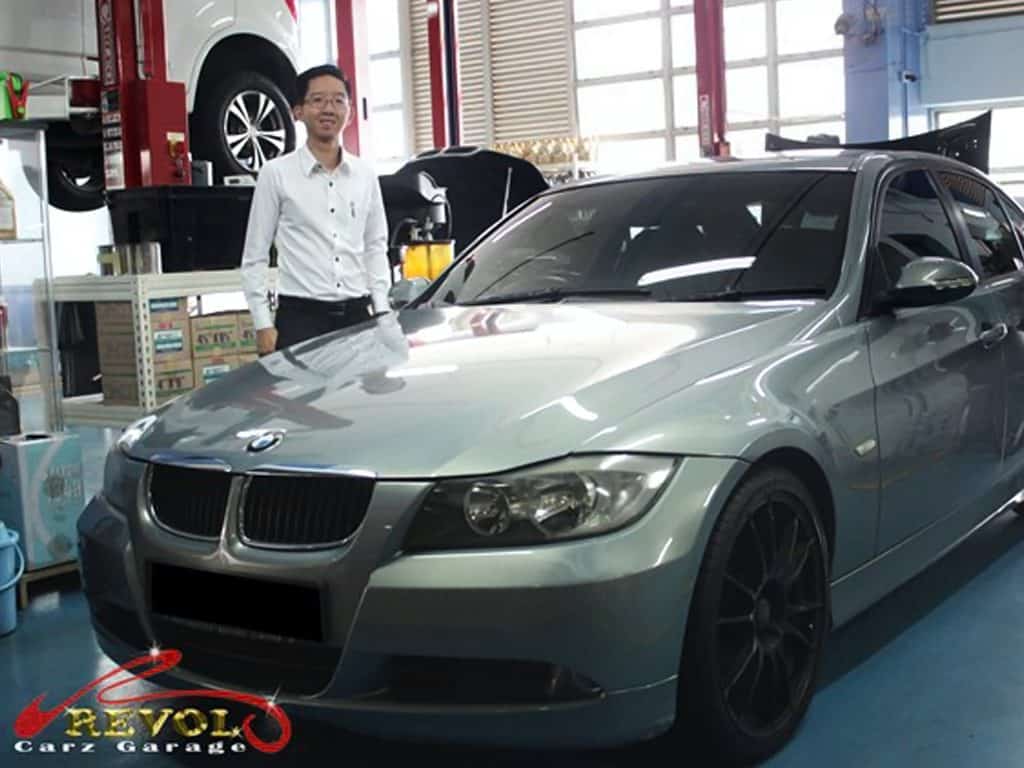 Mr Jason Chung and his BMW 3 Series
"..Thank you for the excellent service. Before, my car was dirty and interior a bit smelly because of the wet carpet from the rain. My paint was like gone flaky already. I cannot believe my eyes after the car grooming.
My car was returned to me in eye-popping shiny glossy condition. Even my wheels are like new. The turn-around was amazing."
"..If you are looking for a place to get your grooming and paint protection, I recommend Revol Carz Makeover.
They treat every one of my cars like their own and do impeccable attention to detail at an affordable price."
"..I am very impressed by Marcus and his team for their superior workmanship and exceptional service. I always hear great things about them from friends and tried it out for myself.
Brought my car in for detailing and I would say, they have got another loyal customer. Definitely i will be back.
My car looks awesomely amazing! A big shoutout to Revol..Kudos to you guys!"
Car Grooming Rates and Prices
Our rates provides the best value-for-money protection and service.
Revol Exquisite Exterior Polish and Interior Grooming
Small & Medium – S$440
Large – S$480
Luxury & MPV – S$530
Paint Spots / Sandblast Deposits Removal
Small & Medium – S$90-200
Large – S$90-200
Luxury & MPV – S$90-200
Wheel Polishing
4 Wheels – ​S$150
Wheel Polishing & Coating (All)
4 Wheels – S$150
We want you to enjoy the work that's done on your car.
If for some reason you are not satisfied with the detail and quality of work – we will rectify it immediately without any additional costs or conditions.
We want you to be happy at the end of the day, and our team will strive to always do their absolute best to deliver.
Read our 375+ customer reviews on SGCarMart.
Revol Carz Car Grooming Locations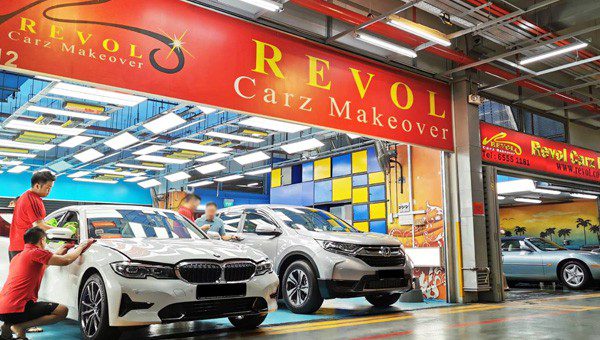 Revol Carz – Ang Mo Kio Branch
Car Grooming Singapore and Detailing Center
Address: 10 Ang Mo Kio Industrial Park 2A #01-12 AMK Autopoint Singapore 568047
Get Directions: Get there by Google Maps / Waze
Enquiry Hotline: 6555-1181
Appointment Hotline: 6746-6281
Closed on Public Holidays
Revol Carz – Toh Guan Branch
Car Grooming Singapore Service Center
Address: Blk 42 Toh Guan Road East #01-75 Enterprise Hub Singapore 608583
Get Directions: Get there by Google Maps / Waze
Enquiry Hotline: 6555-1181
Appointment Hotline: 6267-9331
People often ask..
Why should I groom my car?
Grooming helps to maintain your vehicle's cleanliness and hygiene for the driver and all passengers! It also prevents insects and bugs breeding due to dropped food or contaminants. It helps to keep your surface protected for a longer period of time with an additional layer of surface protectant. Consider paint protection if you wish protect your car's surface against more harmful and damaging elements like bird droppings or tree sap.
How often can I polish my car?
We recommend not to polish your car more than twice a year as polishes are generally abrasive in nature. Over-polishing your vehicle will cause your paint to thin and may potentially damage your car's clear coat.
How do i polish my car's headlights?
While there are some tutorials advising using light abrasives such as toothpaste and a polishing cloth. We highly discourage it as it may cause irreversible damage to the headlamp cover texture. We use compatible headlamp cleaner to remove the oxidation to remove fogginess and to restore your headlamp back like it was brand new.
Where is Revol Carz's car detailing center?
Revol Carz's car grooming service centers are located at Ang Mo Kio Autopoint and Toh Guan respectively.
How much is a car grooming package?
It depends largely on the size of your vehicle. Our grooming packages start from $440 for a small sized vehicle up to $530 for large cars such as MPVs.
How long does each car grooming session take?
Each grooming and detailing session typically takes about 4 hours on average. You are invited to relax in our customer lounge while your vehicle is being prepared by our team.
Can I drive my car in the rain after a grooming session?
Yes you can. You can drive your car in the rain without worry as the sealant will not wash away immediately after a grooming and detailing session. Your car's surface will continue to shine and stay effective for an amount of time (usually 6 months depending on weather conditions).
Car Grooming Singapore Reviews
Mr. Benson Tan's Review
".. When it comes to car grooming, paint protection, car spray painting, Revol Carz Makeover have my vote!
This is my 4th New Car with Revol Carz Makeover and I have never look back since using their services 13 years ago.
What really makes me feel happy to use their services beside excellent results delivered on every grooming session, is their commitment to ensure not only my car but me as a owner are well taken care of too.
Their always willing to help attitude and excellent services still remains the same since I have met them from day 1 which is quite hard to find in my personal car ownership experience with various services provider.
I am happy to see their growth over the years from multi storey car park to having in house spray painting and accident repair services.
Keep up the good works guys!"
Mr. Eugene Seah's Review
"..I have just spray painted my whole car with another company and I find the paintwork after spray painting is badly done with lots of unevenness orange peel and blurring paintwork.
I chanced upon Revol Carz Makeover after doing a quick search online for paint correction services. Having met Gavin the next day for a full car assessment, I was convinced that the company has the knowledge and expertise in providing the high standards in restoring the car's paint to my satisfaction.
The car's paintwork correction and intensive grooming took a while to complete. However,I must say that it was definitely worth every minute of the wait for the huge transformation of the car's appearance.
The previously dull and orange-peel laden paint is now shining with a deep glow from the ZeTough paint Protection, plus all components are cleaned with extreme attention to detail.
I'll not hesitate to recommend anyone to go for the grooming sessions at Revol Carz Makeover. I believe picture will do the talking itself!"
Mr. Joe Zhao's Review
"..My compliments to Gavin and the team, who have worked hard to completely transform my Peugeot from "work car" to a condition and standard that can only be described as "showroom". The result of ZeTough Paint Protection was far more than I expected. Your professional, on-time and meticulous service is greatly appreciated!
Both my family and I now recognize Revol as the best company in the business of car grooming in Singapore. Your attention to details and consistent high standards are second to none! Again thanks for your hard work and excellent result.
The moment I'm writing this testimonial, your fantastic customer service was still refreshing in my thoughts!
Keep up the good work and I'll definitely be back for the fantastic and enjoyable service again."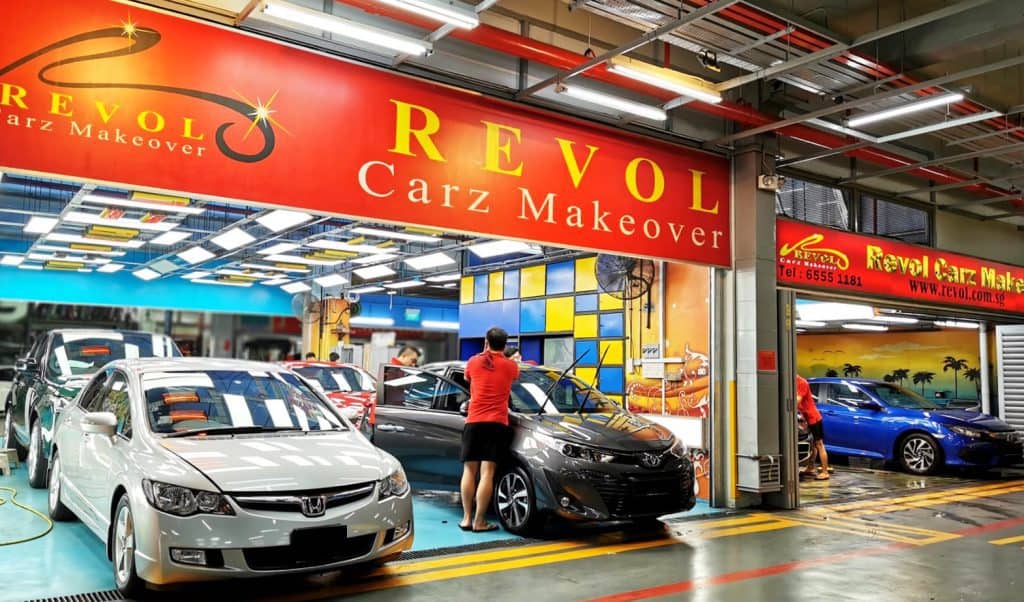 Founded since 2003, Revol Carz has grown from a 2 men setup as mobile car groomers to a multi-disciplinary service leader in Professional Car Care.
Revol Carz has won multiple awards such as 'SGCarMart Star Merchant' awards for 8 consecutive years, and numerous accolades for entrepreneurship and innovation.
For more details, read about Revol Carz's History.