Revol Carz Garage BMW, Mercedes, Audi and VW Specialist Workshop
"Revol Carz – Preferred Star Merchant" – 8 Year Consecutive Winner – SGCarMart
Over 380+ 5-Star ★★★★★ Customer Reviews Highest Rated Car Servicing Singapore Provider
With fully transparent, honest pricing and a proven track record, we strive to deliver the highest standard of service that will earn your trust.
We only use original replacement parts and engine oil according to factory specifications. Our garage is fully equipped with the latest diagnostic tools and repair kits. We only use original OEM parts from reputable and reliable suppliers and stockists.
We operate with absolute transparency with no hidden costs.
Still thinking of where to go for car servicing in Singapore? You've come to the right place at Revol Carz Garage!

SpecialistS in BMW, Mercedes Benz, Audi and Volkswagen
How Are We Different?
​As a reputable workshop with the right expertise, we offer accurate diagnosis that will save you time and money
EXPERTISE YOU CAN TRUST
All our mechanics are seasoned gearheads who have over 25 years of experience. We use the latest computerised scans to check your car for problems.
This means we'll give a more accurate diagnosis than repair shops that charge an arm and a leg. Repair time is reduced, so you'll get to drive away in no time at all.
TRANSPARENT PRICES
Have you ever received a shock looking at the exorbitant repair bills when you collect your car from the workshop?
Our policy guarantees transparency in pricing so you don't have to guess what you'll pay. We'll only proceed with the repair after you have given us consent, and for your peace of mind, all repair jobs come with warranty.
RELIABLE & TRUSTWORTHY CAR REPAIRS
Each car is a labour of love. And we're passionate about what we do. That is why we do not charge our customers if the replaced part does not solve your problem. Integrity is key to us.
Afterall, we're here to solve your car woes; not throw a spanner in the works.
EXACTING QUALITY CONTROL
Our customers know about our meticulous work. All repairs undergo rigorous quality checks and all repair work is backed by our warranty.
That's how we've been able to grow over the years; from operating out of a HDB car park to owning our very own car workshop.
Car Servicing Singapore Specialists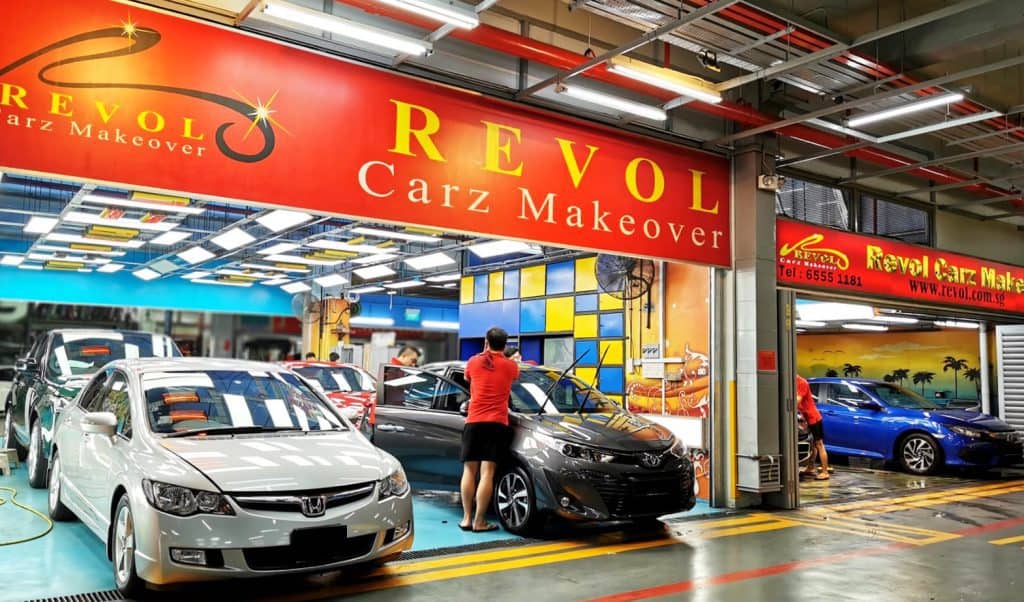 We get our customers quality parts at the right prices. All our service prices are fixed and transparent, so you'll know exactly what you're paying for.
Get a free car diagnostic check before you decide whether you want to service your car. Our car servicing services are available from $128 onwards.
Get Quote Today
SERVICING AND MAINTENANCE
Car Servicing at Revol Carz Garage is never simply a quick touch-and-go, oil change and filters affair.
Often, the cause of vehicle breakdowns is the result of accumulated mechanical problems, which could have been detected early. Therefore, rigorous checks by competent personnel is important.
AIR-CON AND ELECTRICAL REPAIRS
Is the temperature in your car rising due to a faulty air compressor? It might just be a wiring issue. Let us help you check it out.
We can also investigate and address the cause of those annoying warning lights flickering on your dashboard.
ENGINE AND GEAR BOX OVERHAUL
Detecting transmission problems early can prevent total engine breakdown and save you from spending thousands of dollars on repair. Let alone the additional distress and inconvenience you might face.
Talk to our qualified team of technicians if you feel uneasy about your gearbox.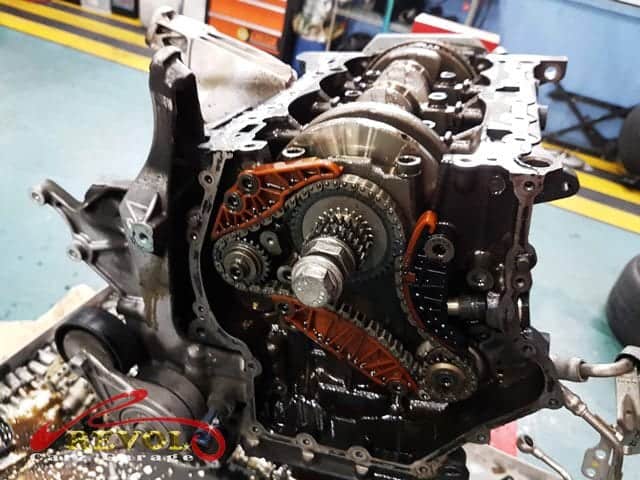 ACCIDENT REPAIRS / INSURANCE CLAIMS
You can trust our professional car repair technicians, mechanics and body restoration experts to restore your car back to the way it looked; just like those swoon-worthy showroom pieces you fell in love with, without the stress and time-consuming process for your accident repair and insurance claims.
Visit our car servicing Singapore workshop for a free car diagnostic check to receive your quote today!
All car diagnostic checks are done using a computerized scan, so we don't miss a spot.
Your car will get a comprehensive safety check of 36 points to check for any oil leakage and wear and tear. This assesses whether your car is in its best working condition.
All repairs include a complimentary car wash. We can assist you with your motor car insurance claims.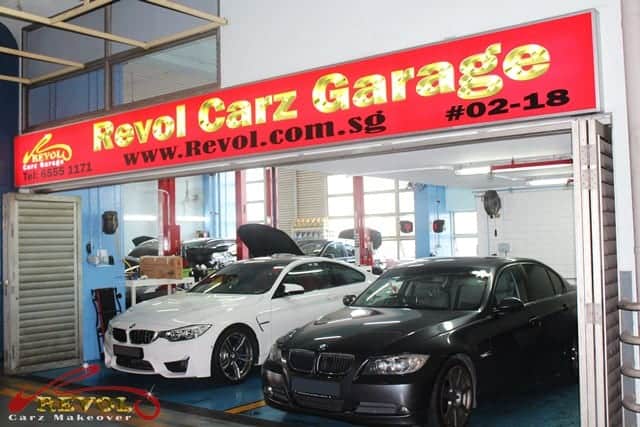 Ticking, knocking sounds or dashboard warning light on your car?
We know (and can fix) the most common problems owners face on a daily basis.
Here's a shout out for Gavin and his fabulous team! You guys are simply competent. Special thanks for resolving my nightmare of insane high engine oil consumption on my Audi A4.
Previously, I had to top up my engine oil for every 800km I travelled. It was really very annoying. I was looking around for a solution and I was advised to overhaul the engine. I narrowed it down to two workshops and decided to proceed with the repair by Gavin and team based on their consistent working standards and reliability.
I was pleased that they even arranged for a rental car for my convenience during the repair. It has been a peaceful ten months since my engine was overhauled. I have not had to top up a single drop of engine oil. Yes, not a drop! Amazing isn't it?
Huge thanks and thumbs up to Gavin and his team for his excellent and extraordinary service.
You guys are Aces of the trade and I'll surely be back for regular car maintenance services too. Keep up the great work!
I have been to lots of car repair workshops. Before Revol, I often met workshop owners or mechanics who had an attitude. At times, I was not even given advice on what needed to be done immediately, or told which items could be replaced at the next car servicing. I have often been surprised by the high repair bill.
This professional bunch from Revol Carz Garage changed my view of car workshops with their friendly and willing to listen attitude! I was constantly updated about my car repair status and given options, based on the cost of each item, before the repair was done. I would say that the repair bill from Revol Carz Garage is one of the most transparent. The price quoted is what was stated on the final bill. Their impressive service includes arranging a rental car for me at extremely reasonable rates, which I believe is way below market rates!
Most importantly, the car repair was extremely well done and my high engine oil consumption problem is finally solved. Now, I really enjoy the sheer pleasure of driving my BMW. Thanks Gavin and the Revol Carz Garage Team!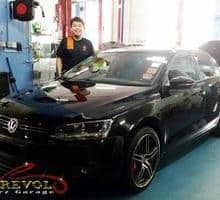 While driving home after a late night out, I felt some vibrations in my car and a warning lit up on my meter board.
Feeling distressed, I quickly texted Gavin to seek his advice. I was quite surprised that he responded immediately despite the late hour.
The next morning, I drove to his workshop to have my car checked. His friendly and competent team found that the issue lay with the engine pistons after some tests.
Initially, I was quite depressed to hear the word "engine overhaul" as I thought that it would set me back with a hefty repair bill. Gavin patiently explained the whole repair process to me and pointed out each part that needed to be replaced, and explained why it was necessary to repair the engine.
(I have encountered some workshop personnel who were easily offended when I asked them more questions regarding the repair!)
As expected, the engine overhaul was professionally done and delivered to me on time for my weekend drive with my family.
I was happy that Gavin kept me posted throughout the process of the repair. He also did a test drive to ensure that my car met their QC Standards, and was working satisfactorily, before returning the car to me.
I am happy that the total repair cost was precisely as quoted. My car now drives more smoothly and even with more torque. I'm relieved there is no more annoying jerkings and vibrations.
Based on my past experience with various workshops, I now affirm to be a long term loyal customer of Revol Carz Garage for their dedication, professional expertise and price transparency.
No hidden cost. No surprises. Thumbs up for the Great Job!
Revol Carz Servicing and Repair Garage
Car Servicing Singapore Garage and Maintenance Workshop Singapore
Address: 10 Ang Mo Kio Industrial Park 2A #02-18 AMK Autopoint Singapore 568047
Get Directions: Get there by Google Maps / Waze
Enquiry Hotline: 6555-1171
I had been stressed by the high engine oil consumption for a long time. My previous workshop advised that engine top overhaul was the only solution to the issue.
I called Gavin of Revol Carz Garage to seek his advice and quotation. He advised me to send in my car to confirm the issue first. I met up with Gavin and he promptly directed his team to check the engine. I was delighted and relieved that his team could resolve the issue easily at a fraction of the cost quoted by other workshop without having to top overhaul the engine.
Without hesitation, I asked Gavin to proceed with the proposed repair. I was happy that he also kept me updated during the period of repair. I was amazed that the repair was spot-on! To my relief, my problem was resolved. No more frustrations. I don't have to top up the engine oil after the repair. My ride is now smoother and I didn't burn a hole in my pocket.
Being Revol's customer for already a decade, I have witnessed their steady growth through the years.
Their good business principles and integrity have been constant since the day I first met them. They always put customers' interest first. I have no hesitation to recommend more customers to Revol Carz Garage for their professional expertise and honest pricing.
Keep up the excellence. I shall certainly be back for my car servicing.
I have been a car owner for many years and have been to lots of car repair workshops. After visiting Revol Carz Garage for my car repair needs, they simply changed my typical view of a car workshop.
Normally I would be faced by workshop owners or manager or even mechanic with an attitude and highly charged rates.
At times I was not even given the option of what needs to be done immediately or items that can actually hold till the next car servicing for replacement.
As a car owner, I was often caught by surprise by the high repair bill when I collected back my car after the car servicing.
At Revol Carz Garage, this professional bunch of team simply changed my mind with their friendly and willing to listen attitude! I was constantly updated about my car repair status and also was given the options on the items rate and cost before the repair is being proceeded.
I would say Revol Carz Garage repair bill is one of the most transparent from my many years of visiting car workshop experience. Price quoted is what the final bill stated.
Their impressive services include knowing that I would need in a car to travel daily, they actually arranged a rental car for me at an extremely reasonable rates which I believe it is way below the market rates!
Of course, the most importantly – the car repair carried out is extremely well done and my high engine oil consumption problem is finally solved. Now I really enjoy the REAL sheer pleasure driving experience for my BMW.
Thanks Gavin and all of Revol Carz Garage Team!
Revol Carz Garage is by far the best car garage that I have encounter for car repair. They have solved my engine oil disappearing issue with most reasonable rates.
Having the frustration of topping up frequently engine and not wanting to do an engine overhaul, I visited Revol for a car servicing session and decided to go with a valve seal replacement as advised.
My engine oil disappearing issue was solved immediately and I could feel a very big difference of a smoother ride after the repair.
Revol Carz Garage really impress me with their experience team of mechanic together with the team of mechanic and manger who is will to listen my concern to work things out with me.
The normal engine oil change servicing rates are very reasonable as well. Coupled with the grooming services at the first level saves me lots of time and worries as a one stop solution for all my needs.
I strongly recommend all car owner to try out their services as they are indeed different from others with their dedicated services and technical expertise.
Two thumbs Up!
Car Servicing Singapore Customer Feedback
Recent Car Servicing Singapore Updates
See more Car Maintenance and Repair Case Studies on our blog.