Rated #1 Ceramic Coating Paint Protection Service in Singapore by SGCarMart
Official and Authorized Distributor of ZeTough 9H Ceramic Coating Products
9H Hardness is Lab-Tested, Certified and Validated by SGS Singapore
The Paint and Surface Protection Specialists in Singapore, rated by hundreds!
"Revol Carz – Preferred Star Merchant" – 8 Year Consecutive Winner – SGCarMart
380+ 5-Star ★ Customer Reviews Singapore's Highest Rated Service Provider

Premium Paint Protection by Revol Carz
Harden your car's paintwork against stubborn water stains, bird droppings and watch water bead off easily with guaranteed results with our flagship SGS-Certified 9H ZeTough Paint Protection – A chemically-bonded Si02 Molecular Paint Guard for a highly reflective glass-like glossy ultra smooth feel and finish.
Get that intense wet-look reflection and lush color pop.. and that new car look that lasts for years!
Ceramic Coating VS Waxing
As car owners, we all want to protect our car's paint and clear coat from harsh elements such as the Sun, dust and even acidic rain to preserve the value of our car.
However with normal waxing sessions, while effective for a short amount of time can protect the car's surface – typical car wax will dissolve faster than a molecular bonded layer achieved with a 9H Ceramic Paint Protection system.
Frequent waxing also can cause premature damage and wear to the paintwork. Most waxes available on the market are derived from paraffin – which gives the car it's wet and shiny look. Unfortunately due to the ever changing weather conditions in Singapore – it does not last beyond what is typically expected.
Paraffin-based waxes also tend to easily attract dust, dirt and fine particles as the sticky surface of wax compounds make it easier to stick and stay on the surface! A layer of dirt can actually build up a lot faster.
Most groomers use buffing tools to apply and polish the wax onto your vehicle – this in turn causes ugly swirl marks which can cause micro-abrasions and introduce even more particles and dirt into the car's surface!
Pictured: Swirl Mark and Fine Scratches
Unfortunately – this causes long term abrasive damage to your car's paint, and over time, you will find that your car's color and brilliance isn't as what it was, when it first rolled out of the showroom.
You can spot these swirl marks easily especially under a spot light – or a street lamp. The benefits to waxing are it's convenience, cost and general popularity for a number of decades. However paint protection technology has changed a lot since!
Water Marks and Water Spotting Issues
In our rainy weather, it's often common for our cars to collect water spots after being exposed to a heavy downpour – these water spots are usually quite ugly in nature and often contain mineral deposits in them. If left untreated, these water spots can actually leave a lasting imprint into your car's paintwork!.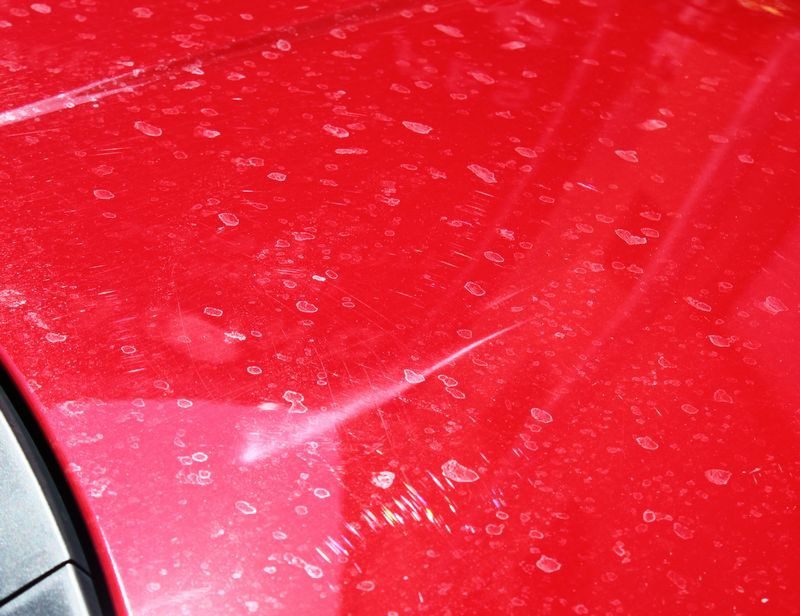 Other heavy soil-based contaminants may also mix together with the water (just imagine someone driving past you with a puddle) and leave marks which can easily scratch your paint if you brush against it.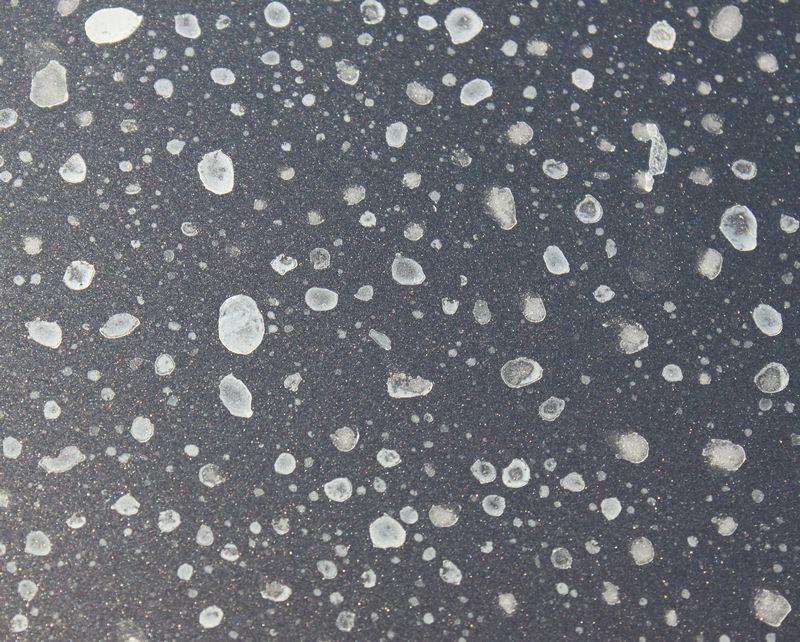 Some watermarks with corrosive elements might even eat into or etch deeply into your paint. Preventing these are often the key reasons why people choose a longer-lasting option when it comes to preserving their car's paintwork.
Even after washing and cleaning, some imprints may still be left behind – visible closely under the naked eye and with a good spot light.
Consider investing into a good paint protection system to prevent and avoid these water spots and marks.
Paint Protection Technology and Key Differences
You may have already heard of Paint Protection terms such as 'Glass Coating' or 'Ceramic Coating' – and while their principles are similar (that is to protect the paintwork of the vehicle with an additional layer) – the compounds are different.
Glass Coating
Glass coatings are based from silica compounds – which contain particles of silica dioxide applied on a thin layer of resin to form a very shiny and clear coat on a car's surface. This layer bonds with the car's surface and can last typically between 8 to 12 months before having to be reapplied.
Glass coatings are effective in preventing common contaminants and act as an additional protective shield. These are typically applied on with an applicator (sponge) and is not used with an electrical buffing machine.
Ceramic Coating
The hardest of all paint protection compounds is Ceramic coatings. Consisting of extremely durable acrylic ingredients and hard-wearing polymers that form a very effective and protective layer – this coating is applied and cured on the paintwork to form silicon dioxide (SiO2) molecular layer.
Our flagship product, ZeTough 9H Paint Protection – when fully cured and bonded brings out the deep gloss and shine with an increased hardness of up to 85%. It features an ultra-hydrophobic layer that is extremely scratch resistant and can prevent UV damage and oxidation to your paintwork.
A single coating can last on your car's surface for over 3 years without having the need to be reapplied.
We feature more updates and news on our Paint Protection Blog.
ZeTough 9H Ceramic Coating PPS
Built to be ultra-resistant to watermarks, bird-dropping stains and oxidation.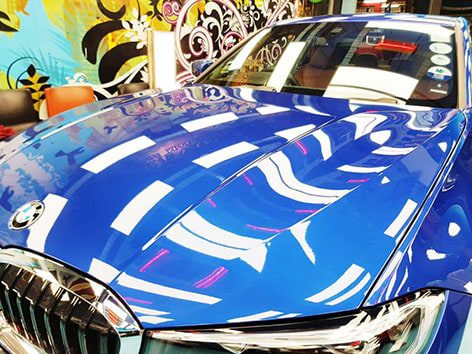 ZeTough 9H Ceramic Paint Protection is not a temporary wax or polish. It's an engineered protective coating that binds permanently to your paintwork and lasts for years.
We use UV heat to cure ZeTough – an ultra-hyphobic protective compound layer on top of your paint layer – that looks and feels absolutely incredible.
Unlike conventional waxes, the curing process chemically bonds ZeTough to your paintwork – forming a glass-like hardened shield that lasts for years.
A protective shield that does not wear off after heavy rain and repeated washes.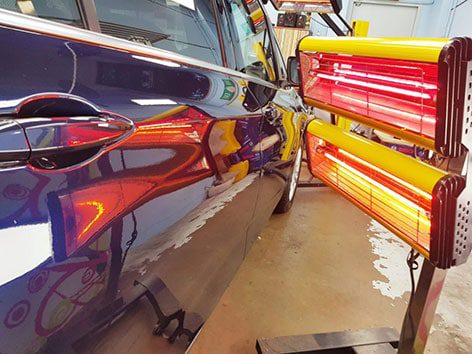 ZeTough 9H Car Paint Protection is officially lab-tested and certified by SGS Singapore*
*SGS – The world's leading inspection, verification, testing and certification company
Proven to withstand tough scratches and provide resilient protection for everyday driving.
See our Car Paint Protection Singapore Official Lab Reports by SGS Singapore. You can see more in our 2017 and 2018 certified test reports.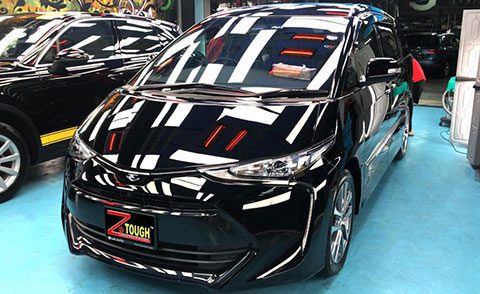 ZeTough brings out the full color depth from your paintwork flawlessly.
Combined with an intense mirror-like finish with self-cleaning properties that keep your car cleaner and glossier for longer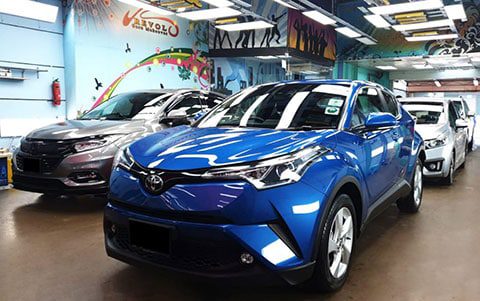 This bonded ceramic top-layer doesn't yellow, cloud and peel and lasts literally for months
Singapore's weather is tough (a combination of high heat and humidity) on exposed plastic products – and they degrade exceptionally fast especially after prolonged periods under the sun.
ZeTough 9H Ceramic Paint Protection lasts for years (backed by our 5-Year guarantee), doesn't disappear, discolor, fade like traditional car waxes or films, and most importantly doesn't damage your paintwork.
​Once bonded and cured, it stays and resiliently protects your paint against the harsh elements of everyday use.
We guarantee it.
Water beads away fast with its ultra-hydrophobic properties
Accumulated dirt, tree sap, bird droppings wash away quickly and fast with the ultra-hydrophobic properties of ZeTough Paint Protection.
Dirt on your bonnet? Just spray and wipe off.
Unlock incredible color and maintain it for years
Discover the true color depth of your paintwork and lock in long-term vibrancy and ease of maintenance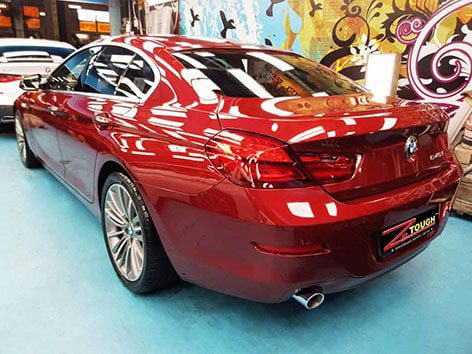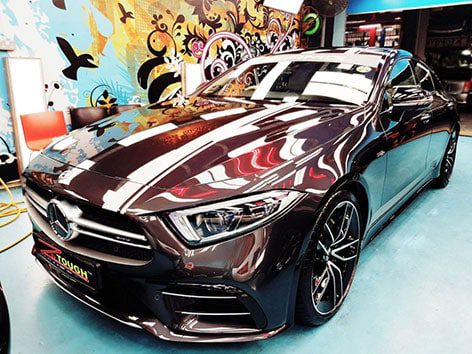 Weather and Ultra-UV Resistant Properties
ZeTough 9H Car Paint Protection Singapore is built to last – and protects your car's paintwork against harsh environments and oxidation damage
Get a complete peace of mind with ZeTough's robust and long-lasting performance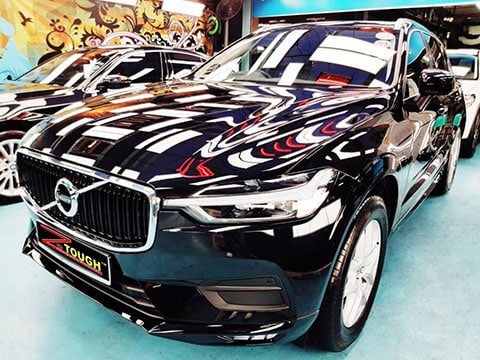 New 2019 Volvo XC60
8 Year Old Jaguar XJL
Volkswagen Tiguan
Mercedes-Benz B200
Honda Civic
Since 2003, we've restored thousands of cars to showroom condition and more
ZeTough Paint Protection starts from SGD 588
All ZeTough Paint Protection Packages include:
Full exterior paintwork restoration and correction
Full interior grooming services
Engine Compartment Cleaning ​
Leather Washing and Conditioning​
Wheel Polishing to remove all brake dust​
Door Shuts Detailing
Exhaust Polishing
Paint Coating Rates and Prices
Glass Coating - 6H Scratch Resistance
fr. $588
Ceramic Coating - Scratch resistance 9H
fr. $688
Titanium Coating - Above Scratch Resistance 9H
fr. $888
ZeTough Ceramic Car Paint Protection Singapore is a permanent coating that once cured fully – it bonds into extremely tough paint protection with long lasting shine.
ZeTough Ceramic Paint Protection is backed by a 3 years warranty with a conditional extension to 5 years warranty guarantee.
---
ZeTough Titanium Paint Protection is backed by a 5 years warranty with a conditional extension to 7 years warranty guarantee.
Fall in love with your car (all over again)
Speak to us at 6555-1181 or schedule a ceramic coating booking via Whatsapp.
Let us protect your ride, new or old – and make it look like you just got it yesterday!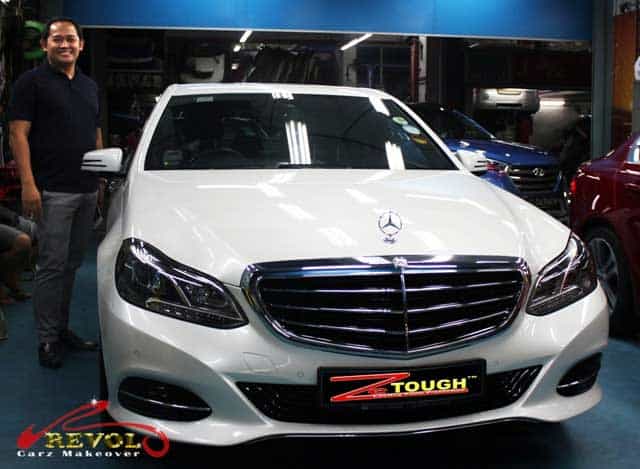 "I vividly recall the fond nostalgia in the year, 2012 when I had the good fortune of discovering Revol Carz Makeover through a close friend.
It was at Revol where I had my first car professionally repainted but was also given a special treatment of their ZeTough Ceramic Paint Protection coating which had kept my car staying brilliant even until this day.
I have enjoyed driving my faithful, Mercedes Benz E200 for quite a while now and was contemplating a color change to give it a more refreshed look.
As a loyal customer, I visited Revol Carz Makeover again for a personal consultation with their Workshop Manager, Marcus who was very competent in the field.
He answered all my questions satisfactorily about the color change and patiently helped me to understand how certain shades of pearl, for example, could affect the final tone. This certainly helped me to reach my colour choice decision without difficulty.
The color-change job on my car was completed flawlessly. The excellent results indeed exceeded my high expectations.
Revol didn't return my car with just only the excellent repainted work. They ensured that every imperfection and dent is restored right down to the smallest detail, to really bring the car back to its showroom glory.
I could see that the team at Revol Carz Makeover holds profound pride in their uncompromising workmanship. I strongly recommend Revol to all car owners who desire flawless re-painting work with the long-lasting paint protection coating.
Kudos to the remarkable team at Revol Carz Makeover! Keep up the excellent work!"
"Having to seen my car lacquer peeling off on my current car rooftop and bonnet from the previous spray painting job, I know I truly need to find a professional spray painting workshop to rectify the issue.
Upon across Revol Carz Makeover and meeting up with Marcus, i decided to go for the spray painting, paint protection and car servicing all under their care.
Car collection date promised is delivered on time and end results of the spray painting and paint protection are simply awesome!
Car servicing services is also up to mark with detailed explanation of the car health status.
A workshop that I feel peace with mind with a team of passionate guys to get things right is what I would strongly recommend all my friends to use their services.
Thank you Revol and Keep up the good work!"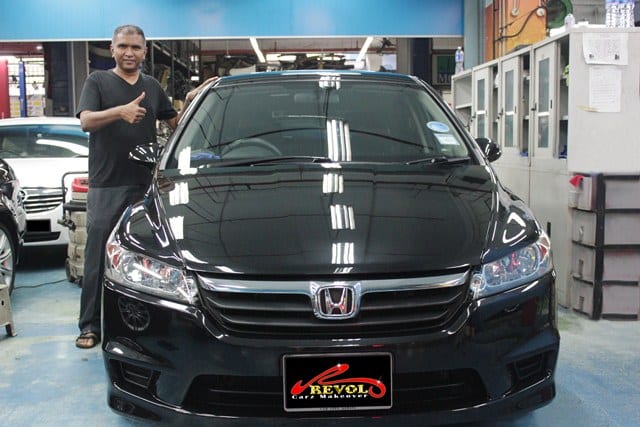 "I would like to show my appreciation to Marcus and Revol Carz Makeover Team for doing up such a wonderful spray painting on my Honda stream.
The job done exceeded my expectation and I am glad to choose you guys for my spray painting with ZeTough paint protection services.
I really like the effort of ensuring all the interior area such as the engine compartment and leather seats are thoroughly cleaned up which revive back my lost new car feel!
You guys really deserve the praise!
Keep It UP!"
"When it comes to car grooming, paint protection, car spray painting, Revol Carz Makeover have my vote!
This is my 4th New Car with Revol Carz Makeover and I have never look back since using their services 13 years ago.
What really makes me feel happy to use their services beside excellent results delivered on every grooming session, is their commitment to ensure not only my car but me as a owner are well taken care of too.
Their always willing to help attitude and excellent services still remains the same since I have met them from day 1 which is quite hard to find in my personal car ownership experience with various services provider.
I am happy to see their growth over the years from multi storey car park to having in house spray painting and accident repair services.
Keep up the good works guys!"
"Ever Since I have met Revol during their car park days till now, I have been with them for close to 8 years. So far I am very happy with their services provided and am happy to see their progress over the years with more value added services.
Recently I have just spray painted my whole car with Revol together with ZeTough paint protection.
Results delivered is as usual- very good with all minor details taken care of to revive my car back to its showroom condition.
Appreciation with thanks to Marcus and Revol team for all the exceptional good services provided during all these years.
Keep up the good work Revol Carz Makeover and Team!
"I have just spray painted my whole car with another company and I find the paintwork after spray painting is badly done with lots of unevenness orange peel and blurring paintwork.
I chanced upon Revol Carz Makeover after doing a quick search online for paint correction services. Having met Gavin the next day for a full car assessment, I was convinced that the company has the knowledge and expertise in providing the high standards in restoring the car's paint to my satisfaction.
The car's paintwork correction and intensive grooming took a while to complete. However,I must say that it was definitely worth every minute of the wait for the huge transformation of the car's appearance.
The previously dull and orange-peel laden paint is now shining with a deep glow from the ZeTough paint Protection, plus all components are cleaned with extreme attention to detail.
I'll not hesitate to recommend anyone to go for the grooming sessions at Revol Carz Makeover. I believe picture will do the talking itself!"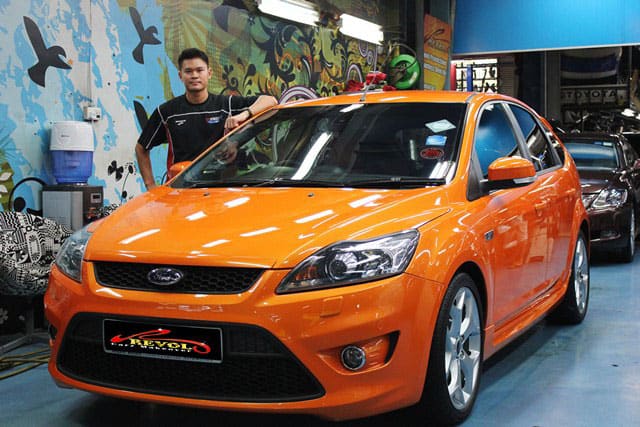 "Have been with Revol Carz Makeover for the past 3 years. Their service has always been tip top. Recently tried their ZeTough Glass Coating paint protection.
Totally no regrets. Car paint work is completely restored to showroom condition and looks very much richer. Their workers are extremely meticulous throughout the whole process cleaning every groove, edge and corner they can find till it is flawless before handover.
Highly recommended!"
"My compliments to Gavin and the team, who have worked hard to completely transform my Peugeot from "work car" to a condition and standard that can only be described as "showroom". The result of ZeTough Paint Protection was far more than I expected. Your professional, on-time and meticulous service is greatly appreciated!
Both my family and I now recognize Revol as the best company in the business of car grooming in Singapore. Your attention to details and consistent high standards are second to none! Again thanks for your hard work and excellent result.
The moment I'm writing this testimonial, your fantastic customer service was still refreshing in my thoughts!
Keep up the good work and I'll definitely be back for the fantastic and enjoyable service again."
Revol Carz Service Locations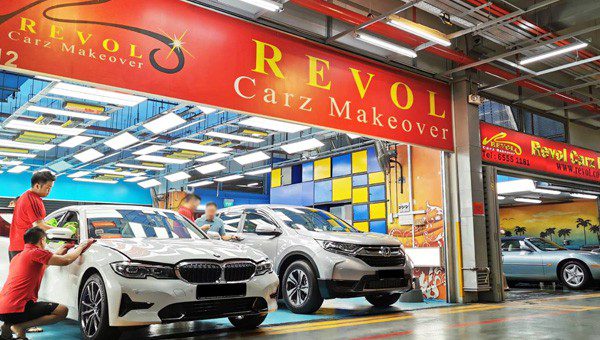 Revol Carz – Ang Mo Kio Branch
Official ZeTough 9H Distributor and Application Specialist
Car Paint Protection Singapore Center (Google Location)
Address: 10 Ang Mo Kio Industrial Park 2A #01-12 AMK Autopoint Singapore 568047
Get Directions: Get there by Google Maps / Waze
Enquiry Hotline: 6555-1181
Appointment Hotline: 6746-6281
Revol Carz – Toh Guan Branch
Authorized ZeTough 9H Ceramic Coating Distributor and Application Professionals
Car Paint Protection Singapore Service Center (Google Location)
Address: Blk 42 Toh Guan Road East #01-75 Enterprise Hub Singapore 608583
Get Directions: Get there by Google Maps / Waze
Enquiry Hotline: 6555-1181
Appointment Hotline: 6267-9331
How to apply ceramic coating to a car
Keen to learn how we apply ceramic coating protection onto our customer vehicles? Check out our step by step guide below on the process and details.
Frequently Asked Questions (FAQ)
People Also Ask..
What is the best way to protect my car's paint?
We recommend using ZeTough 9H Ceramic Coating Paint Protection as a proven solution to protect your car's clear coat. This prevents water marks, damage from bird droppings and accumulation of grime from daily road use.
What is ZeTough 9H Paint Protection?
ZeTough 9H Paint Protection is a protective layer which is bonded to your car's surface via an ultraviolet curing process that lasts for years without washing off unlike traditional polishes or waxes.
Does paint protection films (PPF) work better than ZeTough 9H Ceramic Coating?
While both products primarily do the same thing – that is to protect your car's surface. Based on our experience, due to it's material properties, some brands of paint protection films (PPF) do wear, peel and some turn yellow due to the consistent exposure and heat. ZeTough 9H does not wear in such a way as it's similar to that of an additional layer of protective clear coat which requires minimal maintenance.
How long is a paint protection session?
A session typically takes around 4 hours. This involves preparing the car's surface by cleaning and making sure it is free of dirt and impurities. The application and curing process takes about 45 minutes to one hour to complete.
How do I maintain my car's surface after doing this treatment?
All you need to do is just clean and wash your car's surface like you normally would with normal car washing. There's no need to apply any additional wax or polish on top of it.
Where can i go for Paint Protection Service?
You can visit our Car Grooming Centers Ang Mo Kio Grooming Center (10 Ang Mo Kio Industrial Park 2A #01-12 AMK Autopoint Singapore 568047) or Toh Guan outlet (Blk 42 Toh Guan Road East #01-75 Enterprise Hub Singapore 608583).
Can ZeTough Paint Protection be used on Matte paint surfaces?
No, this paint protection system is meant for standard metallic paint surfaces.
How long can ceramic coating last?
Ceramic coatings on car paint surfaces can typically last around 3 years for general, typical usage by the majority of car owners. While longevity depends on where the car is parked or used most times (exposed under the sun etc), you should regularly clean your car with a regular car wash as well.
Is ceramic coating good for your car?
Yes. Ceramic coating is always recommended to prolong the shine and protect the paint surface to look at its best. This is especially so if you have purchased a new vehicle and looking for the most important car care to look for.
Even if your car isn't new, a coat will drastically protect and change the way your car looks and feels – extending the value of your car.
Can you add an additional coat over existing ceramic coating?
We always recommend that the previous coating must be removed as the previous layer may cause unevenness, which may result in an unsightly layer.
This may also cause improper bonding finishing effects.
How much is ceramic coating in Singapore?
Our ceramic coating fees and charges start from $688 SGD (Singapore Dollars). We assure the highest quality and output – while providing a 3-year guarantee for our workmanship.
Which is better? Ceramic or glass coating?
While both coatings provide ideal protection for your car paint's surface, we strongly recommend Ceramic coatings as it has been proven to be the most cost-efficient balance between cost and protective performance.
Our Glass Coating protective service and products provide quality protection with the highest cost savings.
Which is better? Titanium coating or Ceramic Coating?
Our Titanium Paint Protection service and product is the highest tier with the hardest protective compounds for your vehicle. This premium bonded compound has the highest-rated 'hardness' quality and provides the most comprehensive shield against dust, scratches, and surface contaminants.
Car owners who are looking for the absolute best paint protection will typically choose this option.
Can I apply ceramic coating myself?
Yes, you can always apply ceramic coating on the vehicle yourself. However there are a number of steps and processes to ensure a high-quality result. Specialized tools such as buffering machines and curing machines are also essential to completing the process.
We recommend that you leave it up to a professional or servicing specialist such as Revol Carz to take care of such issues as these may take significantly longer than you expect.
How do I wash my car after ceramic coating?
You can just wash your car normally after the coating treatment. You do not need to take any particular or specific measures if you are handwashing your vehicle.
That said, we don't recommend driving your car into an automatic car wash system.
How do you maintain ceramic coating?
Wash your vehicle as per normal and prevent any stains (e.g. bird droppings, sap, or tar) from staying too long on your vehicle. Wash or clean your surface as quickly as you see them to prevent damage to the ceramic coat.
You should also not lean on your vehicle (including others) in case there is accidental scratches or damage by buttons, embellishments on clothes.
What should you not do after ceramic coating?
You should not let others apply any other layer or coating on top of your vehicle's paint surface. Any form of aggressive buffering or polishing may remove the ceramic coat of your vehicle.
We don't recommend putting on additional wax or sealant as there's no need for it. Your ceramic coating is meant to replace those.
How often should you wash a ceramic coated car?
You can wash your car once a week or whenever it gets dirty. You do not need to specifically go out of your way to clean your vehicle more. Our range of coatings will provide long-lasting effect which makes your vehicle more easier to clean and wash.
What soap is safe for ceramic coating?
You can use normal vehicle soap or shampoo to wash your car. Our coatings will not be removed by standard soap or detergent.
A store-bought pH-neutral soap that is designed to protect, shine, and enhance vehicles will be enough.
How long should I wait to wash my car after ceramic coating?
Technically, you can wash your car immediately after it has completed the service. However, we will always ensure your vehicle is handed back to you in the most clean and pristine condition.
We always recommend that you perform your first wash once your vehicle gets dirty or when there are accumulated stains or bird droppings on it.
What if it rains after ceramic coating?
You do not need to worry as the coating will not be 'washed off' by the rain. Just drive your vehicle normally and wash only when needed.
What can I put on top of ceramic coating?
You do not need to apply any additional coating like wax or sealant. Your ceramic coating is sufficient enough.
Often if you request for another company or person to wax or polish your car, he or she may remove your original ceramic coating with a buffering tool – negating all the benefits of your original paint protection.
How many layers of ceramic coating does a car need?
You just need three layers. There's no need for additional layers once the three layers has been uniformly applied and cured.
Does a clay bar remove ceramic coating?
Ceramic coating once coated cannot be removed easily. A clay bar cannot remove ceramic coating as it is meant to loosens up the adhesive of the coating to the clear coat.
A clay bar is also often used prior to a waxing or polishing session.
However, improper claying with a dirty clay bar or aggressive polishing using a machine will affect the finishing of the ceramic coating.
Recent Paint Protection Updates