"Revol Carz – Preferred Star Merchant" – 10-Year Consecutive Winner – SGCarMart
380+ 5-Star ★ Customer Reviews Singapore's Highest Rated Service Provider

Car Servicing Specialists – Revol Carz Makeover
Founded since 2003 and with 3 car service centers across Singapore – our love for cars and focus on taking care of our customer's rides utilizes a multi-specialized and cohesive approach.
Our core pillars of quality automotive care focuses on Paint Protection, Car Grooming and Detailing, Car Spray Paint Touch-up, and Car Servicing in Singapore.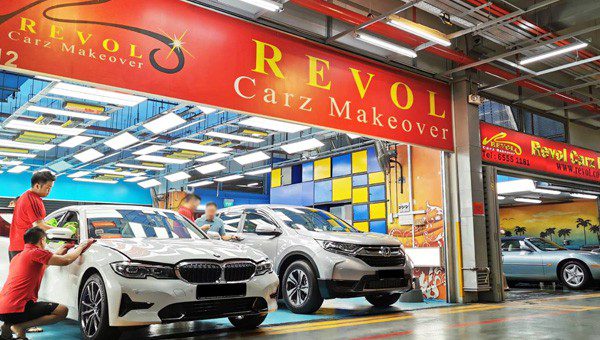 Our service centers, located in Ang Mo Kio and Toh Guan are fully equipped to take care of all of your servicing needs and repair requirements.
Our administrative team with over 25 years of combined experience can assist you with accident and insurance claims.
Book an appointment, visit us at one of our locations or call us at 6555-1181.
We are proud sponsors of local automotive communities and are preferred merchants of SGCarMart.
Thank you once again for considering our services to assist you.
Revol Carz Group
Gavin Tan, Randy Phuang
Alan Wong, Marcus Koh
.. Their always willing to help attitude and excellent services still remains the same since I have met them from day 1 which is quite hard to find in my personal car ownership experience with various services provider.
… The previously dull and orange-peel laden paint is now shining with a deep glow from the ZeTough paint Protection, plus all components are cleaned with extreme attention to detail.
… I really like the effort of ensuring all the interior area such as the engine compartment and leather seats are thoroughly cleaned up which revive back my lost new car feel!
… Awesome! I couldn't believe that my almost 5 year-old car can be restored to such a condition. The exterior paint work now looks shiny with a richer color coating and smooth to touch as you run your fingers on it, just like a new car…
From light paint scuffing to heavy vehicle damage – our in-house paint and surface specialists are able to restore your paintwork back to it's original showroom look condition.
Whether you're looking for an oil change or complete overhaul, our fully-equipped 8-hoist garage is able to diagnose and repair engine or parts related issues.
Get your vehicle back into showroom-shine condition with our interior and exterior car grooming service. Our team meticulously cleans and details every surface – including your engine bay and exhaust pipes.
Get a quick refreshing car wash at affordable rates. Remove all major stains, grime and watermarks under 20 minutes with our specialist teams. (For Revol Carz Members Only)
Revol Car Service Centers
Toh Guan Branch
Blk 42 Toh Guan Road East #01-75 Enterprise Hub Singapore 608583 Get here by: Google Maps / Waze
Operating Hours: Monday to Sunday 8:30am to 6:30pm Closed on Tuesdays & Public Holidays
Car Wash Hours: Monday – Saturday 6:00pm to 8:00pm Sunday 6:00pm to 7:45pm
Closed on Tuesdays & Public Holidays
Appointment Hotline: 6267-9331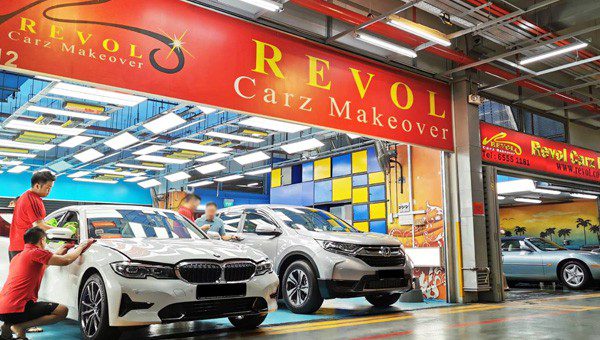 Ang Mo Kio Branch Grooming and Paint Center
10 Ang Mo Kio Industrial Park 2A #01-12 AMK Autopoint Singapore 568047 Get there by: Google Maps / Waze
Operating Hours : Monday to Sunday 8:30am to 6:30pm Closed on Public Holidays
Car Wash Hours: Monday – Saturday 6:00pm to 8:00pm Sunday 6:00pm to 7:45pm
Closed on Public Holidays
Appointment Hotline: 6555-1181
Revol Carz Servicing Garage
10 Ang Mo Kio Industrial Park 2A, Ang Mo Kio Autopoint #02-18 Get there by: Google Maps / Waze
Operating Hours : Monday to Friday 9am to 6pm Saturday: 9am to 4pm
Closed on Public Holidays Car Wash Hours: Monday – Saturday 6:00pm to 8:00pm Sunday 6:00pm to 7:45pm
Closed on Public Holidays
Appointment Hotline: 6555-1171
Recent Servicing and Maintenance Updates
Is your Audi showing signs of sluggish starts or dimming lights? It might be time [...]