BMW Z4: Painted with Ceramic Protection Coating. Hi Everyone, A ferocious BMW Z4, the "James Bond fast car" screeched into the drive-way at Revol Carz Makeover for another "secret mission" today. The mission – to have a full outlook paintwork re-spray and shielding Z4 with a long-lasting ZeTough Ceramic Paint Protection Coating. Credited as "the first BMW designed by two ladies", the E89 body was styled by Juliane Blasi, with Nadya Arnaout designing the interior. BMW claims the turbocharged 2.0-liter engine makes 240 hp at 6500 rpm and 260 lb-ft of torque at a low 1250 rpm. The new engine brings 0-100km/h acceleration to 4.8 seconds. Now the Z4 is all ready for the special makeover mission. But first, we shall strip her part by part. This is important to enable the new paint to reach the tight spots thus ensuring there is no hint that the car has been re-sprayed. We have the pleasure to present the following "before and after" photos for your browsing pleasure. Hope you will enjoy viewing the following photos. Before
Arriving at Revol Carz Makeover on a special mission to transform the BMW Z4.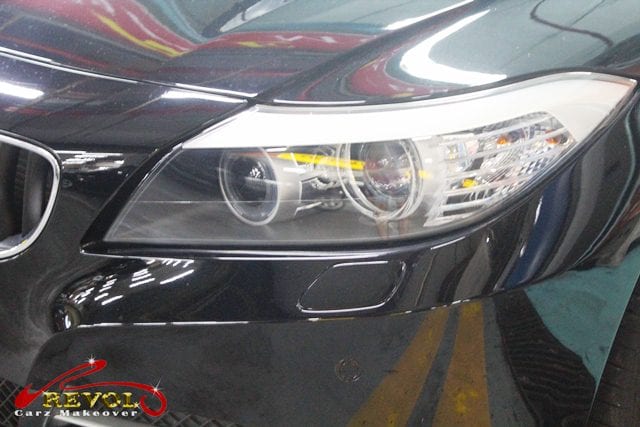 The Xenon headlights to be gently dismantled for polishing.
The original paintwork has seen better days.
The trunk door, tail-lights and bumper to be carefully dismantled for professional spray-painting.
The alloy wheels to be dismantled before spray-painting. After pictures of this BMW z4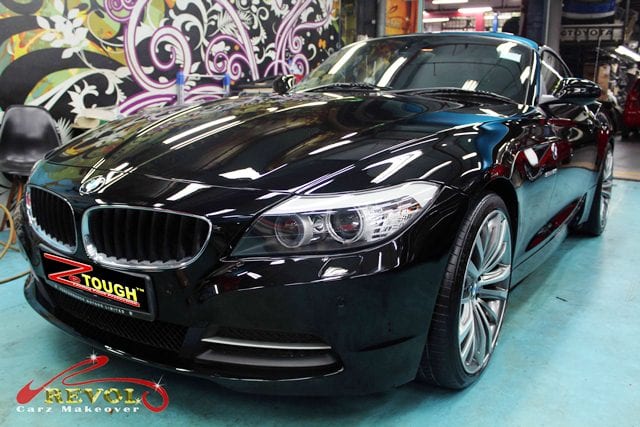 The BMW Z4 is glossy, elegant, inspiring and perfect after the re-sprayed paint job.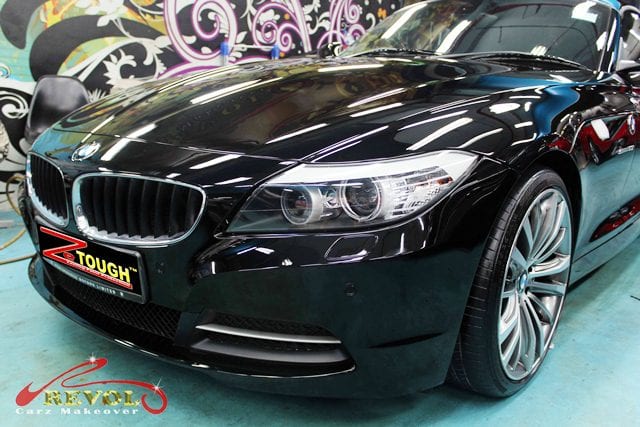 James Bond would have been thrilled that the BMW Z4 is restored to flawless showroom condition.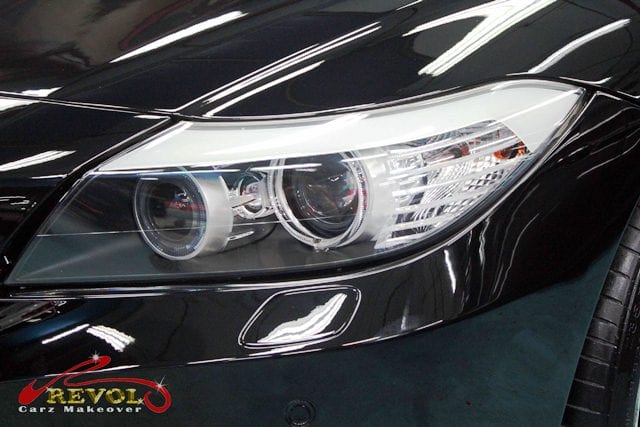 The refurbished twin Xenon headlights provide an attractive visual focus,
Seeing is believing – a sparkling clean engine bay of BMW Z4.
BMW Z4 incredible wet look after re-spray, polishing and treated with ZeTough Ceramic Paint Protection Coating.
Moving to the finishing section, the interior goes through multiple rounds of minute detailing, polishing and buffing..
Sitting proudly at our workshop after spray-painting, the BMW Z4 next goes through final polishing, detailing before it gets another coat of ZeTough Ceramic Paint Protection Coating.
The exhaust pipes are never overlooked for cleaning and polishing.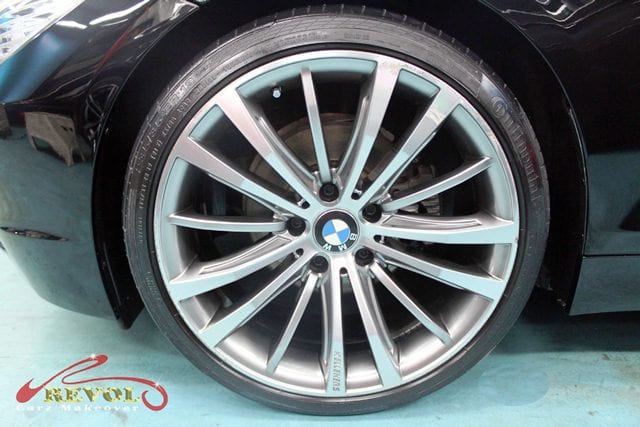 The rims of the BMW are like new and shiny after polishing. Passion, right eco-friendly cleaning and polishing products and the renowned ZeTough Ceramic Paint Protection have been key ingredients for impeccable makeover results. We are licensed to thrill. Have you been pondering refurbishing your car?  Whether it is for partial or full re-spray, we can transform your whole car to a show-room condition – with three years warranty. Visit us at Revol Carz Makeover for a friendly chat and free assessment with absolutely no obligation. Thank you for reading!