Hi Everyone,
Nasty dents and deep scratches damage on the side of the sporty Volkswagen Scirocco drove the owner to decide on a full body repaint and protection with ZeTough Ceramic Paint Protection Coating at Revol Carz Makeover.
Offered exclusively as the premium Scirocco R, the car features unique and sporty elements with typical R-model styling accents and performance. The Scirocco R can reach a hurricane speed of 257 km/h and 0-100km/h acceleration in 6 seconds.
Under the hood lies a powerful 2.0-liter TSI Turbocharged engine producing 188kW of power and a maximum torque of 330Nm at 2,500 rpm. The impressive performance is delivered through a specially tuned sport chassis with adaptive chassis control, Extended Electronic Differential Lock (XDL) and 6-speed Direct Shift Gearbox (DSG).
Inclusions are 19-inch Talladega Alloy Wheels, Bi-Xenon headlights, Bluetooth connectivity, parking distance sensors, RCD510 Audio System amongst an extensive equipment list that befits such extra-ordinary car.
The proud owner had plenty to smile about on seeing his Scirocco R transformed into an incredible showroom condition after the Revol Makeover.
We hope you will enjoy viewing the following transformation photos!
The Volkswagen Scirocco R arrived at Revol Carz Makeover for body repair followed by a full car respraying works with ultimate coating of ZeTough Ceramic Paint Protection.


The original paintwork had seen better days.


It breaks our hearts to see such nasty dents and scratches on a beautiful Scirocco R..


Our team at Revol Carz Makeover is exhilarated to present the complete transformation of the Volkswagen Scirocco R in its showroom glory.


The front view features refined works with extreme gloss surface that has been coated with the long-lasting, ZeTough Ceramic Paint Protection.


The polished crystal clear Bi-Xenon headlights look like brand new.


The powerful 2.0-liter TSI Turbocharged engine deserves intensive cleaning and polishing to achieve a brand-new look.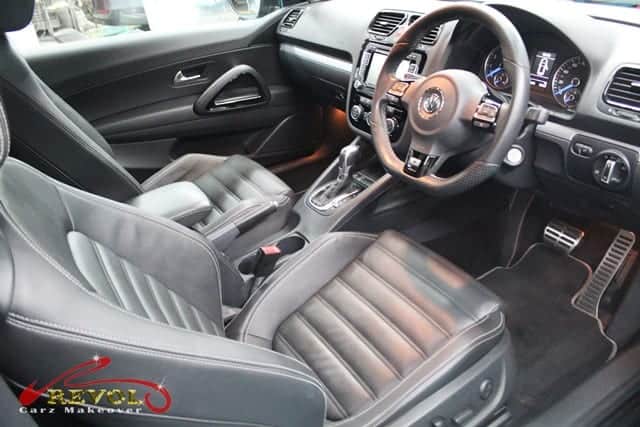 The interior has been carefully cleaned, polished and sanitized. All leather surfaces are further treated and nourished.


This was how the door-mirrors looked before the makeover.


See the contrasting difference after the makeover? There is no secret that ZeTough Ceramic Paint Protection also makes the high gloss possible and permanent.


With ZeTough Ceramic Paint Protection coating, the eye-sore of finger nail scratches on the door handles are all things of the past.


You can't tell that there had been ugly dents and deep scratches on the rear left before. There is zero hint of ripple on the paintwork right after applying the ZeTough Paint Protection coating.


The dull-looking exhaust tail pipe before polishing.


The chromed exhaust tail pipe polished and looks new.


The 19-inch wheel covered with brake dust and kerb-scratched rashes.


The super cleaned and polished Talladega alloy wheels are free of kerb-rashes and scratches.
The holiday season is in the mist. And what a wonderful time it is for making brand new resolutions and exchanging of gifts to celebrate yet another good year.
Perhaps you are considering a New Year resolution to reward yourself with a treat too in giving your prized car that deserving extraordinary makeover with long-lasting luster with ZeTough Ceramic Paint Protection Coating.
With the treatment of the award winning ZeTough Ceramic Paint Protection Coating, we guarantee your car's paintwork gets maximum protection with a brilliant showroom shine throughout your ownership. Maintenance after the treatment is minimal and easy.
Thank you for reading!