Hi Everyone,
Exciting things are happening at Revol Carz Makeover. Another striking new BMW 7-Series has arrived at Revol Carz Makeover for a professional grooming with a touch of the ZeTough Ceramic Paint Protection coating!
The sixth generation BMW 730i comes with dazzling technologies. The latest 7-Series gets a BMW's iDrive 5.0 Infotainment System with touch screen interface. BMW features the world's first gesture control system. With a flick of the hand, the driver accepts or rejects phone calls or adjust the volume of the audio system. A two-finger point can be programmed for a specific function, such as setting the navigation system for home, encompasses the car's exterior camera system. Also featured is a remote control parking system.
The use of high-tech materials reduced the weight of the latest sedan up to 132 kg lighter, netting improved performance and economy.
BMW took an evolutionary rather than revolutionary stance in styling the newest 7-Series. However, up front, it remains a three-box design. The new sedan's roofline is more swept back than before. The rear features a more sculpted bumper, LED tail-lights and dual tail pipes.
The 730i features a 1,998cc turbo in-line 4 engine. Generating 258 horsepower at 5,000 to 6,000rpm and 400Nm torque, BMW claims the new 730i can accelerate from 0-100km/h in 6.2 seconds and a top speed of 250km/h.
Our team of groomers was beaming with pride to have given the new sedan an extraordinary make over with a lasting ZeTough Ceramic Paint Protection.
We do hope you will enjoy viewing the following photos!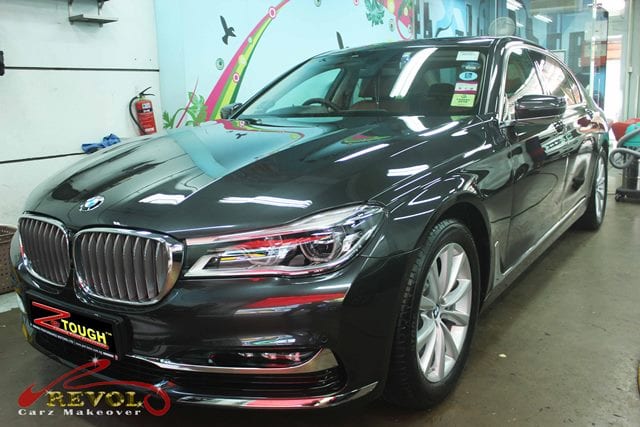 Up front, the latest BMW 730i wears the brand's signature kidney grille. The new designed roof line is more swept back giving it a more coupe like appearance. The gleaming sedan awaits delivery after the professional grooming job.
Thanks to the ZeTough Ceramic Paint Protection coating, the 730i looks better and brighter than its original showroom condition on long term basis. The active grille only opens when under-hood and/or brake temps heat up.
The BMW Laser headlight after polishing. The super bright BMW Laser-light intensity is substantially higher than that of conventional source.
The new 730i gets the latest generation BMW twin power 1998cc petrol turbo engine. It is rewarding for us to have tirelessly cleaned and polished every nooks and corners.
Pardon our persistence in showing you what ZeTough Ceramic Paint Protection can give your car this level of lasting coating.
The rear features a more sculpted bumper, LED tail-lights and dual tail pipes. Thanks to the ZeTough coating, the rear is stunning too.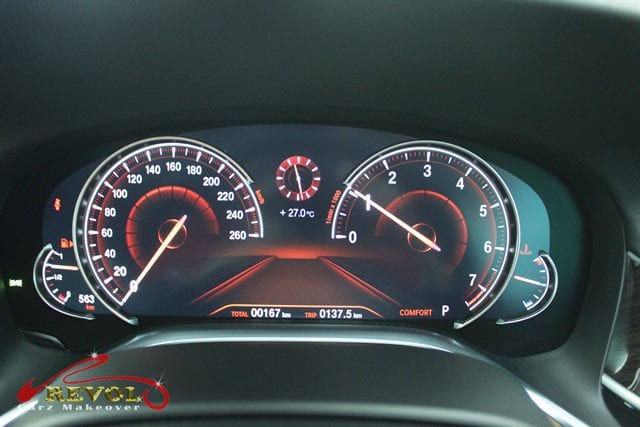 BMW 730i gets a Multi-functional Instrument display.
We made an elegant impression with the perfectly revived interior. This is our favorite part of an accomplished makeover.
Rear occupants will find the sheer comfort of cleaned, sanitized and polished lounge seats irrisistible. We aim for excellence in our overall grooming standard.
Close up view of the crystal clear polished tail-lamp.
The chromed tailpipes get our attention too. Perfection is the word.
Are you contemplating giving your car a makeover? We can transform your car to an immaculate showroom condition and giving it a new lease of life too.
With the coating of the proven ZeTough Ceramic Paint Protection, we guarantee your car's paintwork gets an extreme protection with showroom shine throughout your ownership. Maintenance after the coating is minimal. You enjoy a long-term peace of mind.
Thank you for reading!