Hi Readers, We will be featuring one of Sexy "Cat" visiting Revol Carz Makeover for a makeover session of a full car spray paint together with ZeTough Ceramic paint protection, introducing one of the most sleek and sexy coupe – the Jaguar XK.
The Jaguar XK is powered by a 300-horsepower 4.2-liter V-8 engine and goes from 0-100km in 5.9s together with a six-speed ZF automatic transmission with sequential shift manual control and F1-style paddle shifters on the steering wheel. After years of driving the car on the roads, some small damages and paint chip are inevitable.
This sexy Jaguar XK car owner wanted to revive his flawless "new" car feel once again and we are tasked to carry out the mission. A combination of a full car respray together with ZeTough Ceramic paint protection simply transform this beauty from more than sexy to sensational stunning. Enjoy viewing!
Before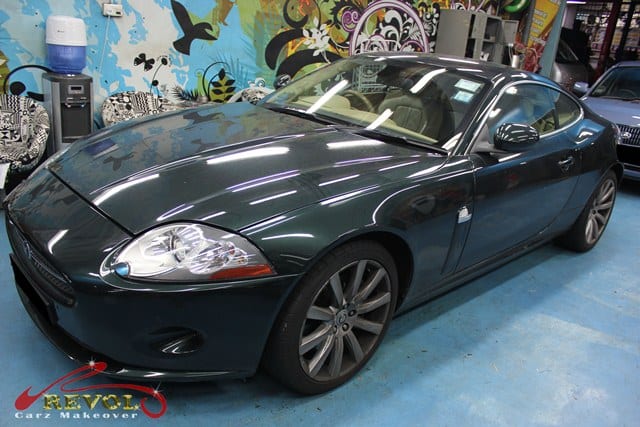 When the sexy Jaguar arrived at our Revol Carz Makeover workshop, we first took some "before" photos of her.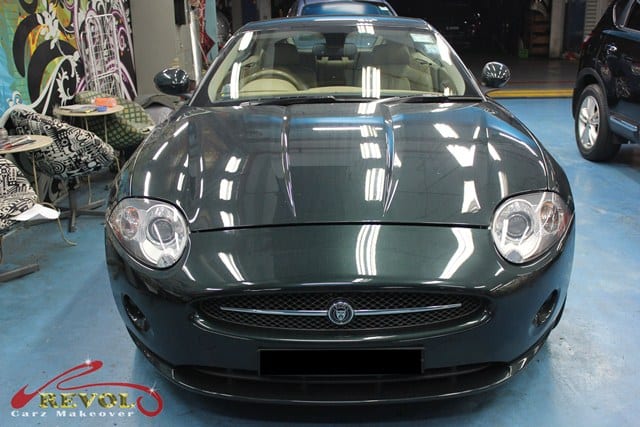 Inevitable paint chip from door opening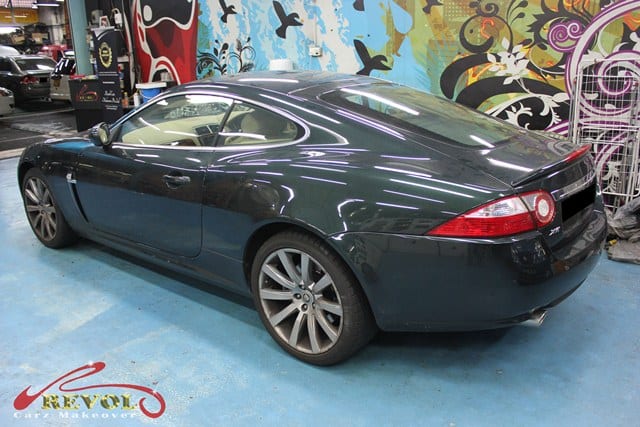 The sexy Jaguar XK arrived at our Revol Carz Makeover full car spray paint workshop
Next, we are going to gently dismantle the body parts and the front bumper is removed
And rear bumper and other parts are gently removed… After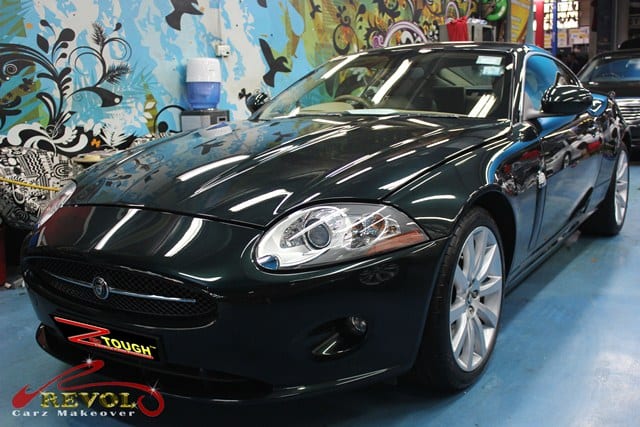 In normal cases after spray painting, the car can be shiny but at Revol Carz Makeover, we can make it even better by handing over to our professional groomers to create that class finishing.
At the finishing section, the work includes minute detailing, interior grooming and multiple rounds of polishing and buffing.
To enhance the shine to a complete showroom condition feeling, additional detailing, fine-polishing (to ensure no swirl marks) and interior detailing and restoration are carried out.
Deep glossy finishing Jaguar Xk front bonnet view
Jaguar XK bi-xenon headlamps with power-wash and self-leveling
Jaguar XK engine compartment
Luxurious interior of Jaguar XK
Steering Wheel of Jaguar XK
Rear Lamp of Jaguar XK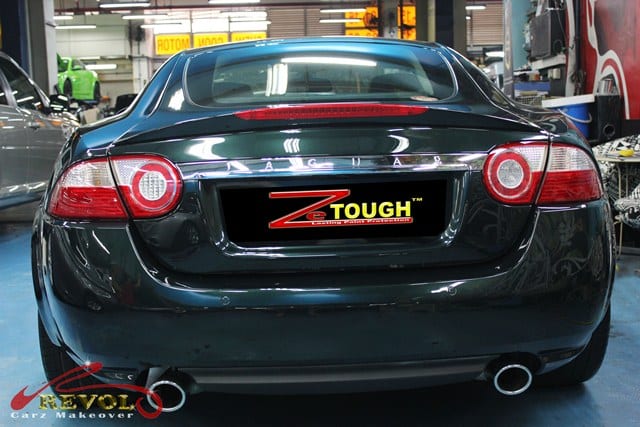 Extremely mesmerizing rear view with twin exhaust pipe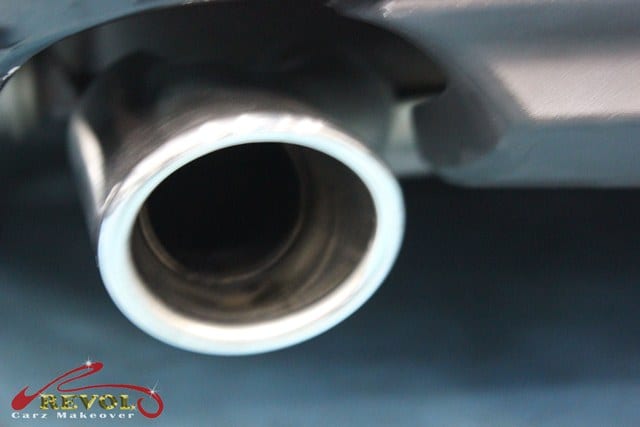 Clean polished exhaust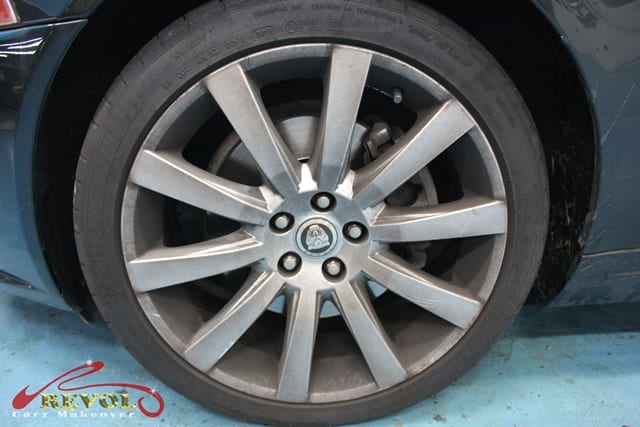 To Complete the New showroom feel and condition… Rims must be new and shiny!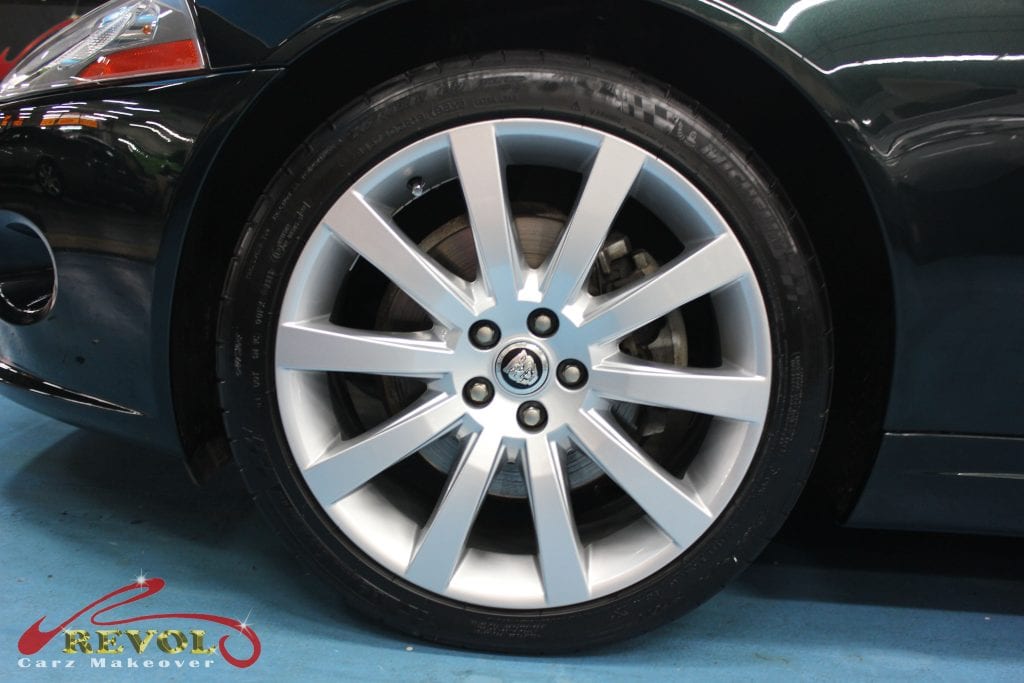 Pondering giving your car a new lease of life? Change of new color or require partially repair and spray or have the thoughts of whole car re-sprayed? Visit us at Revol Carz Makeover for a friendly chat and free assessment with absolutely no obligation. Thank you for reading!
---