We were elated when this stunning sliver Mercedes rolled into Revol Carz Makeover for the ZeTough Glass coating paint protection services. This is one no ordinary Mercedes Benz. It is the CLS63 AMG!…a re-bodied, shapely, refreshed Mercedes sedan masquerading as a luxury sports coupe with lowered roof, curvier dashboard and puckered tail styling. The standard CL63AMG 4MATIC sprint benchmarked from 0-to-100km/h in an amazing 3.6 seconds. The top speed on the dial is 250km/h. The Mercedes-Benz CLS63 AMG 4MATIC utilizes a 7-speed "MCT" automatic transmission that shifts quickly and smoothly. It also features rev-matched downshifts and an "eco mode" that engages the stop/start system, which switches off the engine at idle to save fuel. The gearbox powers all four wheels via the Mercedes' 4MATIC all-wheel-drive system with a 33/67 front/rear output split under normal driving conditions, maintaining enjoyable rear-drive-like dynamics. The driver can choose to switch, at the touch of a button, three suspension modes, "Comfort," "Sport" and "Sport Plus" Enjoy viewing!
A re-bodied, shapely, refreshed Mercedes sedan masquerading as a luxury sports coupe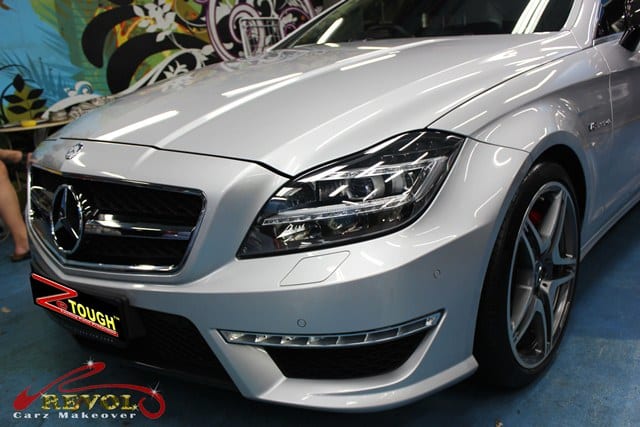 Close up front bonnet view
Mercedes Benz CLS63 AMG headlamp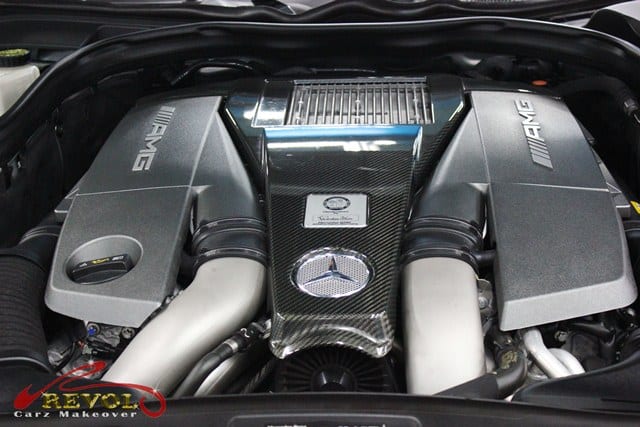 The CLS63AMG's hood swings upright to a 90 degree revealing a clear view of the handmade 5.5 liter Bi-turbo V8 4MATIC all wheels drive engine that boasts 550 horsepower and 590 pound-feet of torque and the top speed of 250km/h…indeed an engineering supremacy.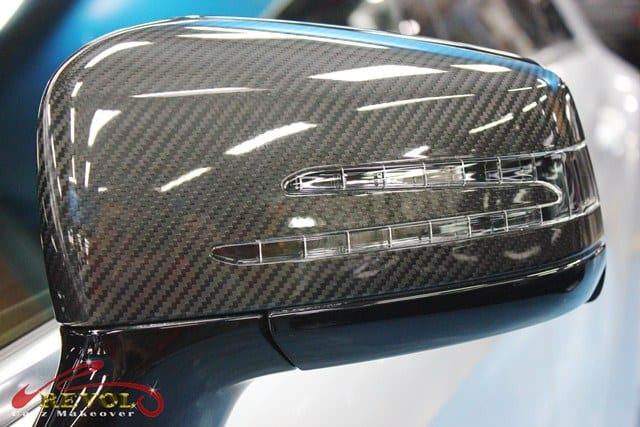 Carbon fiber side view mirror with signal light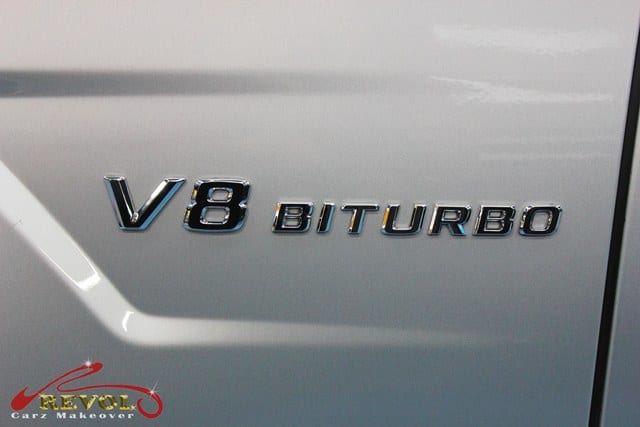 V8 BiTurbo Logo
The luxurious CLS63AMG with three-spoke leather
CLS63AMG Alcantara steering wheel
CLS63AMG gear shift box
Mercedes Benz CLS63AMG rear view
Puckered tail styling.
Mercedes Benz CLS63AMG Exhaust
19-inch well polished alloy wheels. Safety features Mercedes-Benz is known for its safety features, and the CLS63 AMG 4MATIC adds to the reputation. In addition to ABS and ESP stability control, the car boasts nine supplemental restraints including two-stage front air bags, a knee air bag for the driver and pelvic air bags which work together with curtain and side air bags to provide extra protection for front occupants in event of any dangerous side-impact collisions. Also included is the standard is an ATTENTION ASSIST System that alerts the driver to the first signs of drowsiness. A steering sensor is coupled to smart software that uses 70 parameters to establish a unique driver profile during the first 20 minutes of driving. The optional Pre-Safe Brake system cleverly detects impending collision with vehicles or pedestrian and it automatically applies braking force to avoid or mitigate a crash. The long-wheelbase of the CLS offers more room up front, and more legroom in its spacious back seats. After the special ZeTough treatment… We were jubilant this fully protected gorgeous Mercedes Benz CLS63AMG with the ZeTough Glss Coating Paint Protection treatment is ready for more head tuner while passing by. Thank you for reading!
---