Hi Readers, This post will be quite an interesting post to know as the following car is a common sight on the road and yet it is not the usual car we know when passing by. There are not much difference between this and the other Toyota Mark X model unless you look really close… Well this is the one and only Toyota Mark X Special version unit in Singapore which uses the 3GR-FSE engine with a supercharger added. Its power output is 316 horsepower at 6200rpm and 42.0 kilogram metres at 3200rpm, paired to a 6 speed auto transmission… Imagine a Mark X with 316 horsepower and a supercharger zooming past you… The owner decided to spray the whole car to a slightly whiter pearl tone together with ZeTough Glass coating paint protection and Revol Carz Makeover have been tasked to revive this unique beauty. Enjoy Viewing! Before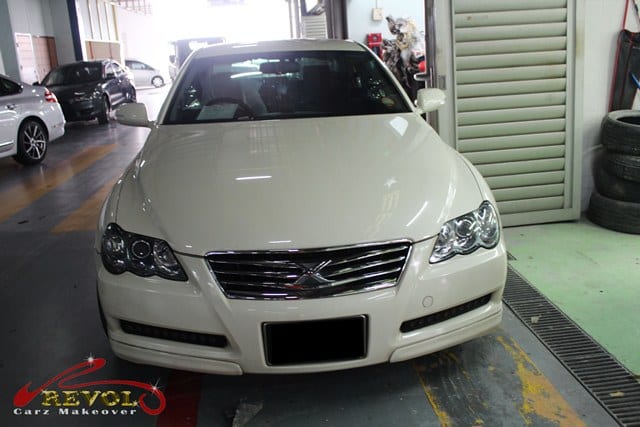 When the beautiful Toyota Mark X Special Version arrived at our Revol Carz Makeover workshop, we first took some "before" photos of her
Next, we are going to gently dismantle the body parts in order to eradicate any hint that might expose the previous color. Highly skilled dismantling process is utmost important to enable our professional spray painter to reach the deeper into internal areas so that the previous color layer is not exposed.
And rear bumper and other parts are gently removed…
After
Now here comes the highlight and one of the most important part of the make-over. The coating of ZeTough Glass Coat Painting Protection! Did you notice the shine difference after the ZeTough Paint Protection coating?
The newly sprayed paintwork is more enriched, glossier and protected.
Mark X Special Version Head lamp
Under the hood lies a 3GR-FSE engine with a supercharger added.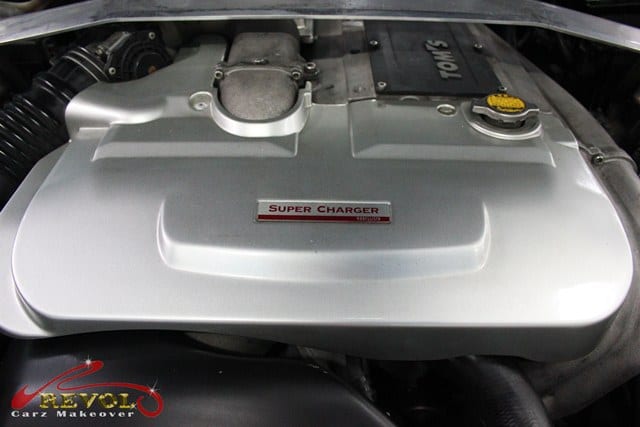 Close up view on the super charger
Toyota Mark X Special version Side Mirror
Super Charger Emblem
Toyota Mark X Special version Interior
The Mark X logo
The Toyota Mark X Special Version rear lamp
The Toyota Mark X Special Exhuast
Clean and well polished Multi Spokes Rims
---