The All-New Audi A3 Sedan has been the talk of the town recently and we are privilege to welcome one of the 1st batch Audi A3 visiting Revol Carz Makeover for the ZeTough Ceramic Paint protection coating. White colour paintwork always requires more attention, effort and protection to maintain that sleek elegant clean look and that's one of the main reasons why the owner decided to visit us straight from showroom for -Extremely Easy maintenance onwards! Three powerplants – the new, lightweight 1.4 TFSI with fuel-saving Cylinder On Demand (COD) technology and the 1.8 TFSI are the petrol versions plus there's the 2.0 TDI diesel. All three engines are angles backwards by 12-degree with the intake at the front. This configuration – enabled by Volkswagen Group's MQB platform – allows for the front axle to be forwards which is boon for crash safety and distribution of axle loads in the all-wheel-drive Quattro version. The A3 sedan's entry 103kW/250Nm 1.4TFSI is one of the favourite engines – light, powerful and frugal and in the Sedan has Cylinder on Demand as standard. When full power isn't required, or the engine thinks it isn't required, the engine will drop two cylinders to save fuel. The end result is a 4.7l/100km while still delivering a respectable 8.4 seconds dash to 100km/h. There's a small detail buried in the car's dimensions. The Sedan has 1mm longer wheelbase than the Sportback, is quite a bit longer but it also has a subtle but we think important change – the track is 20mm wider, giving it a wider stance on the road. While it doesn't transform the car, it certainly makes the Sedan the driver's choice relative to the Sportback. Coupled with a vastly improved weight distribution when compared to the old A3, the Sedan these little figures suggest it might be better than the Sportback. The official excuse is that the track is wider for styling reasons, but it seems to have had a pleasant knock-on effect. If you like your driving, it's very tempting to tell you to not bother with anything but the 1.4 TFSI. It has the same torque figure as the larger, slightly heavier 1.8 litre but is a true joy to fling through bends, even on the standard suspension. After ZeTough Ceramic paint protection coating, this all new audi A3 Sedan is now ready for more attention and most importantly- the enjoyment of extremely easy maintenance onwards. Enjoy viewing!
The Audi A3 sedan shares no – not one – body panel with the hot-selling A3 Sportback launched last year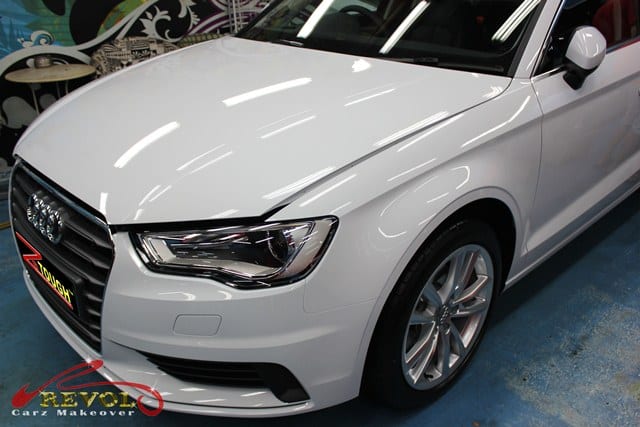 Even the bonnet is unique on its own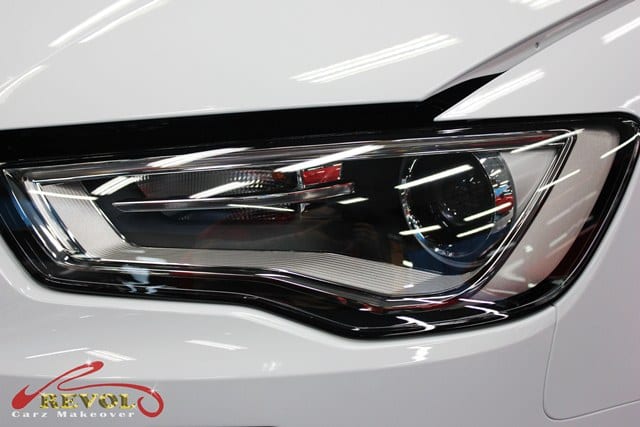 2014 Audi A3 Sedan Headlamp
One of the favourite 1.4TFSI engines – light, powerful and frugal and in the Sedan has Cylinder on Demand as standard. engines – light, powerful and frugal and in the Sedan has Cylinder on Demand as standard.
Usual stylish Audi interior which looks sharp and oozes quality at every turn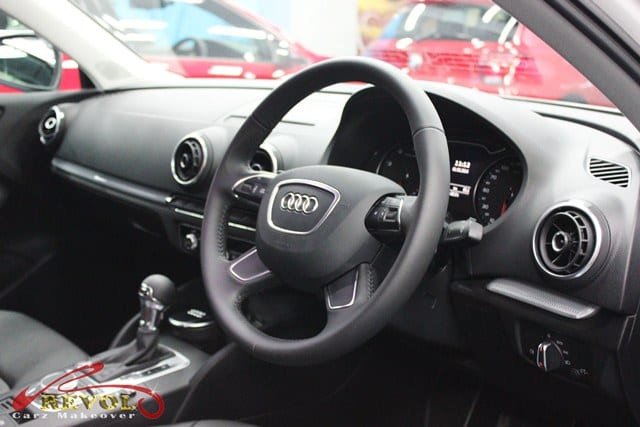 Centre dashboard is the telescopic (folds into the dashboard when not in use) screen for the navigation and audio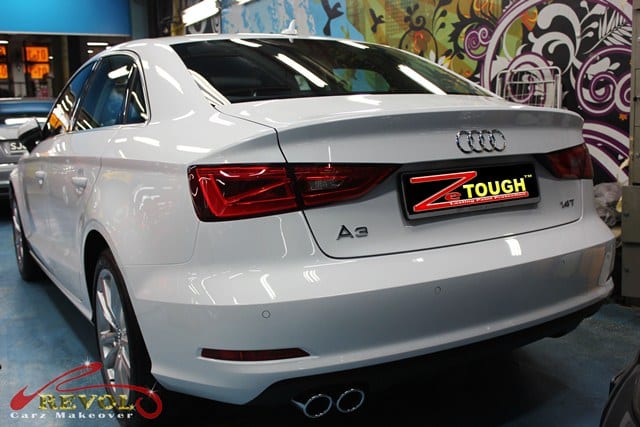 2014 Audi A3 Sedan rear View
2014 Audi A3 Sedan twin exhaust
2014 Audi A3 Mulit spoke well polished rims
---