Hi Readers. Mercedes Benz' big, luxurious convertible car is now in its sixth generation. Despite Mercedes Benz' famous SL line now being more than six decades old, the latest model, all-new last year, is a very worthy continuation of the respected line. It fully respects the heritage of the firm's GT series, keeping up the tradition of effortless waft with relatively low-key visual impact. Today arrival car for the ZeTough Ceramic Paint protection coating is the latest Mercedes luxurious convertible- Mercedes Benz SL350. As ever, the SL gives buyers some ground-breaking technology: not only is it built largely from aluminium (a first in a Mercedes production car), it also includes features such as the optional 'Magic Sky Control' roof¸ which switches from transparent to opaque at the touch of a button. Even though there's generally more kit, the 306bhp, V6 SL 350 manages a generational weight loss of 140kg. Which means the new SL is both faster and more efficient than the car it replaces with acceleration 0-100km/h in 5.9s. Another benefit to the base SL is the better communication you get between motor and transmission. It can be a little indecisive and hesitant when mated to the V8s, but the SL350's ratios seem perfectly matched and it simply does what you want it to do. Whether in sport, eco, or manual mode, it's sharp, smooth and intuitive. With the ZeTough Ceramic Paint Protection coating added on the refined exterior, it's sharp, smooth and intuitive too. Enjoy Viewing!
Handsome and muscular, without being caricature SL350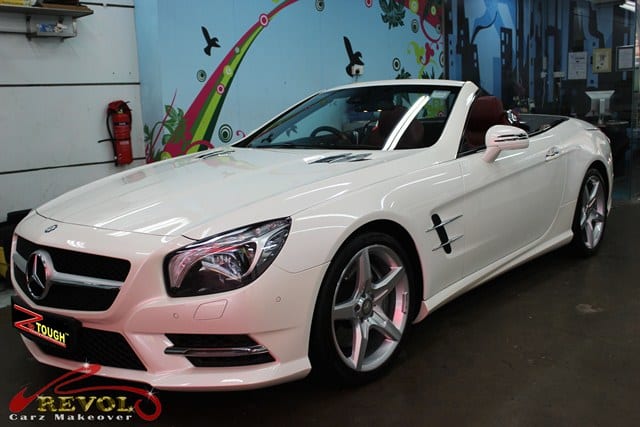 Sexy Topless SL350
Close up front bonnet view
Headlamp
Mercedes Benz SL350 306bhp, V6 engine compartment
Side mirror with signal light indicator
New Mercedes Benz SL350 crafted fender
Besides its stunning classy interior, The interior of the new SL Roadster is as quiet and comfortable as that of a coupé. Noise, wind and weather are kept outside the vehicle.
New Mercedes Benz SL350 steering wheel
Gear box shift and control switches
Sporty clock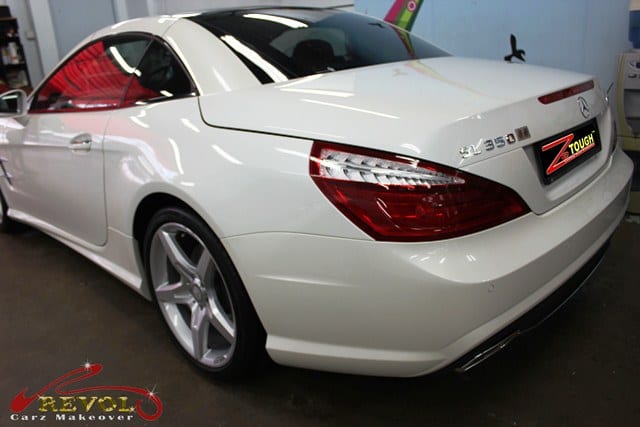 Sporty rear view
The panoramic vario-roof offers a breathtakingly real roadster feeling. It includes a large glass element and a roller sunblind and makes the interior even lighter and more appealingThe roof changes colour at the touch of a button from dark to transparent and vice-versa in a matter of seconds. This way you can enjoy the view offered by a roadster and the comfort afforded by a closed vehicle at the same time.
New Mercedes Benz SL350 Sexy topless rear view
Rear lamp
New Mercedes Benz SL350 twin exhaust pipe with centre braking light
Well polished and shiny exhaust pipe
5-spoke AMG light-alloy wheel in high-sheen finish
---