Hi Readers, After ZeTough Ceramic Paint Protection Coating, the new CLS 350's sleek design is now a more muscular, sporty, and yet very elegant sedan. Some would agree that the type of car you drive reflects your true personality. However it may be seen as not always true but driving the Mercedes CLS 350 does reflects discerning taste of elegance, status, and prestige. The heart of the new Mercedes model sits a 3.5-litre V6 engine delivering 370Nm of torque. With this, the car can sprint from 0-s100kmh in 6.1 seconds and can reach the restricted top speed of 250km/h. This stunning beauty certainly attracts many admiring glances on the road while passing by. Enjoy Viewing!
The new car looks more refreshing and aggressive with its notably oversize three-pointed star and grille.
The wheel arches are heavily flared and the front splitter incorporates extra-large Air Intake.
Part of the car's exterior is the new high-tech multi-beam LED headlamps made of 24 LED units that are dimmable and controlled by the stereo camera mounted on the windscreen.
Powering the Mercedes CLS 350 is a 3.5 Litre ultra-efficient V6 engine delivering 370Nm of torque, sprinting 0-100kmh in 6.1 second and controlled top speed of 250kmh.
The elegantly designed automatic wing mirrors are also a sight.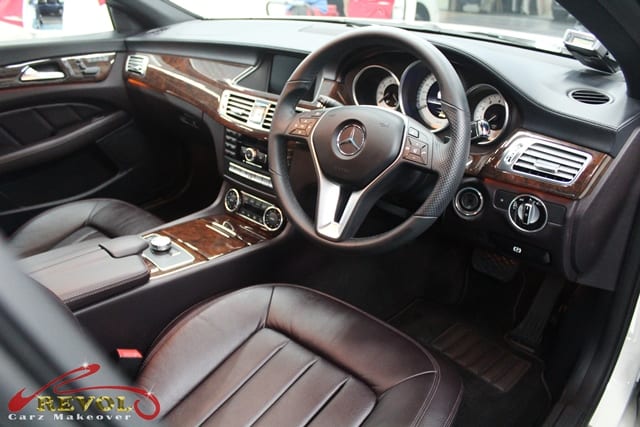 CLS 350 Sportier cabin reinforced by Designo Leather Upholstery, multifunctional three-spokes steering wheel with gearshift paddles, three circular gauges and generous walnut trims.
The cockpit controls and display instruments are ergonomically arranged around the elegant walnut trims.
3-D display circular display gauges.
Its 9G-Tronic seven-speed transmission.
The wide hatch door operates automatically with the touch of push button. Also, there is key fob to open and tailgate button to close. Shaped LED tail lights that link to the sides.
Standard CLS Sports twin exhausts at both sides.
The extravagant design light wheels are 18-inch alloys with split size tyres 255/40 series front and massive 285/35s at the rear.
---