Hi Everyone, We, at Revol Carz Makeover, are extremely happy and privileged to receive another compliment from another one of our happy customer- Mr. Bryan Sim
There comes a time whereby I had given up on washing, waxing and maintaining my car anymore as it lost its former glory. The paint work looks dull (irregardless of numerous waxing) and the car body with lots of dents and scratches makes it an embarrassment at times to be seen driving in it.
A visit to Revol renew my mind completely on what I can do to restore my ride to its former glory. Initially I had in mind to re-spray a fresh coat of paint as it seemed to be the easiest way out. But Gavin managed to put forth a very cost effective package for my consideration. Going with partial respray coupled with ceramic paint coating & maintenance package, he is confident that my car will be restored to at least 85% of the its original showroom condition and it will take only 3 days to get it done up. Well, that suits my taste and I also don't want to spend too much money and time (whole car new respray will take at least 7 days!). Gavin is also very accommodating to the schedule and suggested that I should send in my car the day before I go for my overseas trip and by the time I am back my ride will be ready for collection.
On the day of collection, Gavin arrange for a ferry service to pick me up from Jurong East MRT. With great anticipation and expectation, I stepped into the workshop to check out my ride. Deep in my mind, the word "awesome" keeps echoing away and I was speechless while Gavin kept rattling away on what he had done for my car. Awesome! I couldn't believe that my almost 5 year-old car can be restored to such a condition (which to me is 90% of the original showroom condition) with just partial respray work done instead of the whole car.
The exterior paint work now looks shiny with a richer color coating and smooth to touch as you run your fingers on it, just like a new car. The interior leather seats restored to almost original deep shade of red leather tone. The whole car is totally refreshed and it is like driving a new car now. And I never seen my engine bay so clean before for so long time. I am sure my ride will attract envious glare from other road users from now onwards. It is money well spent as the package I had will ensure the exterior and interior condition to stay on the next 3 years.
Thanks to Gavin and his dedicated crew. They had done a good job for my ride and I believe they can do the same for others as well. "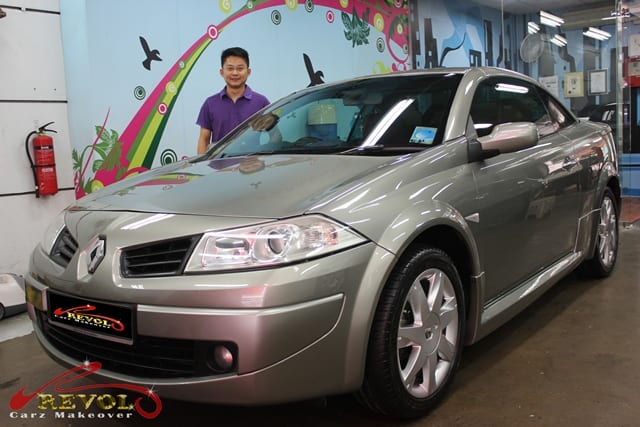 Revol Carz Makeover management would like to express our appreciation and thanks for Mr. Bryan Sim's testimonial. We sincerely thank you for your support in Revol Carz Makeover for your paint protection and spray painting services. We appreciate it very much. Great to have another supportive happy customer! Enjoy viewing the before and after transformation! Cheers, Revol Carz Makeover Management Team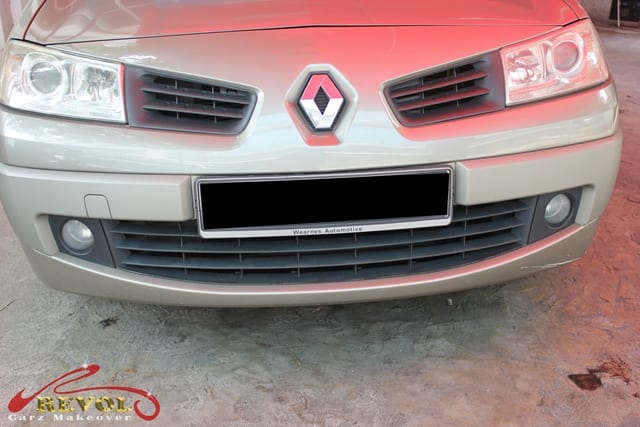 5 years old Renault Megane Cabriolet Arriving at Revol Carz Makeover
Before bumper respray defects
Some deep scratches on front bumper
Some deep scratches on front bumper
Defects gone after spray painting on front bumper
Some Paint chipped off on passenger door
Close up view on the chipepd area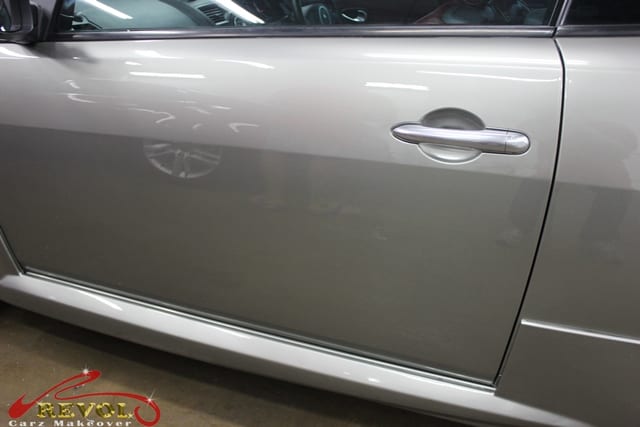 After Spray painting the paint chip is gone!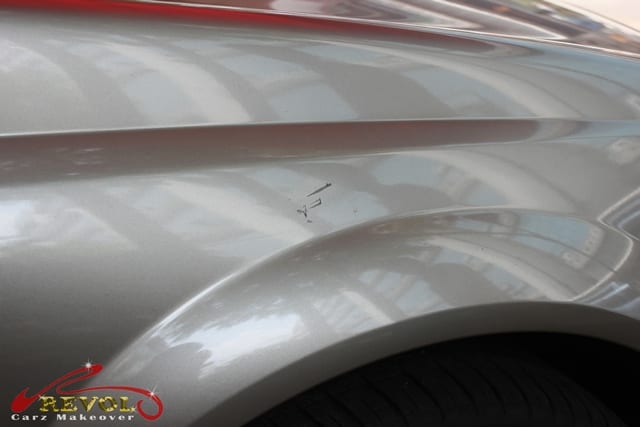 Front Fender Paint chip off
After Spray Painting Paint chip is gone too!
Beautifully restroed 5 years old Renault Megane Cabriolet The paintwork is much richer and glossy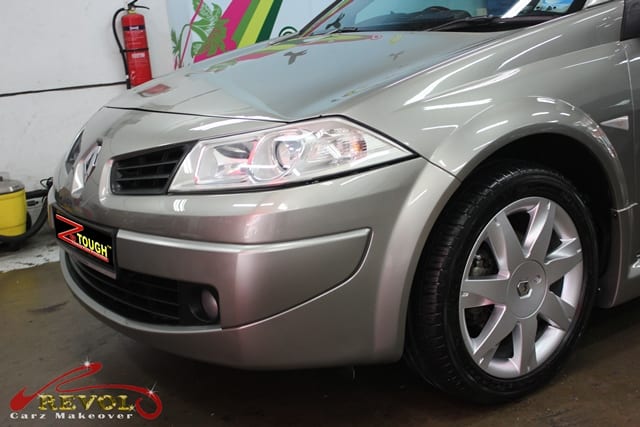 Close up front view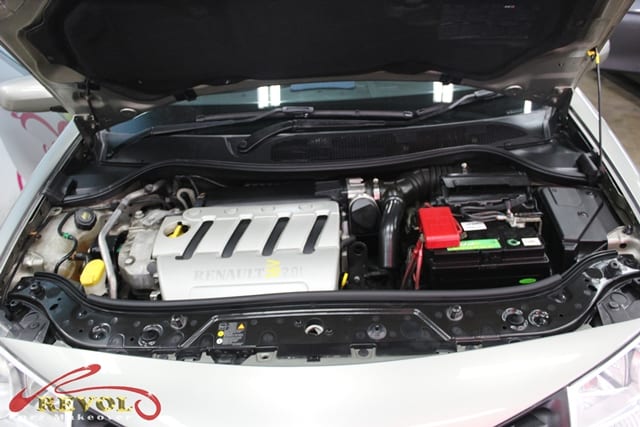 A throughly cleaning on the engine bay complete the new car feel!
Renault Megane Cabriolet Rear View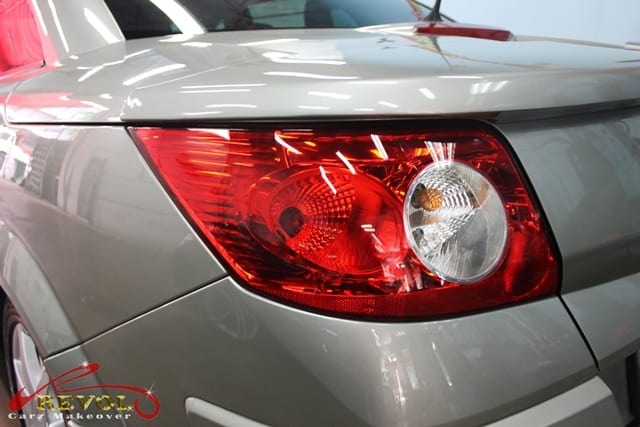 Well polished rear lamp
Nice combination of red and black interior
To Truly Complete the New showroom feel and condition… Rims must be new and shiny!
With ZeTough Ceramic paint protection; full exterior detailing; interior cleaning and conditioning, rims restored back to like new condition; this beautifully make-over 5 years old Renault Megane Cabriolet was happily ever after back to Mr Bryan. Pondering giving your car a new lease of life? Change of new color or require partially repair and spray or have the thoughts of whole car re-sprayed? Visit us at Revol Carz Makeover for a friendly chat and free assessment with absolutely no obligation.