Hi All, There was a "tiger" in our workshop! No alarm though. We mean it's a Macan S Porsche that came to our Revol Carz Makeover Workshop for ZeTough paint protection coating today. Macan is the Indonesian word for "Tiger". We brought the Porsche Macan S to its long lasting lustre with the renowned ZeTough Ceramic Paint Protection Coating. Following the success of the larger Porsche Cayenne, the Porsche Macan S is the second but smaller crossover Sports SUV production. The Porsche Macan S shares the basic architecture with the Audi Q5 but it is faster on and off road. Powered by a 3.0 liter petrol engine with 340 horsepower, direct-inject, V-6 twin-turbocharged and 339 lb/ft of torque, seven-speed "PDK" dual clutch automatic all-wheel drive, the Macan S dashes from 0-100 km/h in an impressive 5.4 seconds and a top speed of 254 km/h.
The Macan S is a crossover SUV of the big brother, Cayenne but has its own unique styling elements such as the clam-shell hood, grille shutters, contrasting side blade on the lower doors, three-dimensional tail lamps and wide 18inch sports alloy wheels.
Up front, the aluminum bonnet wrapped around the head-lamps to the Active Shutter grille
The elongated oval headlights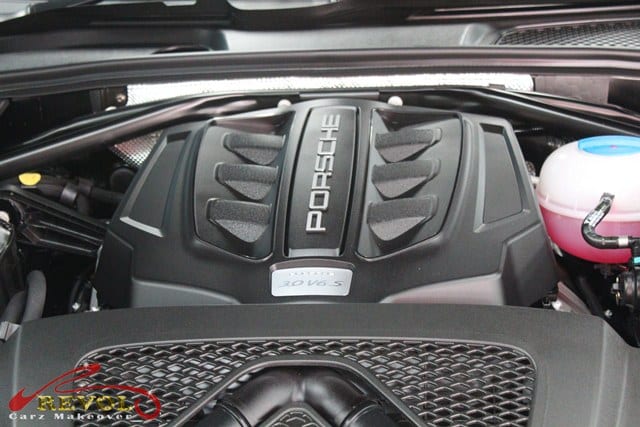 The Macan S is powered by a 3.0 liter petrol twin-turbocharged engine with 340 hp, and 339 lb/ft of torque, seven-speed "PDK" dual clutch automatic AWD, it accelerates from 0-100 km/h in an impressive time of 5.4 seconds and a top speed of 254 km/h
Sporty electric controlled wing mirrors
The cabin is sporty yet elegant with body-hugging seats, a multi-function steering wheel
Electrically adjustable comfortable seats of Alcantara leather
The premium interior atmosphere features Porche-standard slopping center console with multiple switches. There is a switch for every function on the steering wheel, console and overhead
The classy instruments cluster is pure Porsche standard
A lot of functions have their own switch buttons within easy reach of the driver
The cockpit features more than thirty switches on the Porsche-standard sloping center console
From the rear view, the huge "Macan S" badge, sleek tail-lights and quadruple tail-pipes reveal the true identity of the
Porsche Macan S
Three-dimensional tail-lamps and quadruple be-spoke tail-pipes
Standard 18-inch alloy wheels with Porche brake calipers The Porsche Macan S is a true race-bred performance sports compact SUV car. On the finishing touch, we tamed and toughened the "Tiger" with Revol's ZeTough Ceramic Paint Protection shield for long lasting, showroom shine and protection. Thank you for reading! Cheers!
---