CLA180: Color Enhancement with Ceramic Paint Protection. A very seductive Mercedes Benz CLA180 just swooped down to Revol Carz Makeover for an overall color change with the inclusion of the essential ZeTough Ceramic Paint Protection Coating. With sleek, taut, and exceptionally eye-catching aerodynamic body, the Mercedes CLA seductive curves are enticing from any angle and the proud owner couldn't wait to give his prized coupe a deserving ruby-red makeover. Hope you will enjoy viewing the following photos. Before
Sitting impatiently at Revol Carz Makeover workshop, the 4-door Mercedes CLA180 Coupe is ready for the colour change.
The front fascia before dismantling the hood, headlamps, grille and bumper.
The original factory paint is weathered and dull.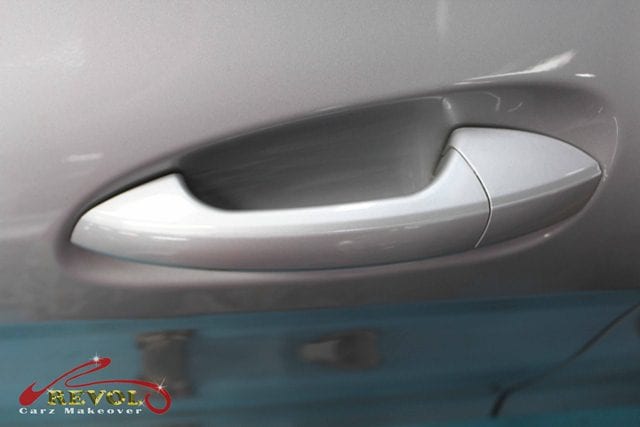 All the doors will be dismantled before re-spray works.
Rear view of the CLA before the makeover.
The front fascia has been carefully dismantled.
The doors are dismantled.
Yes, we removed the pillar covers and door seals too.
The rear assemblies are gently removed, cleaned and primed before spraying the under-coats.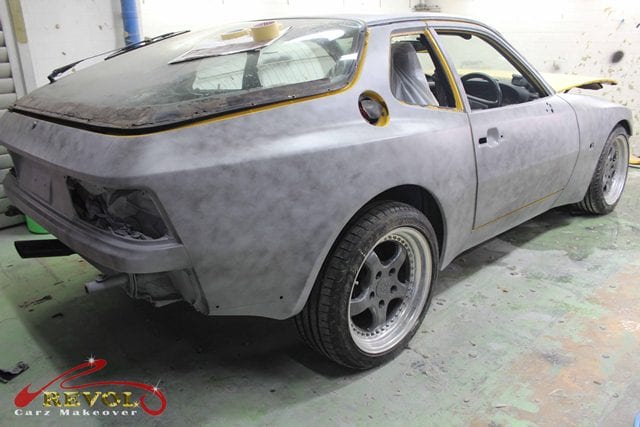 Under prime coating the whole car.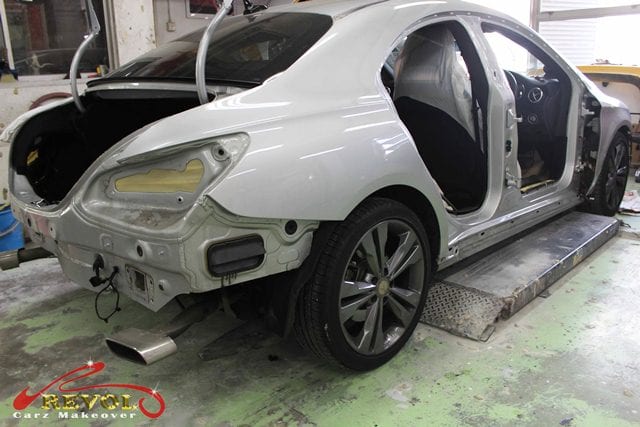 We never skimp on the works. The car is almost stripped naked before repainting works.
The total re-spray protocol requires gentle dismantling of the hood, front fascia, doors, trunk etc so that paintwork can reach tight nooks and corner spots thus voiding tell-tale signs of previous body color remaining.
The tail-pipes will be polished after spray-painting stage.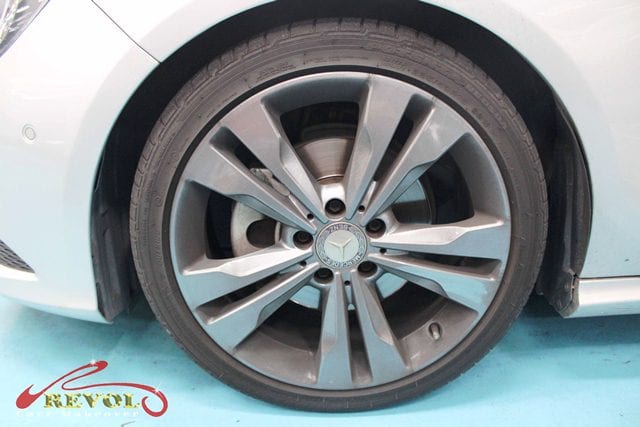 Brake dust filled and tires will receive our attention too. After pictures of this beautiful Mercedes Benz CLA180
You get the jubilant feeling on seeing the CLA has incredibly transformed with a refreshed mirror-finished ruby-red paintwork. The secret is in the final buffing with ZeTough Ceramic Paint Protection Coating.
A closer look at front fascia with the awesome wet-look finished work.
The ultra-clear headlamps have been polished.
The engine bay and every nook and corner are cleaned and polished.
The new ruby-red paintwork on the wing mirrors.
The interior and upholstery has gone through fine detailing, cleaning and polishing.
You will get the "feel-good" sensation to hold the steering wheel after our passionate detailing.
We proudly present the glorious makeover finished on the CLA with ZeTough Paint Protection for this high degree of lustre.
A cleaned fuel tank cover.
Cleaned and polished exhaust pipes.
The wheels are like-new. Are you ready to give your car a Christmas treat too? Avoid the queue during this holiday season. Just drive by our Revol Carz Makeover workshop for a free assessment with no obligation on your part. You don't even have to repaint the whole car if time and budget are your concern. We have the skill and technology to make it looks like your whole car has been re-sprayed like showroom condition. We wish all our readers a happy holiday! Thank you for reading!