Truly M to its core, the BMW M2 two-door sports car overwhelms with stunning combination of agility, performance and precision. Welcoming the M2 that proudly rolled in at Revol Carz Makeover, our enthusiastic detailers were thrilled to lay their hands to groom the car to another glorious level with treatment of our signature, ZeTough Paint Protection in Ceramic Coating. The amazing M-car is transitioned into a dazzling showroom gleam.
BMW gives a dose of steroid to the new BMW M2 with flared front fenders, big wheels and angular large cooling ducts to announce that the M2 is something special.
The sides resolve into a gill in the front fender and a haunch at the rear fender. The roofline drops aesthetically into the trunk, where it is cut off by a short rear spoiler. The overall effect makes this turbocharged coupe looks like it really means business.
With a powerful M- turbocharged 3.0-liter inline-6 residing under the hood, the M2 fires up 365 horsepower and 343 pound-feet of torque that accelerates the vehicle from 0-100km/h in just 4.3 seconds.
Join us on a virtual tour to our Revol Carz Makeover studio to experience our car-grooming process with the award-winning, ZeTough Ceramic Paint Protection Coating.
We hope you will enjoy viewing the following photos!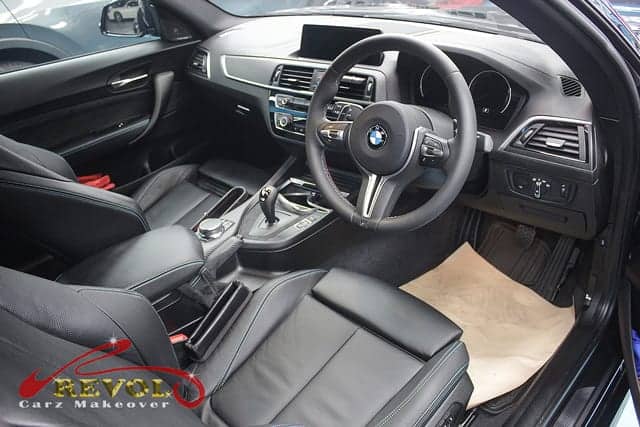 With the treatment of ZeTough Ceramic Paint Protection Coating, the M2 excites the senses and commands attention on the streets.
Revol has taken a quantum leap forward in the advanced long lasting ZeTough Ceramic Paint Protection Coating to a whole new level.
Your car deserves the treatment of ZeTough Ceramic Paint Protection Coating too. The prudent long term investment in the paintwork protection adds value to your car.
Revol Carz Makeover is your right choice. Visit us to know more about our affordable and transparent services.

With the proven coating of the Eco-friendly ZeTough Ceramic Paint Protection coating, we guarantee your car's paintwork gets unparalleled protection with the guaranteed showroom shine throughout your ownership. Maintenance after the coating is minimal.

Thank you for reading!