Look: A Ceramic Paint Protection by Zetough given to a MERCEDES BENZ S350L
The current unsettling exorbitant COE cost continues to ride high in Singapore, driving a phenomenal stampede of car-owners opting to extend their cars' COE beyond the expiring 10-year COE tenure.  Buying new cars is getting beyond the reach of the average salary-man. Many luxury car owners find it more prudent therefore to refurbish their existing cars and give them new lease of life again. 
At Revol Carz Makeover, we see more luxury cars rolling in for repaint makeover. This blog's spotlight focuses on a beautiful Mercedes Benz S350L which has just arrived at our workshop for a full car repaint job and of course, with an additional, ZeTough Ceramic Paint Protection Coating treatment.
At first glance, the S-Class is not much different from its predecessor, for its overall shape remains similar. But on closer scrutiny, the notchback boasts a much stronger road presence. The front grille is much larger, while the LED headlights and front bumper are more aggressive. Complementing these are the stronger shoulder lines and curvier rear end.
Step inside the spacious cabin
Step inside the spacious cabin and you'll be thrilled that almost every surface is covered with luxurious materials. The soft leathers are genuine and metal is used rather than any plastic alternative. The instrument cluster consists of two widescreen LCD displays with animated graphics. There is also the Mercedes Command infotainment system, with its eight-inch color display operated by the silver dial mounted in the center console.
The rear-wheel-drive S350L gets a 3.5-liter (3,498cc) V6 gasoline engine with a 268.3 horsepower and 350Nm of torque that boasts the 0-100km/h acceleration in 7.0 seconds and a top speed of 249km/h.
We were all passionate about giving an extreme makeover
We were all passionate about giving an extreme makeover to the S-Class and invite you to join us on a virtual tour to our studio to see its step-by-step transition to a stunning showroom condition.
We hope you will enjoy viewing the following photos!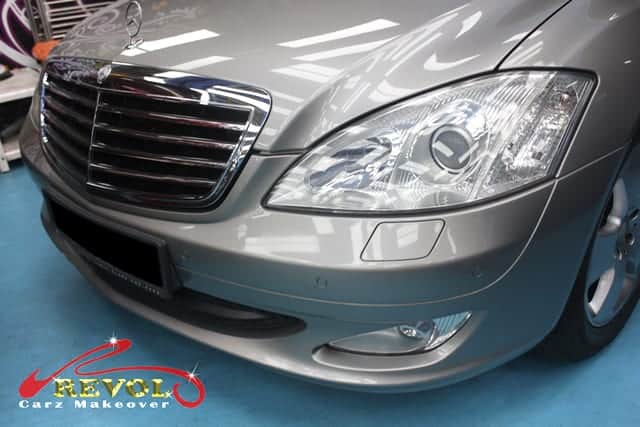 The Mercedes-Benz S-Class has a strong presence with polished bold bi-xenon adaptive headlamps.
Revol Carz Makeover strives to put a smile on every customer's face with spectacular results.
We passionately believe in our proven, ZeTough Ceramic Paint Protection Coating that gives you the most bang for your bucks because the ultimate mirror shine doesn't diminish for a longer time.
The Mercedes S350L now looks even more stunning than a showroom exhibit after the full car repaint makeover and it will remain so even more permanently. ZeTough's incredibly long-lasting protective luster gives the S-Class a truly lifetime of paint protection.
Contact us
Impressed by the stunning outcome of the makeover? Your car too can enjoy reliable, long-lasting surface protection. You can count on our award-winning and proven ZeTough Ceramic Paint Protection Coating. Yes, imagine what we can do for your car!
With the treatment of the renowned ZeTough Ceramic Paint Protection, we guarantee your car's paintwork gets maximum protection with the showroom shine throughout your ownership. Maintenance after the treatment is minimal.
Thank you for reading!