Hi Everyone,
Before we begin the article, we would like to extend our heartfelt thanks to all our esteemed customers for continually supporting Revol Carz Makeover on car paint protection and spray painting services.
Despite nasty scars of scuffs and scratches that marred the right side, the luxury AUDI S5 Cabriolet still impressed when rolled in at Revol Carz Makeover Studio for a full Car Respray Painting. We upped the opulence with an epic coat of ZeTough Ceramic Paint Protection Coating. The AUDI S5 gets the best of both worlds with hitherto unachieved ambiance and surface protection.
Under the hood lies Audi's 3.0 TFSI V6 turbocharged engine with 260 kW and maximum torque of 500 Nm, the Audi S5 Cabriolet accelerates from 0 to 100 km/h in a quick 5.1 seconds. The driving sensation is enhanced by the Quattro all-wheel drive paired with an eight-speed automatic transmission.
Sleek S-specific trimmings, honeycomb single-frame grille, and aluminum optic inserts add a touch of aggression. The rear flaunts a trunk lid spoiler and quad exhausts.
Fasten your seatbelt and race behind the scene at Revol Carz Makeover Studio to experience our artisanal craftsmen bringing the AUDI S5 Cabriolet to a new level of opulence.
BEFORE
Nasty scuff, dents, and scratches marred the good looks of the AUDI S5 Cabriolet. The discerning owner chose to fully respray his beloved with the original paint code than partially touching up the scuffs and scratches.
AFTER
Give a big shoutout for the makeover on the AUDI S5 Cabriolet that literally glows like a dream with the new paintwork enhanced with ZeTough Ceramic Paint Protection Coating that adds a hard glass-like layer amour for lasting shine.
Careful attention is given to matching the original color code to precision and raising its profile beyond the show-quality level.
The Matrix LED headlight lens is vigorously polished to a crystal-like shine.
Detailing the engine bay to show-quality finish is an arduous task that requires true passion and craftsmanship.
Our skilled detailers spruced up the exquisite interior that is beautifully furnished with S-specific elements, S-sport front seats in striking Magma red, leather steering wheel, matt brushed aluminum, and the state-of-the-art infotainment platform.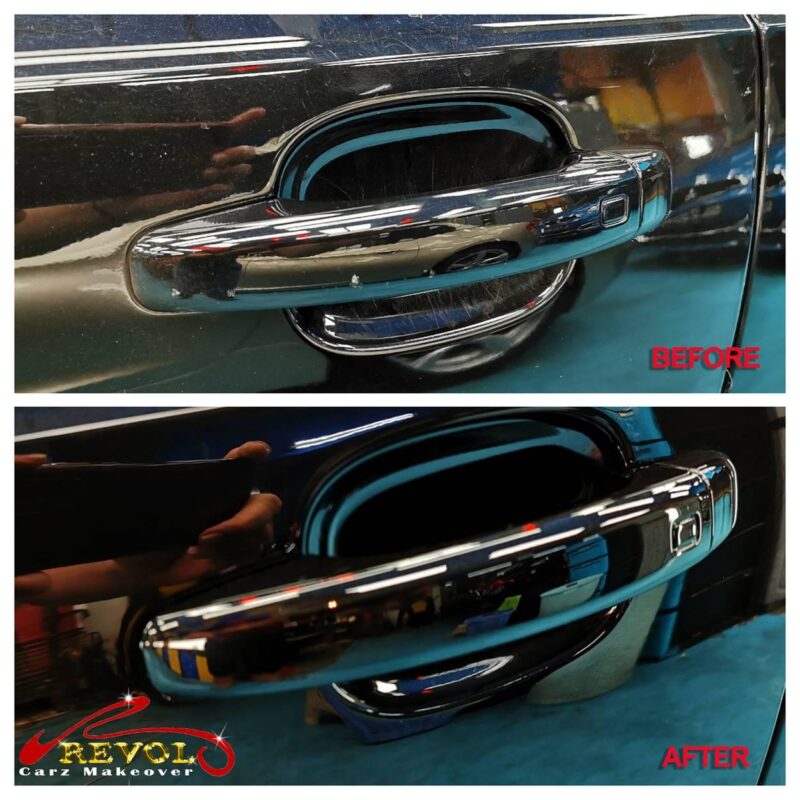 BEFORE: Common spider-web-like fingernail scratches are common on door handles without ZeTough Ceramic Paint Protection.

AFTER: ZeTough Ceramic Paint Protection Coating permanently protects your car door handles from common fingernail scratches.
Our skilled detailers passionately polished the tail lights to a gem-like appeal.
BEFORE: The track-beaten wheels need to be refurbished to show quality condition.
AFTER: Our passionate detailers spruced up the alloy wheels to an exquisite show-quality finish.
Dressing up the quad exhaust pipes to shine like new adds a final touch to the makeover.
Giving your car a new coat of paint with the treatment of ZeTough Ceramic Paint Protection Coating is more than just about vanity. Revol is all about bringing your car to optimal condition, thus adding value and making it looks great for longer.
Give your prized ride the Revol's Carz Makeover with the ground-breaking performance ZeTough Ceramic Paint Protection Coating.
Revol Carz Makeover is your perfect choice for a dramatic transformation of your car. It comes with a full satisfaction guarantee.
Staying true to our passion has become our lifelong pursuit of delivering a makeover of every car with the highest level of professionalism and integrity.
You'd be amazed by the stunning outcome of our professional makeover. Your car deserves the long-lasting surface protection of ZeTough Ceramic Paint Protection Coating.
Visit us for more about our first-rate, affordable, and transparent services.
Revol Carz Makeover – accelerate your adrenaline with excellent paint surface coatings and restorations
Thanks for reading!
Do feel free to contact Gavin Tan @ 9740 6855 or visit Revol Carz Makeover at 10 Ang Mo Kio Industrial Park 2A #01-12 AMK Autopoint S568047 and Blk 42 Toh Guan Road East Enterprise Hub #01-75 S608583, if you need any assistance for your car repair needs.
Warmest regards,
Revol Carz Makeover
Gavin Tan Randy Phuang
Alan Wong Marcus Koh
Revol Management Team
Revol Main Enquiry Hotline: 6555 1181
Revol Carz Garage Hotline: 6555 1171
Revol Carz Makeover (Ang Mo Kio) Hotline: 6746 6281
Revol Carz Makeover (Toh Guan) Hotline: 6267 9331
Revol Carz Makeover (Accident Insurance Claims) Hotline: 6555 1131