The year 2013, the Italian Automaker, Lamborghini celebrates its 50th anniversary in grand style! And the Lamborghini Gallardo turns ten this year too. And here at our Revol Carz Makeover, we were privileged to join the memorable exuberance too. With the warm welcoming of the Gallardo Lp560-4 for her special ZeTough Ceramic Glass coating and makeover session. So what's new for the 2013 Lamborghini Gallardo? Well, the front and rear bumpers are re-profiled, and a new set of 19-inch polished alloy wheels combined to give the high performance super-sports Gallardo the modern fresh design look. Available only in a rear wheel drive, this collectors' car emphasizes on sports oriented elements and light weight design, boasting exclusive features like the carbon fiber rear wing from the Gallardo Superleggera and the transparent engine cover. The 2013 Lamborghini Gallardo Lp560-4 is capable of chalking 0-100km/h in mere 3.7 second. The overall top speed is an impressive 325 km/h. As with all versions, the Gallardo uses the same 5.2 litre, V-10 DOHC engine rated from 552 horsepower at 8,000 rpm and 540 Nm of torque at 65,00 rpm . The engine comes with the standard 6-speed transmission. But you can also opt for the E-gear transmission, which is an automated 6-speed manual with a paddle shift interface. Enjoy Viewing!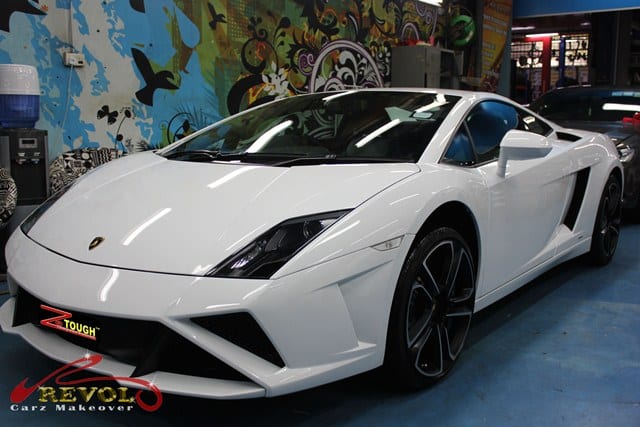 The Gallardo Lp560-4 is truly a landmark Lamborghini. It was also a landmark achievement for us, in a way, to have sealed the ZeTough glass coating paint protection on the gleaming, 2013 Lamborghini Gallardo Lp560-4 at our workshop.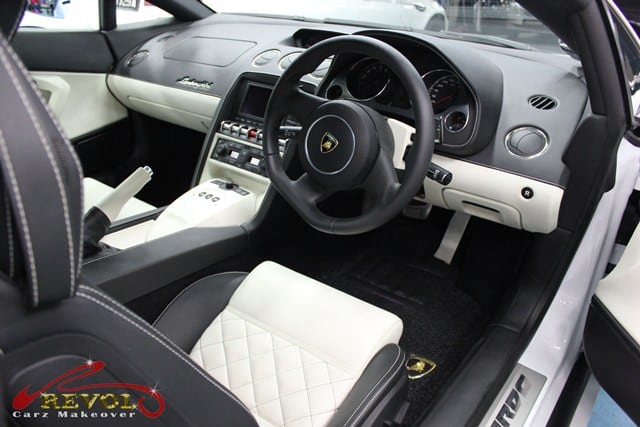 LP560-4 steering wheel
Lamborghini Gallardo LP560-4
Revol Carz Makeover wishes Lamborghini…Happy Golden Anniversary !!!
---