Hi Readers, One of the most stunning BMW have arrived our workshop – BMW M5, we were privileged for the opportunity to groom the BMW M5 and with finishing coat of ZeTough Ceramic Paint Protection. M5 The name, M5 was started in 1984 and has since evolved into an impressive fifth-generation sedan that combines a luxury business with track potential. The new generation BMW M5 composes a 4.4 liter high revving V8, M-Twin-power turbo engine capable of delivering an impressive 560hp at 7000 rpm with peak torque of 502lb-ft at 1,500 rpm. and the car can sprint 0 to 100km/h in 4.4 seconds and a breath-taking speed of 305Km/h It is hard to imagine that the car with such impressive performance only gulps an estimated fuel economy of 28.5 mpg. The M5 comes with stylishly dynamic design appearance enhanced by addition of M-specific features. From the aggressive-looking front of the M5, one can feel its power under the hood. The air intakes at the lower section of the front apron emphasize cool air requirement of the engine. At the sides are also two more air intakes. Enjoy Viewing the beautiful transformed BMW M5 after ZeTough Glass coating paint protection!
Stylishly dynamic design appearance enhanced by addition of M-specific features.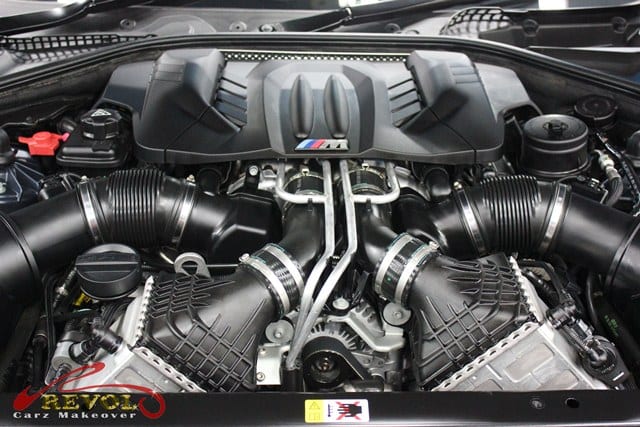 For the first time, BMW has used a turbocharged engine in the M5. The high-revving 4.4 liter, V8 engine with M Twin-Power Turbo delivers 560 hp at 6,000 – 7,000 rpm and a peak torque of 502 lb-ft at 1,500 and 5,750 rpm. The engine boasts a seven-speed double-clutch transmission that sends the power to the rear wheels. Comparing the engine it replaced, the new M5 has improvement of about 10% on output and 30% increased torque.
BMW M5 Headlamp
The interior of the M5 complements the sporty design of the exterior. The sports seats and interior are upholstered with fine grain Merino leather. The door sills come with exclusive M5 lettering and Aluminum Trace interior strips.
The control buttons on the steering wheel operate the cruise control system, audio and telephone functions. And the driver can configure two M Drive buttons on "Sports" on M1 button and "Comfort" on M2.
BMW M5 gear shift
The rear of the BMW M5 features an impressive bespoke apron with the twin-exhaust system positioned wide on each side.
Bmw M5 exhaust
Another cool feature is the new set of 19-inch double-spoke design, M Light Alloy wheels. Thank you for Reading!
---