Hi Readers, Here we have is one of the new, lavishly equipped special edition from the mini cooper series called the Hampton. The 50th anniversary special edition of the MINI Clubman is called the MINI Clubman "Hampton" 50 available in Cooper, Cooper S, Cooper D and Cooper SD. "Hampton" derived from the name of the elegant London district.. "50" denotes Mini 50th anniversary. The Hampton Mini added a whole new dimension to the word, "unique", making a huge impression with lavishly equipped new features. Powerful colours dominate the exterior. The bodywork is available in four body colours, including the exclusive new Reef Blue Metallic, with roof and C-pillars in Jet Black or Pure Silver. Equally striking is the Damson Red colouring on the bonnet stripes, mirror caps and wheel linings as well as the badges on the front grille and side scuttles. The MINI COOPER HAMPTON 50 has a 1598cc engine capacity with a 184bhp ; goes from 0-100km/h in 7.7s with a top speed of 222 km/h. The 50th Birthday grille badge announces that this MINI COOPER HAMPTON 50 is not an average Mini Cooper. She is extremely beautiful and extra-ordinary. Similarly, the ZeTough Paint Protection coating that we have treated on the Mini Hampton is not an average paint protection.ZeTough Paint protection coating guarantees extra-ordinary tough protection shield on your car paint work for a very long time! Enjoy viewing!
The Mini 50 Hampton added a whole new dimension to the word, "unique", making a huge impression with lavishly equipped new features.
The Mini 50 Hampton front bonnet close up view
The Mini 50 Hampton Engine compartment View
Damson-Red mirror caps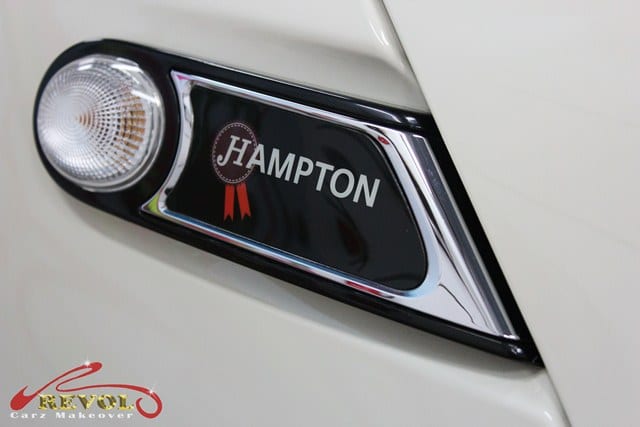 The Hampton side badges
The interior is swathed with black luxury lounge leather seats highlighted with Damson-Red piping. Damson-red floor mats, the MINI COOPER 50 HAMPTON labels on the seats and sophisticated leather dashboard trims blend subtly on the interior surfaces.
Burgundy-red rings surround the speedometer add to a nice touch.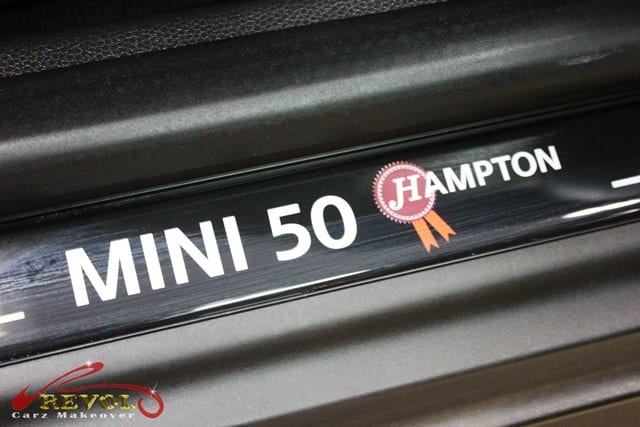 Mini Cooper 50 hampton Badges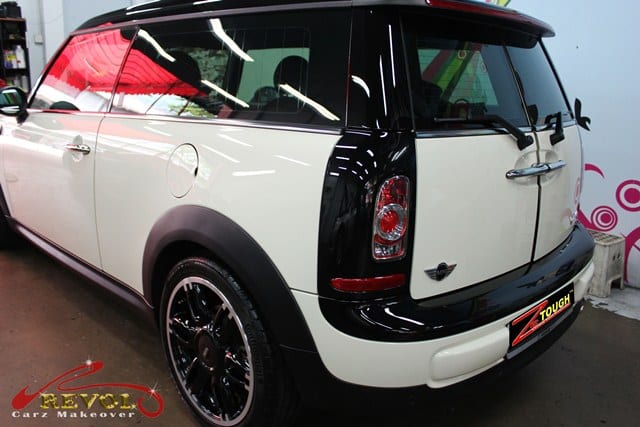 Noticeably are the eye-catching rear barn doors and the rear-hinged, passenger-side half-door makes rear-seat access easier,
Loading the cargo bay proved trouble-free. Press a button on the remote key to get the barn doors to swing open. The right-side door also has a quick trigger to open.
Mini Cooper 50 hampton clean polished exhaust
Damson-Red on the 17 inch spoke-alloy wheel linings.
---