Hi Everyone, One of the recent highly anticipated car have finally arrived Revol Carz Makeover for the ZeTough Ceramic Paint Protection Coating. Presenting the latest member of the BMW M Performance Automobile family – BMW M235i. It is interesting to know that BMW actually went all the way back to the 1968 2002ti to source the inspiration for the M235i during the pre-drive presentation. The size of the 2 Series hasn't changed dramatically from that of the 1 Series it replaces, but in combination with the large number of detailing changes, there's a lot of daylight between the visual perception of the 1 and the 2. Compared to the 1 Series Coupe, the 2 is 3.8 inches longer, 1.3 inches wider, with a wheelbase that is 1.2 inches longer boasting tracks widened by 1.6 inches in front and back. The BMW M235i comes equipped with the brand's ubiquitous TwinPower Turbo engine. As the latest and greatest iteration of the venerable N54 inline-6 engine that sees duty across BMW's lineup, the M235i's mill produces a heady 322 horsepower and 330 lb-ft of torque. The M235i's mountain of torque — arguably the best trait of this engine — is actually more of a plateau, as its peak becomes available at just 1400 rpm and lasts until 4500 rpm. After ZeTough Ceramic paint protection coating, this Dazzling beauty will definitely attract your attention while passing by.. Enjoy viewing! Before ZeTough Ceramic Paint Protection Coating
After ZeTough Ceramic Paint Protection Coating The paintwork enriches with glossier finishing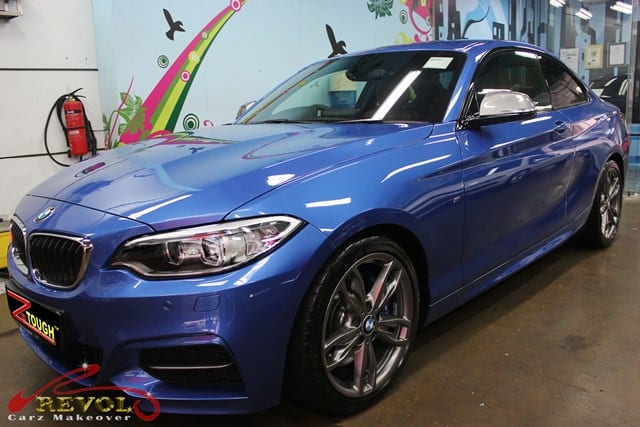 The dynamic wedge shape is now more prominent from the door sill line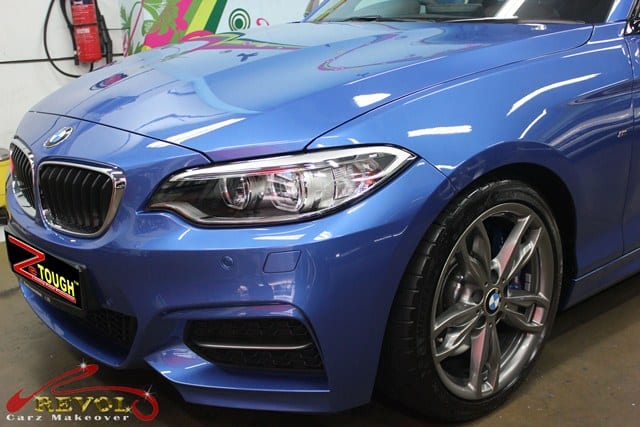 Close Up BMW M235i Bonnet View
BMW M235i HID Headlamp
Under the hoot is a 3litre engine with 6-cylinders in-line TwinPower Turbocharged producing 322horsepower with a top speed of 250km/h. It goes from 0-100kmk/h in 4.8s.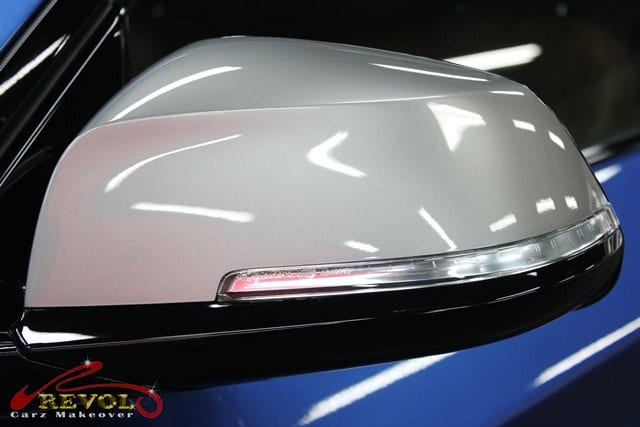 BMW M235i Side mirror with signal light indicator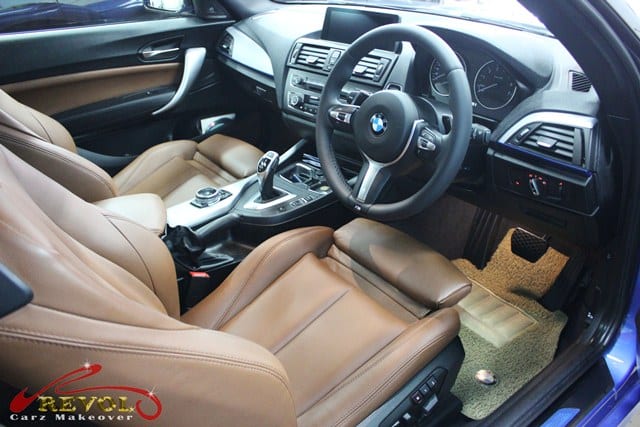 Interior trim is rigorously simple but also well made from high-end materials.
BMW M235i Steering Wheel
Mated to the available dry-sump manual transmission, this engine can blast the M235i from 0to100km/h in just five seconds. If the 8-speed automatic is your transmission of choice, you'll be treated to paddle shifters and a launch control system that, combined with the short gearing, gets the car to 60 mph even faster, at just 4.8 seconds.
BMW M235i Rear coupe view
Well polished Twin Exhaust Pipe
Multi spokes M rims
---