The Bentley GTC, a magnificent diamond black grand tourer, made a grand entrance to Revol Carz Makeover workshop for her ZeTough Ceramic paint protection coating appointment today. We were impressed! The GTC certainly exudes an air of elegance. The car has not a single harsh line and is completely curved exterior reflects a powerful design. Under the hood, the turbo-charged V8 4-litre engine features 600 horsepower and 553 lb/ft of torque, and the speed from 0 to 60 in 4.6 seconds. And the incredible top speed of 300kmh. The interior of the luxury Bentley is packed with full of features and amenities and furnished with the finest wood and premium, soft leather hides. Enjoy Viewing!
The exterior of the new Bentley GT completely in curves and has not a single harsh line.
From the front, the GTC is low, wide, broad and stately, with powerful design.
Up front are four Xenon headlights with rings of LED daytime-running lights,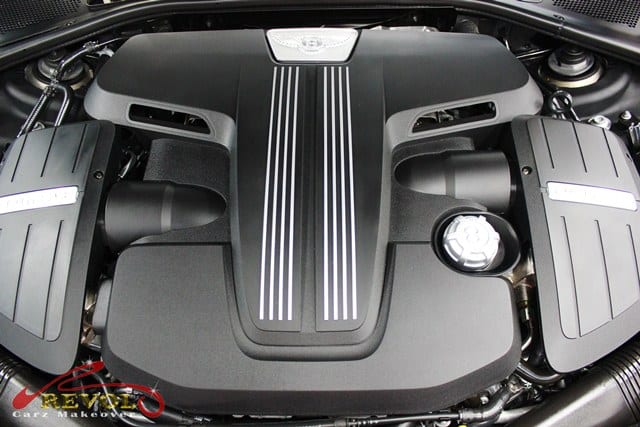 Turbo-charged V8 4-litre engine with 600 hp and 553 lb-ft of torque, and speed from 0 to 60 in 4.6 seconds.
Clean designed self-folding electric wing mirrors.
Inside, the luxury Bentley GTC is packed with features and amenities. The cabin is hand-crafted and fitted with the finest wood and leather.
The round air vents remind us of those found in commercial jets. The analog clock adds to a touch of class.
The console and trim are veneered in a dark burr walnut and leather matching the instrument cluster and shift lever.
The rear of the GTC holds a little old-world charm with its chunky rounded rump despite the LED tail-lights.
The narrow oval exhaust pipes are barely noticeable from the rear bumper.
This GTC flaunts the optional bespoke 21-inch sports alloy wheels. The pictures of post groomed Bentley GTC show the Midas touch of the ZeTough Ceramic Paint Protection coating that is guaranteed to shield and preserve the gleaming black-diamond paintwork for a long period of time. Thank you for reading!
---