Hi Readers, The impressive Ferrari 458 was from an extremely supportive owner who have been with ZeTough Paint Protection for all his cars. The Ferrari 458 enjoyed an enthusiastic welcome at our Carz Makover Workshop today. Mention Ferrari 458 and unmistakably, the powerful, exotic, super-sports car quickly comes to mind. The entirely new design 458 was the successor to the Ferrari 430. According to the official record, the 2010 Ferrari 458 Italia accelerates from 0 to 100km/h in 3.3 seconds and top speed of 325 km/h. The powerful 4.5 liter V8 direct-injected engine with 562hp and 398 lb/ft torque is mated with an automatic 7-speed, dual-clutch transmission. Enjoy Viewing!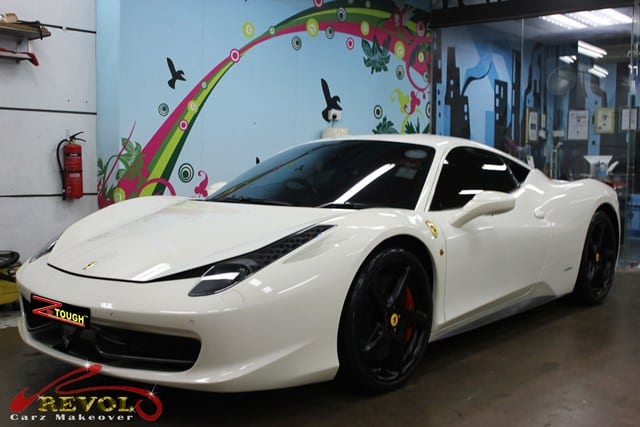 Distinctive of the 2010 Ferrari 458 are the forged wheels, vented bonnet and redesigned aerodynamic bumpers.
The nose features a single opening for the grille and two large air intakes to channel air to the engine radiators. The nose also sports two small aero-elastic winglets which deform at high speeds to generate down-force cooling air to the radiators.
The headlights give the 458 Italia a true characteristic stance. The main lens is a rotating bi-xenon light with low and full-beam functions. Above the headlight is a vertical stack of 20 high-intensity LEDs for the DRLs or daylight running. The wing outside the headlight is the vent for radiator cooling.
The rear mounted engine gives the front boot plenty of room.
Auto-dimming exterior mirrors,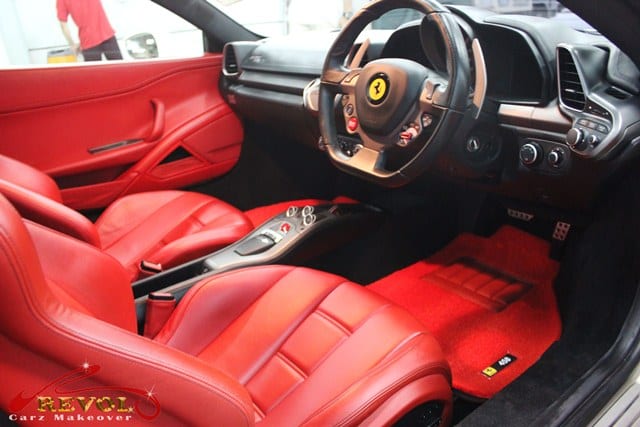 The stylish interior reflects ergonomic and functional design slathered in quality refined soft leather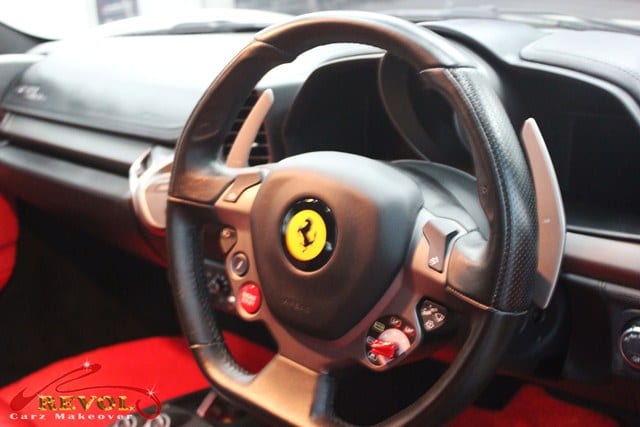 The power-adjustable tilt and telescoping steering wheel incorporates many controls.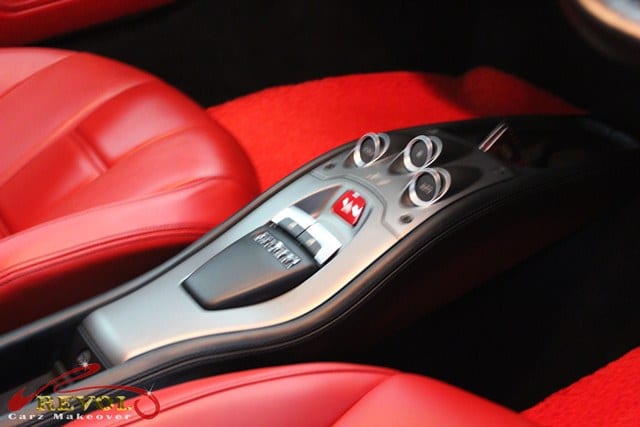 The centre console features an aluminum casting which houses the gearshift panel and its dynamic controls.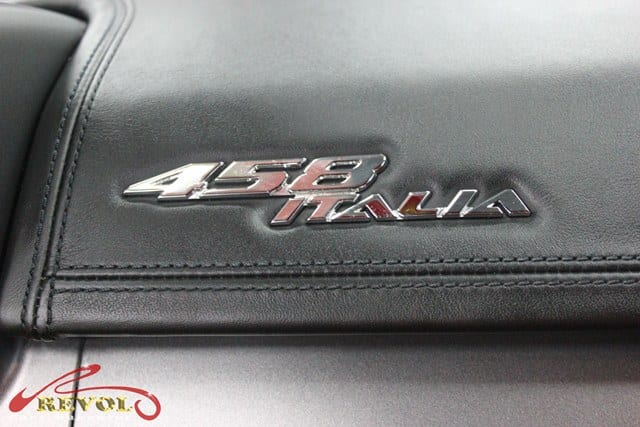 The "458 Italia" badge is proudly presented on the leather dashboard.
The Ferrari 458 Italia's characteristic rear bodywork with two prominent circular tail-lights, air-vents and the noble triple exhaust tail pipes. The powerful V8 engine can be seen through the rear screen.
Under the glass rear hatch sits the Direct-Injected 4.5 liter; V8; dry-sump 90 degree engine that produces 562 horsepower and 398 lb/ft torque, enough to rocket the Italia 458 from 0 to 100 km/h in 3.3 seconds.
Standard are 20-inch aluminum alloy wheels, performance tires, carbon-ceramic brakes. The sensation Ferrari 458 Italia is legendary winner the making. After the ZeTough Ceramic paint protection coating, the 458 shines even brighter and with guaranteed longer lasting protection with the ceramic shield of ZeTough Ceramic Paint Protection Coating. Thank you for reading!
---