Hi Readers, We hope you had a wonderful Christmas Celebration with your loved ones! Back to work and we have the all new 2014 Toyota Harrier arriving our workshop for the special ZeTough Ceramic Paint Protection coating together with a meticulous treatment to bring this beautiful SUV to a even exhilarating glory. The all new 2014 Harrier has further visual differences with new grille, new wheels, interior colors, new head and tail-lights, bumpers and LED day running lights. Amazingly the new facelift looks better with more differences under the hood. Enjoy Viewing!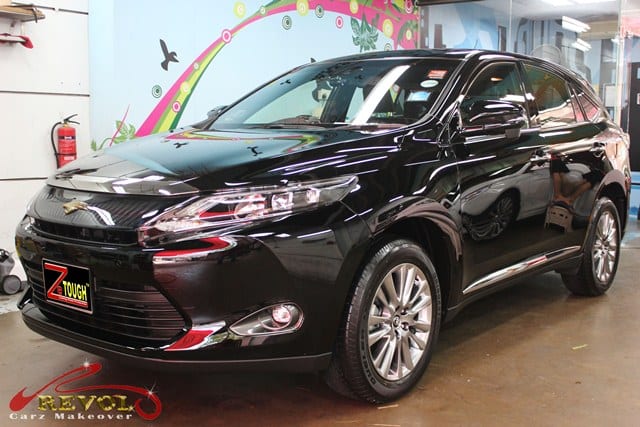 The exterior of the 2014 Toyota Harrier has been tweaked with eye-catching tinted head-lights, large air vents, new grille, bumpers and wheels.
The deeply chiseled front of the 2014 Toyota Harrier unveils new bumpers, new tinted head-lamps, running lights large air vents, shiny transparent smoked plastic grate and new alloy 17 inch wheels.
Harrier's new tinted lamps with LED running lights.
Beneath the hood lies the Dual VVT- i, 1986 cc; 4 cylinders DOHC engine delivers 252 Nm of torque at 4,200 rpm and fuel efficiency of 10.3 km/liter. Km
The cabin of the Harrier befits high-end SUV, simple yet luxurious with soft leather and wood grains.
The cabin of the Harrier befits high-end SUV, simple yet luxurious with soft leather and wood grains.
The simple instrument cluster in front of the steering wheel with multi-information display between the dials
The Drive-start Control provides an on-screen and auditory warning to the driver. It also displays information of weather, outside temperature, incoming calls distance travelled etc.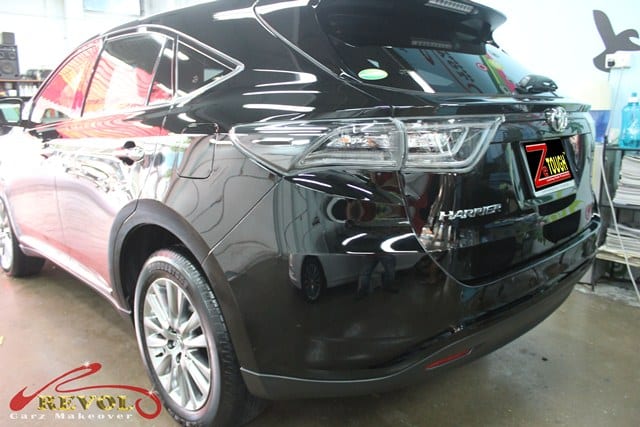 The rear of the Toyota Harrier boasts of its new elegant design with roof spoiler, low profile bumper and altered tail-lamps. The power rear hatch can automatically open and close at the touch of a button.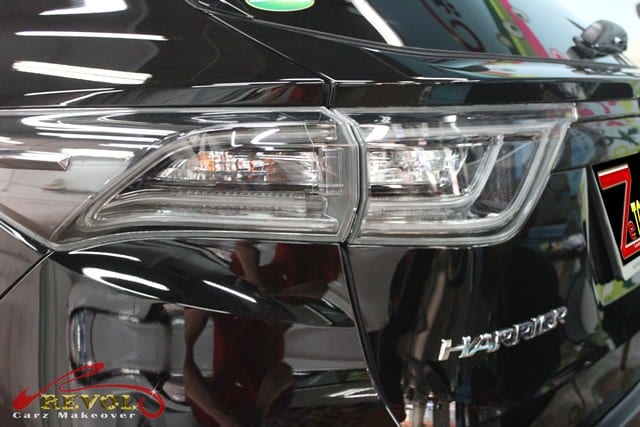 The slight changed at the rear design of the 2014 Harrier's altered taillights and bumper.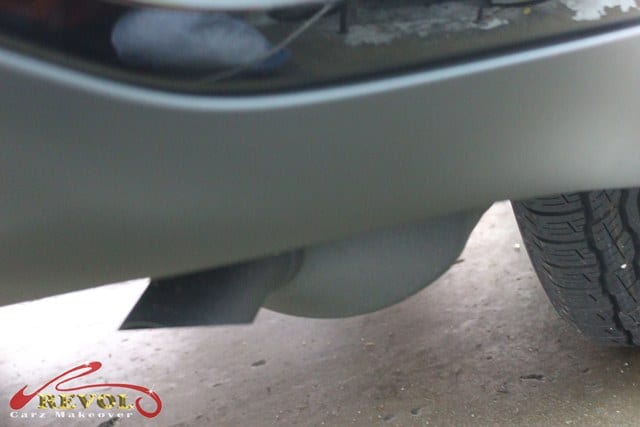 The rear skirting concealed single exhaust pipe.
The 2014 Harrier sports new elegant 17-inch alloy wheels. Toyota's tradition makes the Harrier one of the safest SUV and loads of safety technology. In the same note, it is Revol's tradition makes ZeTough the most reliable and toughest paint protection with long-lasting shield for your car. As usual we are happy to the happy smile from the proud owner of the Harrier when he collected back his beloved SUV. Thank you for Reading!
---