Hi Everyone, By the word-of-mouth, the BMW i8 came to our workshop for the special professional grooming package. This included the highly recommended ZeTough Ceramic Paint Protection Treatment. Good fortunes always come in twos, don't they? Indeed, we had the good fortune to service the second BMW i8. The super-car of the future was at our Revol's Carz Makeover Workshop in just a short space of time within! Built from the lightest and strongest materials with the most advanced technology, the BMW i8's revolutionary petrol/electric plug-in hybrid looks absolutely stunning with the futuristic styling. The BMW i8 rockets from 0 to 100 km/h in 4.4 seconds and a top speed of 250km/h with its powerful plug-in Hybrid System that combines twin-power turbo .15 liter; 3-cylinder petrol engine and powerful 7.1 kWh Lithium-ion battery-electric pack. Hope you enjoy viewing the following photos!
The dynamic futuristic shape of the i8 follows the BMW design philosophy. The unique V-shaped black design element, so-called "Black Belt" runs from the front, over the roof, to the rear
The front appears low and wide with long wheelbase and short overhangs, the BMW i8 is optimally aerodynamic. The LED headlights with its distinctive U-shape narrow LED Daytime Running Lights fit in perfectly with sports car concept
Prominent double kidney grille reveals the BMW genes
The automatic folding side mirrors in black match the "Black Belt" strip
The high quality Carpo Carum Grey perforated leather interior with BMW iBlue accents on the seatbelts and double stitching on the seats and floor mats create an exquisite atmosphere
The slick designed wrap-around dashboard is dominated by a pair of 8.8 inch HD screen display for the sat-navigation and infotainment functions. The refined gearshift lever with black, high strength, scratch-resistant zirconium-oxide ceramic adds a sophisticated touch
The screen in front of the driver displays the speedometer, rev-counter and energy-use dials
Simply plug in the charging cable − and the Lithium-ion high voltage battery starts charging automatically.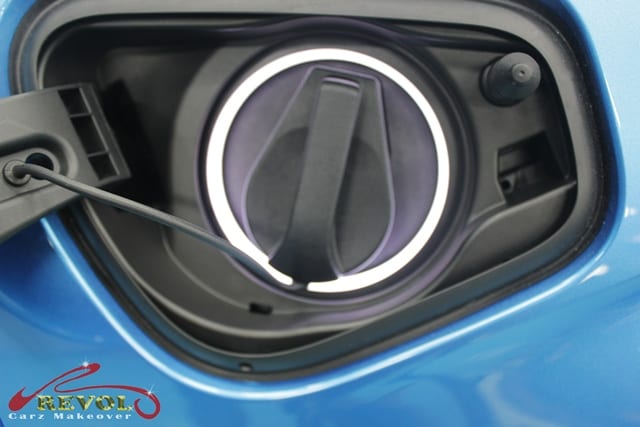 Petrol consumption: Urban driving in HYBRID mode 2.1 liter/100km. Long distance driving about 8 liters/100km. Sports Mode in full power up to 12 liter/100km
The striking rear view of the BMW i8 with its spaceship-style bumper and rear LED lights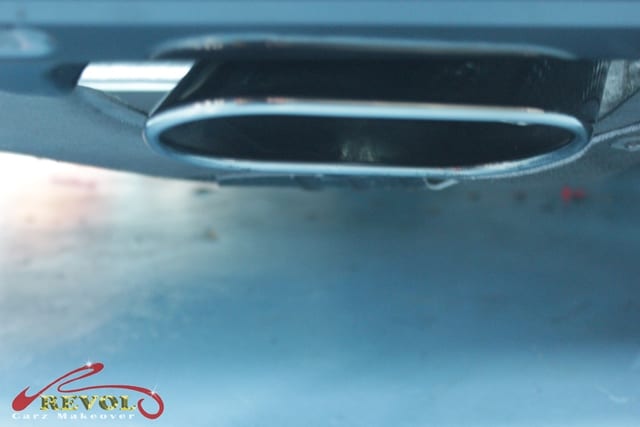 BMW i8 discreet oval twin exhausts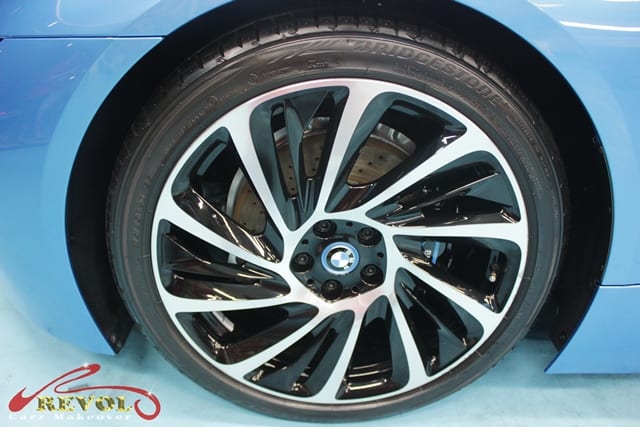 BMW i Blue accent lettering with on the brake calipers stand out optically on the 20-inch BMWi LT/Aly W-spoke alloy wheels Be awed by the gleaming beauty of the finished work of ZeTough Ceramic with the incredible, long-lasting Paint Protection on the BMW i8… the Car of the Future! By the word-of-mouth, we are sure one more BMW i8 will visit our workshop for the ZeTough ceramic paint protection in the near future. Thank you for reading!
---