Hi Everyone, Renault Clio IV RS brought some excitement to Revol Carz Makeover Workshop today. The Clio RS set our hearts racing to groom her ready with the essential coat of ZeTough Ceramic Paint Protection Coating. The fourth generation Clio RS (Renault Sports) is a French charm …dynamic, distinctive and well balanced five-door hot hatch with improved design spoiler, rear diffuser, twin exhausts, wheel arches and hidden rear door handles. The 2014 RS version comes with 1,618cc DIG Turbocharged 16V Nissan MR engine with 200bhp (150 kW) of power and 240Nm (at 1750 rpm) torque capable of an acceleration of 0-100km/h in 6.7 seconds and top speed of 230km/h. Renault ditched the manual transmission for the Clio RS4 in favor of the 6-speed EDC (Efficient Double Clutch) transmission. Enjoy Viewing!
The 5-door hot hatch's dynamic boldly styled spoiler, rear diffuser, LED daytime running lights, headlights and wheel arches improved the Clio IV RS the distinctive appearance.
The RS (Renault Sport) logo under the front diamond, dramatic curves, gapping Airdam and muscular wheel-arches give Clio IV a sporty cue.
The stylish headlights give the Clio RS the muscular appearance.
Electrically adjustable door mirrors in body color.
The Clio IV roomy interior with red-satin accents on the doors, steering wheel and shifter. The steering wheel is luxuriously thick leather trimmed. Renault Sports logo inserts are on dashboard and steering wheel.
The Clio IV RS's rear diffuser, twin rectangular chromed exhausts pipes and rear spoiler. Its 300-litre boot is one of the biggest in its class.
LED tail-lights, simple yet sporty.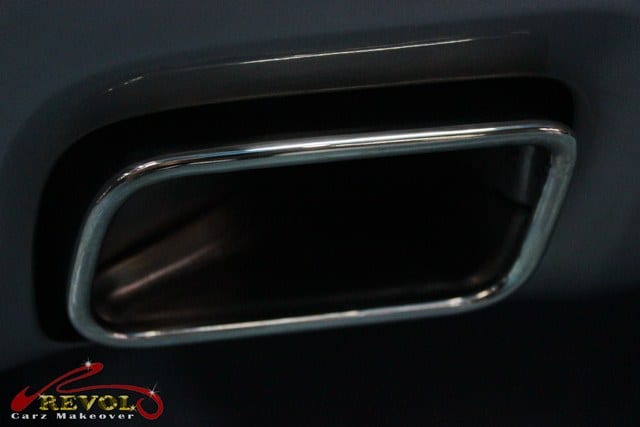 . Rectangular chromed twin exhausts enhance the sporty look of the Clio IV RS.
Renault Sports black alloy 17-inch wheels with red brake calipers. Revol Carz Makeover meticulous grooming standard with the treatment of ZeTough ceramic Paint Protection transformed the Renault IV RS to a long lasting lustrous finish for the Singapore SG50 national day holiday and time beyond. Thank you for reading!