Hi Everyone,
It is reaching end year soon and as usual some would perfer a brand new look for their beloved car too to welcome the brand New year!
Over time, without good paint protection, white colour paintwork often results in oxidation and having paintwork turning slightly yellowish.
It is our pleasure to have BMW 135i at Revol Carz Makeover for a full car spray painting together with ZeTough Ceramic Paint protection to revive back the brand new showroom condition with long-lasting protection too.
Overall condition was pretty fine except some paint chip over a few panel specially on the bonnet and car owner felt its time for the brand new look once again with a inside out and YES He really mean Inside out to achieve the best restoration results!
We hope you will enjoy viewing the total transformation from the before and after pictures of on this classy BMW 135i!
When this classy BMW 135i arrived at our Revol Carz Makeover workshop, we first took some "before" photos of it. Paintwork have shown slightly darker tone of white paintwork.
Some paint chipped off on the bonnet
Th rear view of the before makeover of BMW 135i After the full car spray painting, a glossy white paintwork is immediately revealed.
Now here comes the highlight and one of the most important part of the make-over. The coating of ZeTough Ceramic Paint Protection! The newly sprayed paintwork is more enriched, glossier and protected. To enhance the shine to a complete showroom condition feeling, additional detailing, fine-polishing (to ensure no swirl marks) and interior detailing and restoration are carried out.
Close up BMW 135i Bonnet View
When we give the car a brand new look, we mean serious.. able to see the diffence on the headlamp?
The headlamp have turn almost brand new too
To restore the car back like new, a professional engine compartment cleaning is a must!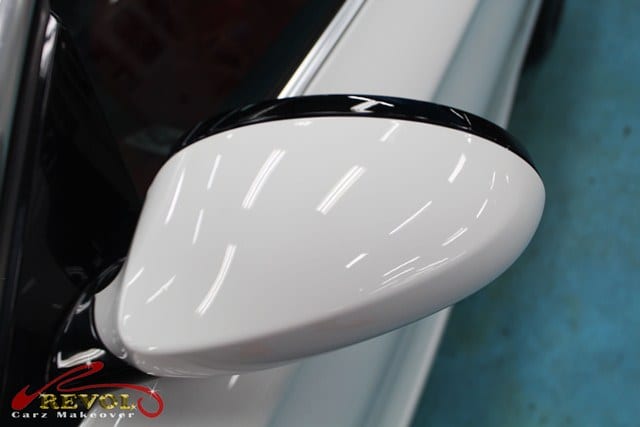 BMW 135i Side mirror
Door handle with paint chip
Door handle paint chip is revived back
A well done interior restoration will revive the new car feel
BMW 135i Rear view
Nice and well polished exhaust
To Complete the New showroom feel and condition… Rims must be new and shiny!
With a newly spray paintwork, it is important to coat with a paint protection so to achieve a longer lasting shine and protection. With ZeTough paint protection; full exterior detailing; interior cleaning and conditioning, rims restored back to like new condition; this BMW135i beauty was happily ever after with her happy owner. Pondering giving your car a new lease of life? Change of new color or require partially repair and spray or have the thoughts of whole car re-sprayed? Visit us at Revol Carz Makeover for a friendly chat and free assessment with absolutely no obligation. Thank you for reading!
---