We have just taken up an Italian Job today with the Italian Maserati Ghibli at our workshop. With our renowned ZeTough Paint Protector curing the special formula into a toughest, clear ceramic-like shield. We ensured that no trace of fingerprints (or road grime) is left behind. The new Maserati Ghibli is an unmistakable blend of excitement and elegance with defined sleek lines.
The car's nose is dominated by the distinctive grille that meets the front headlights and three signature air vents behind the front wheels. Looking under the hood and you'll find a twin-turbocharged, 3-litre, V6 330 horsepower fuel-saving engine. Without compromise on its stunning performance of 262 km/h top speed and 5.6 seconds in the 0 to 100 km/h acceleration.
Hope you will enjoy viewing the following photos!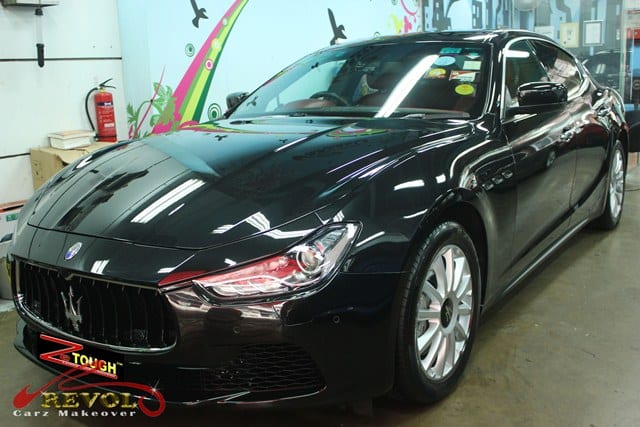 The new Maserati Ghibli captures a style that sets it apart; Its emphasis on sporty glamour, sculpted forms and defined clean lines
The Maserati's nose is dominated by the distinctive radiator grille that meets the front LED headlights
Aggressive Bi-xenon headlights with integrated DRL LED daytime running lights.
The Ghibli's 330-horsepower twin-turbocharged 3-litre V6 engine is designed to achieve lower fuel consumption. Without compromising on its stunning sporty performance. With its top speed of 262 km/h and acceleration from 0 to 100km/h in 5.6 seconds
The Ghibli's electric wing mirrors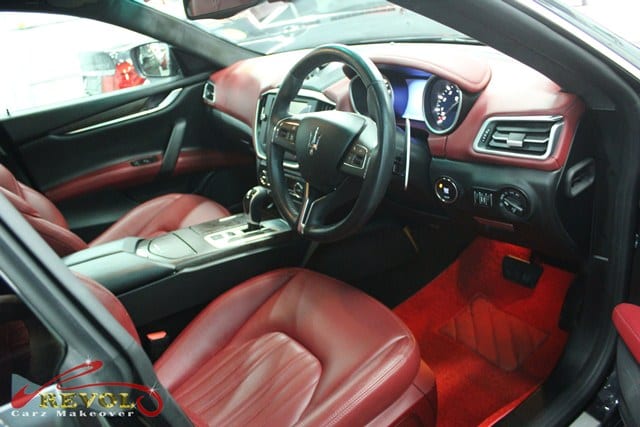 The soft leather on the comfortable, enveloping seats, doors and dashboard immerse the passengers in an atmosphere of pure elegance of sporty feel interior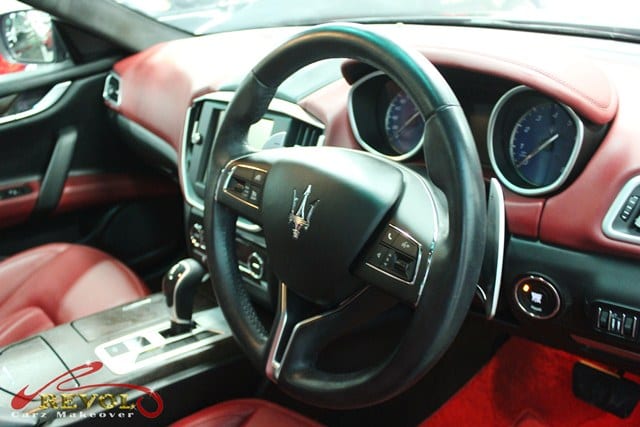 The three-spoke leather-clad steering wheel features controls for interacting with the multimedia functions
The Maserati Ghibli's 8-speed ZF automatic transmission executes precision gear shifts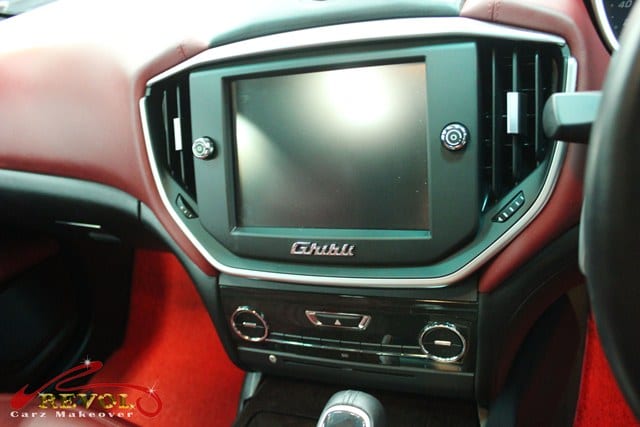 The large 8.4-inch TFT display of Maserati Touch Control Center for most of the onboard devices
The tapered design of the rear's subtle continuation of the cabin. The LED tail-lights continue smooth lines with the rear fender and rear bumpers
The twin tailpipes underline the Ghibli's sporty character
Standard 18" aluminum alloy sports wheels with distinctive Mersarati brake calipers The finished "Italian Job" executed on the Mersarati Glibli was brilliant with tougher paint protection shield, longer-lasting shine that requires effortless maintenance. Our rewards are written on happy customers' faces. We are motivated as always because of it! Thank you for reading!
---