Hi Everyone, Are you facing topping up regularly of engine oil? Even if changing all the worn out gasket? You may be interested to know how we help this owner to solve his mysterious engine oil disappearing problem.. The owner of the BMW E60 sensed his car was seriously having trouble when he needed to top up the engine lubrication oil every 1000 km. He sent his car to our Revol Carz Garage for repair replacement of valve seals needed to be replaced. The job entails special equipment tools and expertise to do the job right and the process do not require to perform a top engine overhaul! We included step-by-step pictures for your viewing pleasure.
P.s- Mysterious engine oil disappearing could be due to other reason too, speak to our experience technician so we could advise you the best possible way to solve your problem.
BMW E60 Arrives at our Revol Carz Garage.
Replacement procedures of value seals in progress
Exposing the internal part of the E60 engine
Replacement of value seal was tedious and have to be with the correct tools and expertise.
Like in a surgery theatre, precision, skills and focus are required to extract the valve seals carefully.
Special tools are required to set the correct timing at the final steps.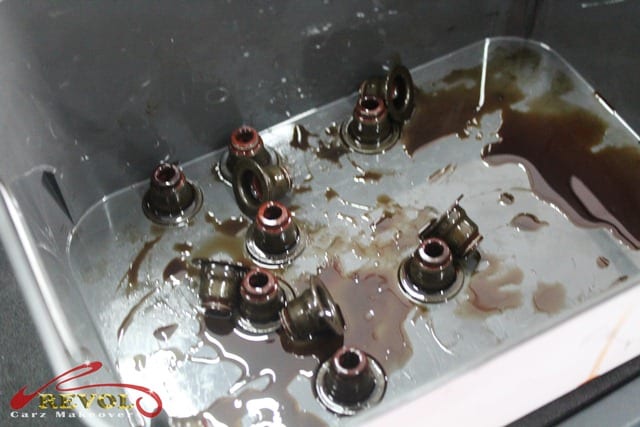 The value seals are extracted
At Revol Carz Garage, we ensure that reassembling the cover and every corresponding fastener is of paramount importance.
The replacement of valve seals job done.
It is our standard that the BMW E60 is washed, refreshed before collection! Thank you for reading! The End results? – Another happy Customer problem resolved!
Revol Carz Garage is by far the best car garage that I have encounter for car repair. They have solved my engine oil disappearing issue with most reasonable rates. Having the frustration of topping up frequently engine and not wanting to do an engine overhaul, I visited Revol for a car servicing session and decided to go with a valve seal replacement as advised. My engine oil disappearing issue was solved immediately and I could feel a very big difference of a smoother ride after the repair. Revol Carz Garage really impress me with their experience team of mechanic together with the team of mechanic and manger who is will to listen my concern to work things out with me. The normal engine oil change servicing rates are very reasonable as well. Coupled with the grooming services at the first level saves me lots of time and worries as a one stop solution for all my needs. I strongly recommend all car owner to try out their services as they are indeed different from others with their dedicated services and technical expertise. Two thumps Up! Mr Chong
---