An overwhelming compliment from a satisfied, Mr.Li. Is your car experiencing high consumption of engine oil? It is daunting having to top up the engine oil regularly. Besides, it is also damaging for the engine to be always running short of oil. Low oil level means the engine is subjected to more rapid wear and tear.
Today, an Audi A4 with such a problem drove up to our garage. Mr.Li, the owner consulted us in solving his car's problem of heavy consumption of engine oil. He had to top up every 800 km. On inspection, when there isn't any external oil leakage, the problem generally lies inside the engine. Although, in the previous email broadcast, we mentioned that we resolved the engine oil consumption issue by replacing the valve seals on a BMW, the issue on Audi's problem is more complex.
The solution for the Audi was to overhaul the engine including replacement of the worn-out pistons, valve seals, and other related parts too. This not only solved the high consumption of engine oil but also enable the car to run faster and smoother like new Mr. Li Testimional-
Here's an exhilarating shout out for Gavin and his fabulous team! You guys are simply competent. Special thanks for resolving my nightmare of insane high engine oil consumption on my Audi A4. I have been topping up my engine oil every 800km. It was really very annoying. I had been inquiring around for a solution and all had was advice to overhaul the engine. I finally narrowed down to two workshops. Then decided to proceed with the repair by Gavin and team based on their consistent working standards and reliability. I was pleased that they even arranged a rental car for my convenience during the repair. It has been a peaceful ten months since my engine was overhauled. I didn't have to top up a single drop of engine oil. Yes, not a drop! Amazing isn't it? It was a huge relief for me so I am inclined to write this testimonial as an appreciation token. Huge thanks and thumbs up to Gavin and his team for his excellent and extraordinary service. You guys are Aces of the trade and I'll surely be back for regular car maintenance services too. Keep up the great works! Your satisfied customer, Mr. Li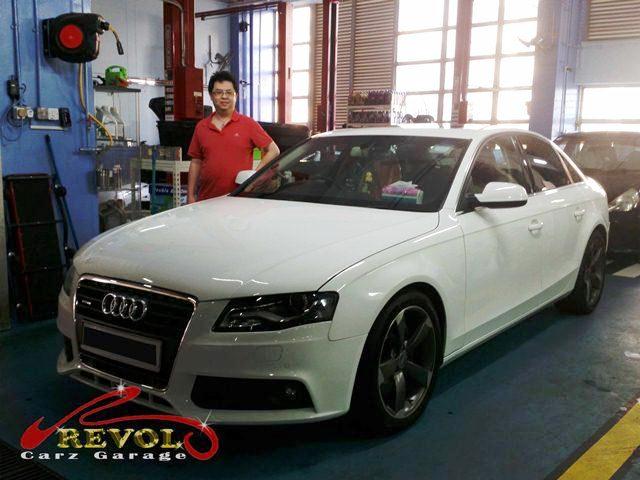 Mr. Li with his Audi A4
Mr. Li's Audi A4 arrives at Revol Carz Garage.
Car hoisted up for check and no visible oil leakage found.
In order to perform an engine rebuild, the engine must be removed.
Front panel, reinforcement car and other car parts like the headlamp and reinforcement bar have to be removed too from the car.
Engine is carefully removed from the engine bay.
Engine overhaul in progress and that's the engine timing chain if you have not seen it before.
Next we are going to expose one of the main culprit- the worn out piston.
A closer look on the piston revealed a serious burn piston.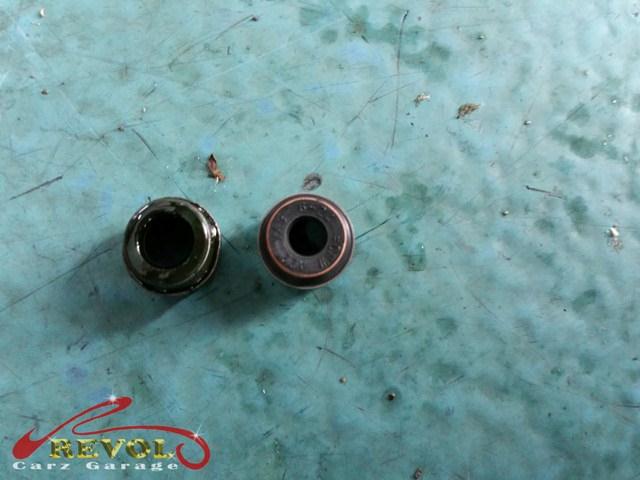 Valves seals replacement to achieve the best engine rebuild outcome.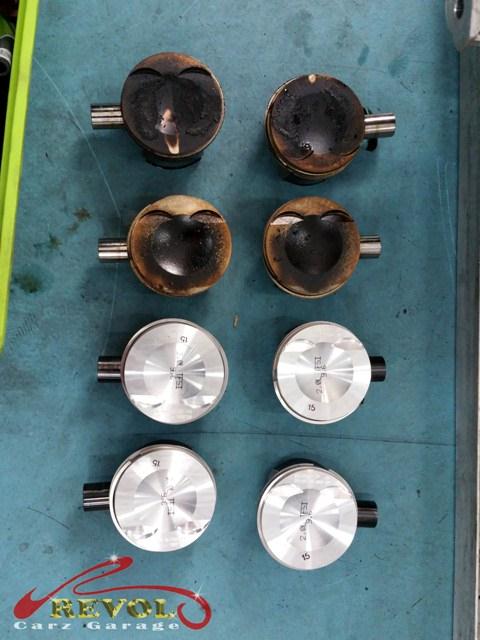 Able to notice the huge difference between the new and used piston.
New piston carefully fitted back.
With the engine part carefully placed back to the original position.
Car wash is done and we are delighted in assisting the owner to resolve his high engine oil consumption issue.
Thank you for reading!