Hi Everyone, Hot, brutally powerful and flamboyant, the brand new gleaming white Lamborghini Aventador flaunts its presence at our Revol Carz Makeover workshop whilst being pampered with the finest paint protection job and having the treatment of the renowned ZeTough Ceramic Paint Protection Coating. Underneath the head-turning exterior, the Aventador is underpinned by a carbon fiber chassis and other carbon and aluminum components to lighten its weight by about 200 lbs.
The Lamborghini Aventador is named after a fighting bull "Aventador" that fought valiantly in the bull arena of Zaragoza, Spain in 1993. With an explosive acceleration from 0-100 km/h in 2.9 seconds, it can reach a top speed of 350 km/h.  The beast achieves these fantastic performances with a 6.5-liter V12 with 700 horsepower and 509 lb/ft torque engine mated to a 7-speed ISR gearbox that enables a lightning shifting time of only 50 milliseconds. Hope you will enjoy viewing the following photos!
Lamborghini Aventador overall weight reduction leads to fantastic performance and improved safety. The Aventador is completely made of carbon fiber and aluminum alloy materials.
Low slung and brutally powerful, the Lamborghini Aventadorfeatures scissor doors
An electronically controlled side air intake system
Bi-xenon headlights with washer, LED daytime running lights
Electrically adjustable and heated external side mirrors with folding function
Explosive performance of the 6.5-liter, V12 engine with 700hp and 509lb/ft torque mated to a 7-speed ISR transmission. The all-wheels-drive,Aventadorfiendishly accelerates from zero to 100 km/h in 2.9 seconds and a top speed of 350km/h
Inside the cabin, the Aventador is futuristic and jet-inspired. Standards include full TFT display, on-board computer with a 7-inch display, keyless ignition, iPod and USB interface, navigation, Bluetooth and automatic air conditioning with solar sensor
Exclusive full TFT display dominated by yellow and features blue shift indicator and a G-force meter.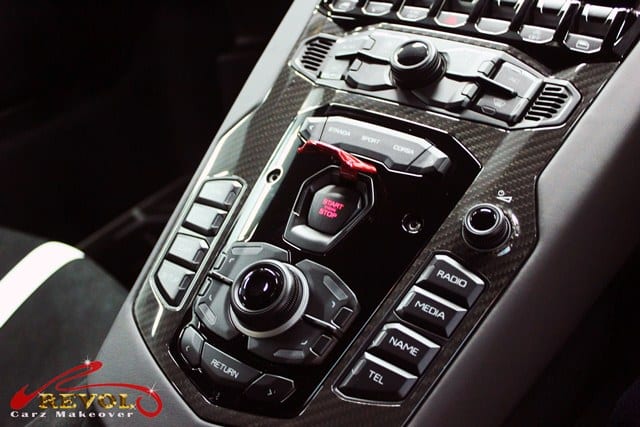 Slanted center console controls the infotainment system and transmission modes
The prestigious Lamborghini badge adds pride to the rich leather dashboard
Aventador's exclusive skirt plates of carbon fiber material
The carbon-fiber rear spoiler moves in 3 positions depending on the speed and drive mode
The modified mesh rear grille below the taillights allows heat to dispel from the engine
Carbon fiber engine bonnet of Aventador.
Premium polished aluminum fuel tank cap of Aventador.  The fuel tank capacity is 90-liter and fuel consumption 16-liter to 100 km.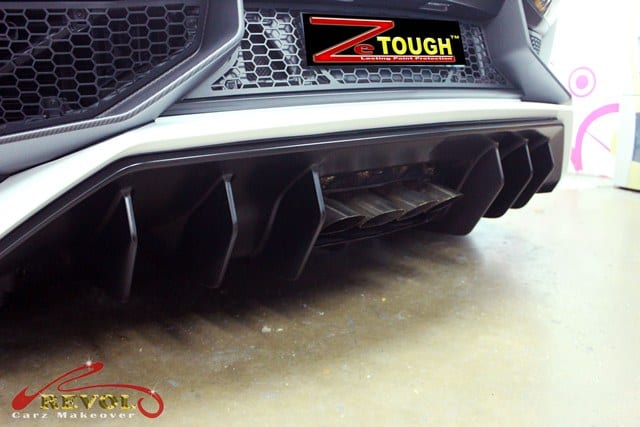 Aventador diffuser on the underside further increases the road grip and also produces a vacuum by decelerating airflow, resulting the rear is pulled downwards
Low profile tires and exclusive alloy wheels.  Front: 255/35ZR19; rear 355/30ZR20.It is understandable that the Aventador is obscenely flamboyant on the road.  After all, this is a Supercar, passionately groomed and protected with long-lasting enough Ceramic Paint Protection Coating! Thank you for reading! 
---