Volkswagen 1200 with ZeTough Ceramic Paint Protection Coating. Hi Everyone, You won't believe your eyes. The 1972 Grand Old German Lady is just as beautiful and radiant as a rare showroom beauty. It is still graceful, gorgeous, glorious, flawless, and immaculate! Her name is Ms. Volkswagen Beetle 1200 married to a careful, fussy lover who had loved and pampered her through the 45 blissful years. And they are still madly in love and happily "married"! There is no secret that the "lady" has had been coming to Revol Carz Makeover for her beauty spa which she gets the unique ZeTough Ceramic Paint Protection Coating in keeping her radiant, ageless beauty and radiant gleam.
The Volkswagen 1200 model became widely known in its home country as the Käfer (German for "Beetle"). The two-door Beetle featured an air-cooled, four-cylinder, 1200cc light-alloy boxer engine located at the rear. She can accommodate four passengers and has luggage storage The interior featured painted metal surfaces, a metal dashboard with consolidating instruments in a single circular binnacle. space under the front bonnet and behind the rear seats.
You won't believe this immaculate German Beauty is a 1972 Volkswagen 1200 two-door coupe. Thanks to the amazing ZeTough Ceramic Paint Protection coating that brought forth an awesome beauty and incredible shine.
The front bonnet provides luggage storage. We employ special techniques and eco-friendly products on reviving the enlarged owl-eye headlights and chromes without any harsh chemicals.
The Beetle featured a rear-located, rear-wheel drive, air-cooled four-cylinder, Boxer Engine The like-new engine bay has been passionately cleaned and polished by our professional groomers.
Take a closer look at the finished quality of our grooming skills.
We spare no effort in reviving the deep-chromed wing mirrors too.
Deep cleaning and polishing the interior is one of our favorite grooming challenges.
The Volkswagen 1200 features a utilitarian design, featuring painted metal surfaces, a metal dash with consolidating instruments in a single circular binnacle.
The iconic Beetle is one of the most recognized whether viewed from her front or rear-end. The grand lady still flaunts her sex appeal with the finished work of ZeTough.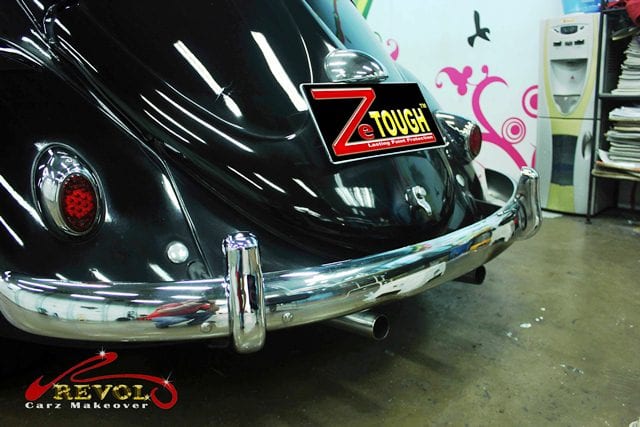 Our skillful groomers gave all the chromes thorough cleaning and polishing making the Beetle great again.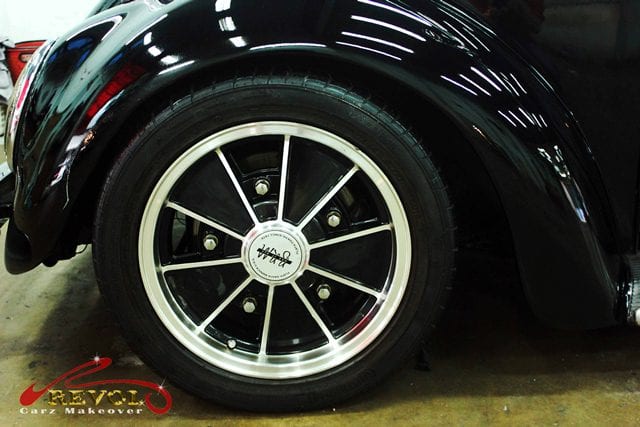 The spotlessly cleaned and polished alloy wheels and tires give made the Beetle a Winner. Whether you are driving a modern or classic car such as the 1972 Volkswagen Beetle, Revol Carz Makeover can revive and restore your car to showroom condition.
With the incredible ZeTough Ceramic Paint Protection Coating, your car's paintwork will not only shine during your whole ownership but is also almost maintenance-free. Visit Revol Carz Makeover and you'll be glad to know more information about ZeTough products and our range grooming packages. Thank you for reading!