When it comes to choosing the most trusted paint protection sealant for your car, don't settle for anything lesser than the award-winning and time-proven ZeTough Ceramic Paint Protection Coating authorized by Revol Carz Makeover.
A new member of the distinguished BMW family, an entry level G30 BMW 520i arrives at Revol Carz Makeover to relish the signature ZeTough Paint Protection Coating today.
The new BMW 520i is a very refine saloon that does not stint on high-tech equipment level. Despite an entry level, it gets a head-up display, a surround view camera, 18-inch alloy wheels and soft-closing doors.
The car body uses a great deal of aluminum in its skin and magnesium cross-member beneath. The rest of the structure is high-tensile steel. With weight-saving parts, the G30 7-Series managed to shed100kg and is lighter.
Despite 520i sharing the same 2.0-litre power plant as the 530i, it is programmed to produce 184Bhp and 290Nm torque translating to a slightly slower 0-to-100km/h sprint in 7.8 seconds and a lower top speed of 250km/h.
You are invited! Hop in and join us on a virtual tour to our Revol Carz Makeover studio and be intrigued by the skilful transition of the BMW 520i to an incredible long-lasting glistening show quality with renowned ZeTough Ceramic Paint Protection coating.
We hope you will enjoy viewing the following photos!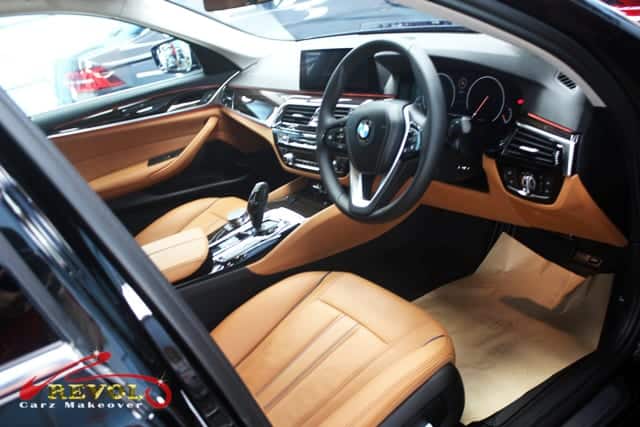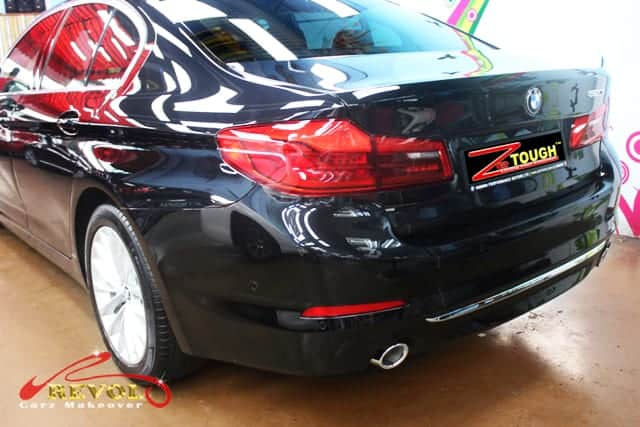 The 520i boast its fully refurbished 18-inch rims that look like new.
Giving your car the treatment of ZeTough Ceramic Paint Protection Coating is a prudent long term investment in giving it the best protection. It adds value to your car.
The long lasting shine left the owner speechless with satisfaction after the makeover.
Express your distinction in the finest perfection in car surface protection with the proven, ZeTough Ceramic Paint Protection Coating that is certainly the best value for money.
The transition of the BMW 520I to a showroom shine is simply awe-inspiring. The spectacular result truly speaks for itself. .
Revol Carz Makeover is your right choice. Visit us to know more about our affordable and transparent services.

With the proven coating of the Eco-friendly ZeTough Ceramic Paint Protection coating, we guarantee your car's paintwork gets unparalleled protection with the guaranteed showroom shine throughout your ownership. Maintenance after the coating is minimal.

Thank you for reading!