A shocking-red Italian supercar, Ferrari California hard top convertible made a tumultuous entrance at Revol Carz Makeover today for a special grooming treatment of ZeTough Ceramic Paint Protection Coating.
The good looking Ferrari California Type F149 grand touring sports car is powered by a 4.3-litre direct injection twin-turbocharged V8 mated with a 7-speed dual-clutch transmission. Being a Ferrari, the performance department is impressive. Charging from 0-100km/h takes 3.5 seconds while the top speed is rated at 312 km/h. Thanks to the monster brake discs and calipers, getting the Ferrari back to standstill is as easy too.
It is not every day that we are privileged to groom a rare superstar. It is no wonder why our eager detailers were beaming with pride in delivering the Ferrari California in a stunning showroom condition.
Come aboard and let us take you on a virtual tour to our Revol Carz Makeover Studio to see our artisanal detailers transformed the car to a jaw-dropping show quality.

We hope you will enjoy viewing the following photos!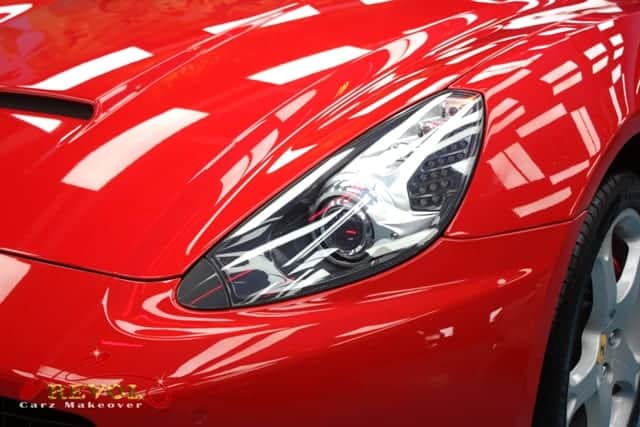 The Ferrari California is a clear winner in the looks department especially after the treatment of ZeTough Ceramic Paint Protection Coating.
Revol has taken a quantum leap forward in ZeTough Ceramic Paint Protection Coating that brought it to a whole new level.
Your car deserves the treatment of ZeTough Ceramic Paint Protection Coating too. A small Investment in the paintwork protection is prudent and adds value to your car.
The makeover left the owner speechless. The amazing results speak volumes about ZeTough Ceramic Paint Protection Coating.
Revol Carz Makeover is your right choice. Visit us to know more about our affordable and transparent services.
With the proven coating of the Eco-friendly ZeTough Ceramic Paint Protection coating, we guarantee your car's paintwork gets unparalleled protection with the guaranteed showroom shine throughout your ownership. Maintenance after the coating is minimal.
Thank you for reading!