Exit the Renegade and welcome the all-new rugged Jeep Compass Limited edition. The 4WD Compass, an epitome of elegance and aggression, hogs the limelight at Revol Carz Makeover Studio for that must-have ZeTough Ceramic Paint Protection treatment plus the revitalizing grooming.
Our mission at Revol Carz Makeover is to protect your car from aging, environmental fallout and UV erosions on the paintwork, fading and deterioration. With the proven eco-friendly ZeTough Ceramic Paint Protection treatment, your car is armored with a long-lasting barrier coating over the surface.
With an undeniable aura of elegance and defined curves throughout, the rugged Jeep Compass is still one of the best selling SUV in the market.
At the heart of the Compass is a 1.4L Inline 4-cylinder Turbocharged engine that produces 168bhp at 5,500rpm and 250Nm (at 2500-4000rpm) of torque. The 9-Speed automatic transmission and all-wheel-drive system help in fuel efficiency, averaging 6.9litres per 100km. The century sprint isn't particularly swift at 9.3 seconds but the top speed can reach 204km/h.
The new Compass is loaded with premium features – an 8.4" infotainment system, Apple Car-play, navigation system, self-parking assist amongst many others. The lush interior is as eye-catching at the exterior.
The wondrous ZeTough works like a charm, transforming the Jeep Compass to profound show quality condition.
Buckle up your seat belt and join us on a virtual tour to Revol Carz Makeover studio and bedazzled by our groomers' artisanal skill in making the Jeep Compass comes alive.
We hope you will enjoy viewing the following photos!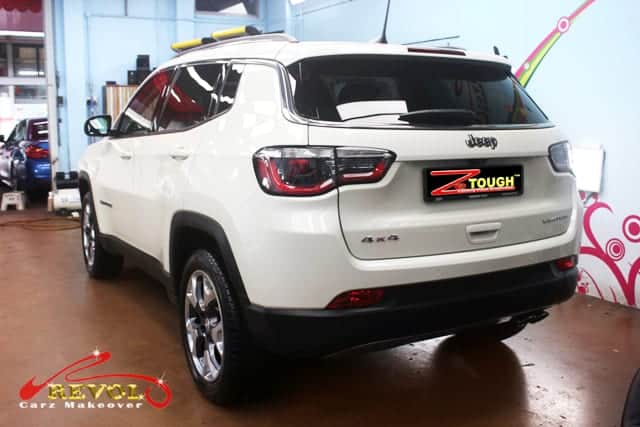 Revol Carz Makeover is your right choice. Visit us to know more about our affordable and transparent services.

With the proven coating of the Eco-friendly ZeTough Ceramic Paint Protection coating, we guarantee your car's paintwork gets unparalleled protection with the guaranteed showroom shine throughout your ownership. Maintenance after the coating is minimal.

Thank you for reading!